Bali's spectacular natural landscapes- its volcanoes, crater lakes, hot springs, waterfalls, beaches and terraced padi fields, coupled with its rich cultural heritage- its ancient temples, world class museums, art galleries, appeal to a wide spectrum of visitors, ranging from backpackers to families. Enjoy Bali's nature and cultural highlights through a trilogy of outdoor activities- hiking, cycling and hiking. Embark on an early morning hike up Mount Batur to witness its glorious sunrise and take in its breath- taking views of surrounding fuming craters and lake. Enjoy an effortless peddle downhill all the way from the lofty Kintamani highlands to the outskirts of Ubud through the peaceful countryside. Complete your outdoor adventure with an adrenaline rush by rafting down the roaring Telaga Waja River. Reward yourself with Bali's gastronomic treats- Betutu – smoked duck with spices, Bali Guling – roasted suckling pig, Sate lilit – Balinese styled satay, etc.
ITINERARY
Day 01
SINGAPORE – BALI
Upon arrival at Denpasar International Airport, you will be greeted by our friendly local guide who will bring you to your hotel/villa in Ubud. Along the way, drop by Bukit Peninsula- the southernmost point of Bali for a majestic view of the Uluwata temple perching precariously on the cliff with the roaring Indian Ocean in the background. Water sports enthusiasts can opt for activities such as kite-surfing, windsurfing or stand up paddling at Sanur beach. For those who prefer a more pristine and quiet beach, you may opt to head for Canggu beach instead, where you can chill out in the cafes along the wide, sandy beach while watching the huge and powerful surfing waves and enjoying the strong sea breeze in your hair. In the evening, enjoy the dramatic views of sunset over the sacred Tanah Lot temple which sits on a big rock surrounded by the sea. (Itinerary will be modified depending on your flight arrival time to Bali.)
Overnight: Hotel or Villa
Day 02
MOUNT BATUR SUNRISE HIKE & DOWN HILL CYCLING
Get ready to wake up early for the sunrise trek up to the summit of Mount Batur (1717m). Experience the thrill of climbing an active volcano which has last erupted in the last decade. The trail head begins from one of the villages at the foot of the mountain and be equipped with headlights, as you will begin your trek in the dark. The trek to the summit will take about 2-3 hours, just in time for you to witness a glorious sunrise and the breathtaking views of the surrounding fuming craters, lakes, Mount Abang and Mount Agung in the distance. There is an option for you to enjoy boiled eggs for breakfast above one of the steam fissures. After enjoying the sunrise, you will head back down to a restaurant in Kintamani town that overlooks the crater lake Danau Batur for a sumptuous buffet breakfast. After breakfast, you will embark on an educational cycling tour through Bali's countryside- visiting a spice garden, a traditional Balinese home courtyard, rice paddy fields and learning the process of making the most expensive coffee in the world– Kopi Luwak (harvested from the civet cat's droppings). The ride will be a breeze as you will be pedaling down hill from the Kintamani highlands to the outskirts of Ubud, where you will be picked up by the private transport back to your hotel.
Overnight: Hotel or Villa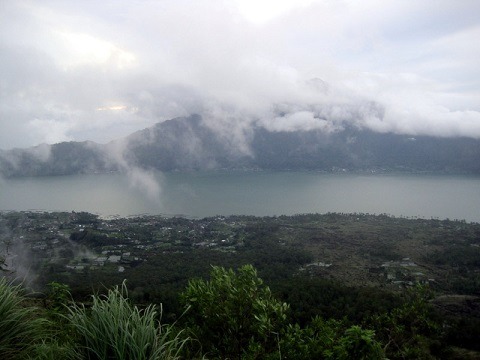 Day 03
WHITEWATER RAFTING
After enjoying the breakfast in the hotel, you will be transferred to the Telaga Waja River at the foothills of the sacred Mount Agung for your kayaking adventure. The length of the rafting trail is about 13 km and will take about 2 hrs to complete, with a designated short break midway. This is a grade 3-4 river with a good number of rapids and whirlpools along the way, including a 5m drop across a dam! The rafting section of the Telaga Waja River passes through villages (look out for bamboo bridges across rivers and kids bathing in the rivers), rainforests, narrow gorges, and mini waterfalls. After a buffet lunch at the end of your kayaking activity, you will be transferred back to your hotel. You may opt to end your day with a Yoga lesson at Yogabarn (http://www.theyogabarn.com/) or enjoy a much deserved Balinese body massage.
Overnight: Hotel or Villa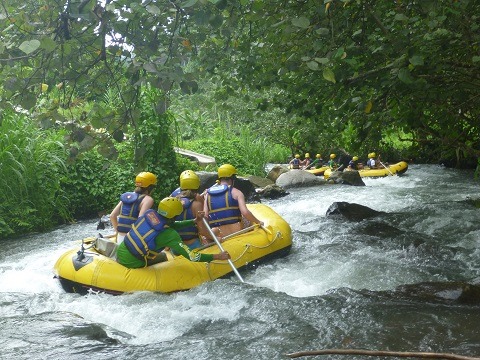 Day 04
CULTURAL FEAST
Be prepared to bask in the rich cultural history of Bali today. First, you will head towards Gunung Kawi – also known as Bali's own Valley of the Kings. The highlights of the temple are the ten rock- cut shrines which are intricately carved into the cliff face. This ancient complex, built since the 11th century, is situated in a scenic river valley, surrounded by rice fields and forests. These monuments are built to honor Bali's ancient king and queens. Other interesting sights that you will visit include Goa Gajah (Elephant Cave)- a mysterious cave compound with relics and an ancient bathing place, Yeh Pulu- an amazing complex of rock reliefs set in an a quaint village, Tampak Siring- a sacred temple with holy spring water where all Balinese across the island head to for their purification rituals. The art lovers may opt to visit Bali's world- class museum of Agung Rai, which houses a remarkable collection of works by various Balinese, Javanese and foreign artists, including the influential German painter-  Walter Spies. After immersing yourself in the rich cultural history of Bali, and picking up some last minute souvenirs, you will be transferred to the airport for your flight home.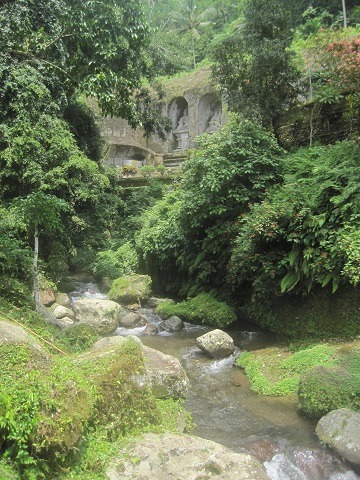 Package includes:
All local land transfers
All accommodations
Mount Batur sunrise hike, downhill cycling and water rafting
English speaking station guides
Package excludes:
Return international air tickets*
Travel insurance*
Indonesian VISA (ASEAN citizens are VISA-free up to 30 days)
All meals not mentioned
Tips for guide and porters
All expenses of a personal nature
*International fights and AIG Travel Guard Insurance can be arranged on your behalf.
OPTIONAL PROGRAM
Besides Gunung Batur, we can also arrange hikes to Gunung Agung. Standing at 3033m, the summit of Gunung Agung is the highest point in Bali. The tough 12-13 hour return hike guarantees fantastic views of the surroundings including Gunung Rinjani to the east.
DESTINATION YOU MIGHT ALSO BE INTERESTED IN
TESTIMONIALS
We signed up with iwannatravel for a 4d3n Bali private tour. We were very well taken care of during the trip and were very satisfied with the activities, accommodations and food recommended by Ying. On behalf of my family, i would like to thank Ying for her dedicated service. 
– Ms. Liew and family (June 2016)
Contact us today to find out more!
DISCLAIMER
IWT LLP, acts only as an agent for The Client in acquiring transportation, accommodations, sightseeing, trekking and other services for The Client's benefit, and on the express condition that IWT LLP shall not be liable nor responsible for any loss (including without limitation, direct, indirect, special, incidental or consequential loss, economic loss), damage, mishap, bodily injury, death, delay, defect, omission or any irregularity that may be caused to The Client, third parties or properties. IWT LLP is to be released from all liabilities deriving from acts of terrorism, hijacking, civil unrest, natural calamities, labour strikes, thefts or any other factors beyond IWT LLP's control. Any losses and expenses are to be borne by The Client. In the event that IWT LLP is found liable by a court of competent jurisdiction on any basis in relation to The Client's booking done via IWT LLP, IWT LLP's maximum liability to the client is limited to the cost of the booking in question. See our full Terms and Conditions.