At 4095m, Mount Kinabalu also known as "Aki Nabalu" (means "revered abode of the dead") by the local Dunsun tribe is the tallest mountain in the Malay Archipelago. It is located in the East Malaysian state of Sabah and is protected as Kinabalu Park, a World Heritage Site. Mount Kinabalu is one of the world's most accessible peaks and one of the easiest to climb. The climb to the summit Low's Peak takes about 2 days 1 night without any technical climbing skills involved. The trekking trail is well marked and maintained by the national park with shelters equipped with drinking points and toilets along the way. From Low's Peak, you will be rewarded with a breathtaking view to watch the sun rise illuminate the surrounding peaks Donkey's Ears (4055m), Ugly Sister Peak (4034m), Victoria Peak (4094m) with brilliant hues. Look out for the spectacular gully known as Low's Gully – an 1800m deep gorge just beside Low's Peak which separates the whole summit plateau into western and eastern halves. The trek will bring you through different geographic and habitat zones from tropical lowland rainforest, montane forests with Oaks, Conifers and Rhododendron, subalpine zone with stunted trees to the above tree-line alpine zone with lichens and mosses. The area is also rich in flora and fauna including a giant pitcher plant whose bell can hold more than 3 liters of water and many varieties of orchids.
ITINERARY
Day 01                       
SINGAPORE – KOTA KINABALU 
Upon arrival at the Kota Kinabalu International Airport, you will be greeted by our friendly local representative who will provide your transport to the hotel in Kota Kinabalu. Enjoy the rest of the day exploring and shopping around the main city area at your own leisure.
Overnight: Hotel in Kota Kinabalu
Day 02                       
KOTA KINABALU – MOUNT KINABALU PARK
In the early morning after your breakfast (arrange with hotel as you will be departing around 630am), our local representative will pick you up from your hotel, where we will head towards the Kinabalu National Park (approx. 2 hrs drive). You will first proceed to the  Kinabalu National Park Headquarters to register for the climb, followed by a mandatory safety briefing. After collecting your packed lunch and getting acquainted with your mountain guide, you will take a short ride to the trail head at Timpohon Gate (1886m) where you will begin the trek. The trail is well marked and brings you through the rainforest terrain where you can spot various wildlife and plants including pitcher plants. As you venture upwards, the terrain changes gradually and you will eventually come to an open area where you can spot the summit plateau. The uphill trek will take approximately 4-6 hrs to reach Laban Rata (3314m), where you will check in to one of the rest houses (non-heated dormitory or heated private room) to get a good night's sleep.
For via ferrata participants, you will attend a short briefing session between 2 to 4pm at Pendant Hut.
Overnight: Rest house at Laban Rata
Day 03                       
SUMMIT CLIMB – KOTA KINABALU
Be prepared for an early morning wakeup call at 2am for the summit climb. After a quick bite, you will set off for the final 2 km push to Low's Peak (summit) which will take approximately 3 hours. As the climb will be windy and chilly as you near the summit, we will advise you to be layered appropriately. From Low's Peak (4095m), you will be rewarded with a breath-taking view to watch the sun rise illuminate the surrounding peaks Donkey's Ears (4055m), Ugly Sister Peak (4034m), Victoria Peak (4094m) with brilliant hues. Look out for the spectacular gully known as Low's Gully – an 1800m deep gorge just beside Low's Peak which separates the whole summit plateau into western and eastern halves. After the sunrise, get ready to descend back to Laban Rata (trek back normal or descend via ferrata) for a late breakfast to replenish your energy before trekking back down to Timpohon Gate where you will be transferred back to the park headquarters for lunch. Your mountain guide will then present you with your well deserved climb certificate, and our local representative will then transfer you back to your hotel in Kota Kinabalu.
Overnight: Hotel in Kota Kinabalu
Day 04                       
KOTA KINABALU – SINGAPORE
Enjoy a leisure breakfast in the hotel and take some time to explore the city at your own leisure – do go for a well deserved massage to soothe your muscles. Pick up some last minute souvenirs before our local representative transfers you back to the airport for your flight home.
Package includes:
All land transfers including airport transfers
All accommodations in Kota Kinabalu and Laban Rata
Hotel breakfasts (if applicable) and meals during the trek
National Park entrance fee
Climbing permit
Climbing insurance
English speaking mountain guide
Package excludes:
Return international air ticket*
Travel insurance*
Meals not mentioned
Porter fee
Tips for guide and porters
All expenses of a personal nature
*International fights and AIG Travel Guard Insurance can be arranged on your behalf.
VIA FERRATA
A via ferrata ("iron road" in Italian) is a mountain path consisting of a series of rungs, rails and cables embracing the rock face. The crux of via ferrata is a steel cable which runs along the route and anchored at regular intervals (every 3-10 metres) to the rock. Using a ferrata kit (harness and carabineer), climbers can secure themselves to the cable limiting any fall. Thus via ferrata allows inexperienced climbers a safety means to transverse precarious cliffs and enjoying the dramatic views and thrills of mountaineering.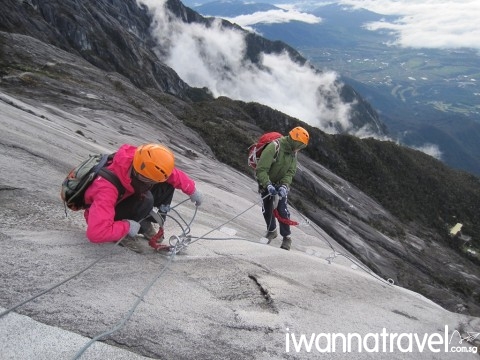 There are more than a few hundred via ferrata routes around the world but most of them are situated in the Alps. The via ferrata in Mount Kinabalau is the first via ferrata in Asia and also the highest via ferrata in the world. There are two different routes which correspond to two different level of difficulty; the beginner level route – "Walk the Torq" and the intermediate level route – "Low's Peak Circuit".
Walk the Torq which starts at 3520m and ends at 3411m is an introductory route designed for the beginners. The total length of the route is 430m with a vertical height traverse of 109m. It is a leisurely 2-3 hours descends down the side of a granite cliff face. Highlights of Walk the Torq include the 2-cable Monkey Bridge, the Tyrolean Traverse and the Balancing Beam. Low's Peak Circuit which starts at 3776m and ends at 3411m is an intermediate route designed for the ultimate thrill seekers with above average fitness level. The total length of the route is 1.2km with a vertical height traverse of 365m and takes about 4-6 hours to complete the whole route. It is actually an extension of the Walk the Torque route but with steeper descends and additional "obstacles" like a suspension bridge at 3600m and 3-cables Nepalese bridge at 3580m.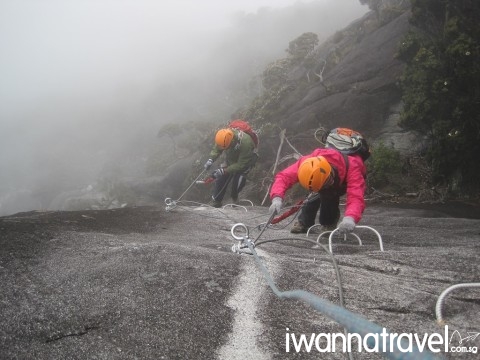 The ferrata activities will commence after your summit climb. From the summit (4095m), you will trek back towards Sayat Sayat Hut to the starting points of Walk the Torq (3776m) or Low's Peak Circuit (3520m) where your ferrata guide will be waiting for you to start the descends via ferrata. Both Walk the Torq and Low's Peak Circuit end at the same point (3411m), from where is a short distance walk back to your rest house in Laban Rata.
FAQ 
Need more information on Mount Kinabalu? Read through our Mount Kinabalu frequently asked questions and get them answered!
OPTIONAL PROGRAM
White Water Rafting at Kiulu River (Grade 1 – 2) or  Padas River (Grade 3 – 4) can also be arranged.
TESTIMONIALS
I really liked getting picked up and taken to our guest house. The trip up the mountain was well organised, the guide and the porter were great as were the stopping stations up the mountain.
– Henrietta (Group of 4 on a 4D3N trip to Mount Kinabalu in May 2016)
Pre trip briefing and the follow up emails that followed after the briefing was very thoughtful and personalised. Additional information was sent to us regarding the questions posed during our pre trip briefing. Guides were helpful, patient.
Everything! The organisation and coordination was great!
– Yuqi & Su Yee (Group of 8 on a 4D3N trip to Mount Kinabalu in Apr 2016)
Contact us today to find out more!
DISCLAIMER
IWT LLP, acts only as an agent for The Client in acquiring transportation, accommodations, sightseeing, trekking and other services for The Client's benefit, and on the express condition that IWT LLP shall not be liable nor responsible for any loss (including without limitation, direct, indirect, special, incidental or consequential loss, economic loss), damage, mishap, bodily injury, death, delay, defect, omission or any irregularity that may be caused to The Client, third parties or properties. IWT LLP is to be released from all liabilities deriving from acts of terrorism, hijacking, civil unrest, natural calamities, labour strikes, thefts or any other factors beyond IWT LLP's control. Any losses and expenses are to be borne by The Client. In the event that IWT LLP is found liable by a court of competent jurisdiction on any basis in relation to The Client's booking done via IWT LLP, IWT LLP's maximum liability to the client is limited to the cost of the booking in question. See our full Terms and Conditions.