With a flight time of just 2 hours away, Siem Reap makes an excellent retreat destination for people looking for a short respite from work. It is best known as the gateway to the Angkor ruins, a sprawling UNESCO world heritage site of more than 400 ancient temples including the magnificent Angkor Wat. Contrary to popular misconception, Siem Reap is not just about temples and ruins. Culture bluff can explore the old French colonial town, watch traditional Apsara dance performances, and attend wood craving and pottery classes. For wildlife enthusiasts, there are a few wildlife sanctuaries like Angkor Centre for Conservation of Biodiversity and Kulen Promtep Wildlife Sanctuary. For adventure adrenalists, there are ample outdoor activities like countryside cycling, quad biking and trekking. Couples can enjoy a romantic sunset cruise along the Tonle Sap Lake. It is also a popular resort town with world class boutique hotels and spas.
ITINERARY
Day 01
SINGAPORE – SIEM REAP
Fly direct from Singapore to Siem Reap. Upon arrival, you will be picked up by our friendly guide for the Tonle Sap Cruise. You will take a cruise to visit floating villages and farms before enjoying a sumptuous buffet dinner with beautiful sunset view on board a floating restaurant. Thereafter you will be transferred back to your hotel.
Overnight: Hotel in Siem Reap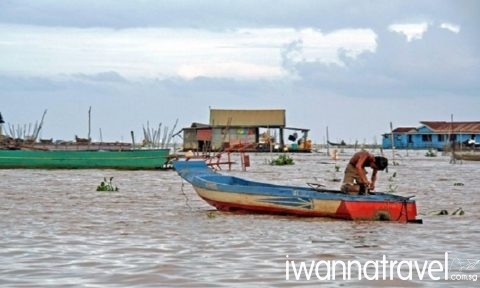 Day 02

ANGKOR WAT – ANGKOR THOM – ALL TERRAIN VEHICLE ADVENTURE
Wake up early in the morning at 4am to catch sunrise over at Angkor Wat. Prepare your camera for the quintessential shot of the mighty temple silhouetted against the lotus pond. After sunrise, you will proceed to Angkor Thom – the last capital of the ingenious Khmer Empire. Within the old city compound are some of the most representative temples and structures of the Khmer Empire: the well restored South Gate which was used for a scene in the Tomb Raider movie; The Terrace of the Elephants and The Terrace of the Leper King; the Bayon Temple with its smiling face Bodhisattva Avalokiteshvara; the Colossal Baphuon – aka the world's largest jigsaw puzzle. After lunch, you will return back to Angkor Wat to explore its compound as afternoon offers the best lighting condition to reveal its grandeur. Imagine a symmetrical temple complex that spreads over 200 hectares with multiple courtyards, a 65 meters high central tower surrounded by four smaller towers and a series of enclosure walls with intricate bas relief and all of it surrounded by a 4m deep moat that encompasses a perimeter of more than 5 km. The temple layout recreates the image of Mount Meru, a legendary place in Hindu mythology that is said to lie beyond the Himalayas and be the abode of gods. In the evening, you will proceed for your ATV adventure (1 hrs riding). Bike through pretty countryside landscape, observing rural lifestyles and enjoy a beautiful sunset over wide expanse of padi field.
Overnight: Hotel in Siem Reap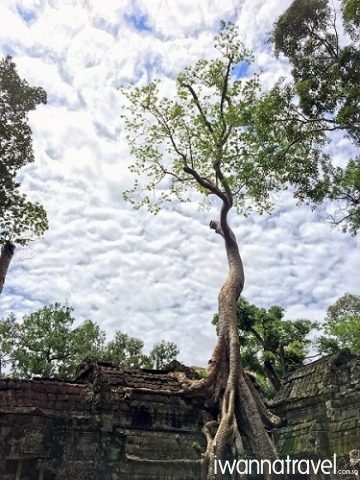 Day 03
 PHNOM KULEN NATIONAL PARK 
In the early morning you will join a guided tour at the Angkor Centre for Conservation of Biodiversity (https://www.facebook.com/ACCBCambodia/), the first nature conservation and endangered wildlife rescue and breeding centre in Cambodia. Species currently under protection here include pangolin, pileated gibbon, silvered langur, slow loris, civet cat, leopard cat, etc. You will learn about the Center work effort in wildlife conservation, species recovery, environmental resources management etc. In the late morning, you will embark for an Indiana Jones adventure through the jungles of Phnom Kulen National Park (aka "Mountain of the Lychees"). Up amid the hills lies one of the most elaborate and intriguing of all Angkor ruins – Kbal Spean (aka The River of a Thousand Lingas) – which consists of a series of thousand year old reliefs etched into the river beds and banks. Thereafter you will visit the beautiful Phnom Kulen Waterfalls to cool off. Depending on the season, the first waterfall is 4-6 meters tall and 15-20 meters wide while the second waterfall is 15-20 meters long and 8-10 meters wide. It is possible to swim in the plunge pool and enjoy a nature jacuzzi from the falling water. Before dinner time, go for a relaxing spa or body massage to soothe you aching muscle.
Overnight: Hotel in Siem Reap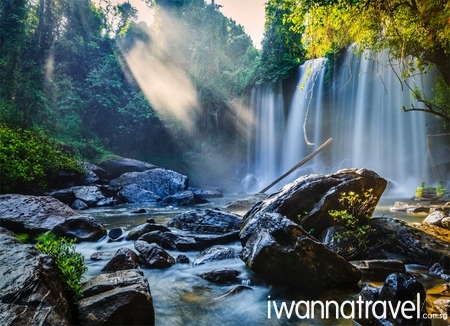 Day 04
SIEM REAP – SINGAPORE

Free and easy at your own leisure till airport transfer for your flight home. Depending on your interests and flight schedule, our guide can bring you to some of the main city attractions like Old Market, Alley West, Angkor National Museum, War Museum and the Landmine Museum, etc.
Package includes:
All land transport including airport transfers
All hotel accommodations in Siem Reap
Hotel breakfasts
English speaking guide
Tonle Sap Cruise and dinner
One Day Angkor Archaeological Park Pass
Entrance fee to Phnom Kulen National Park
All-terrain vehicle riding (1 hour)
Package excludes:
Return international air ticket
Travel insurance
All meals not indicated
Tips for guide and driver
Donation to Angkor Centre for Conservation of Biodiversity (~USD3 per pax)
Entrance fees to city attractions e.g. Angkor National Museum, War Museum and the Landmine Museum
All expenses of a personal nature
FAQ 
Need more information on Siem Reap? Read through our Siem Reap frequently asked questions (FAQ) and get them answered!
DESTINATION YOU MIGHT ALSO BE INTERESTED IN
4D3N Mount Fansipan Summit Trek
4D3 Ho Chi Minh & Mekong Delta
4D3N Siem Reap Tour (History and Culture)
PHOTO GALLERY
Contact us today to find out more!
DISCLAIMER
IWT LLP, acts only as an agent for The Client in acquiring transportation, accommodations, sightseeing, trekking and other services for The Client's benefit, and on the express condition that IWT LLP shall not be liable nor responsible for any loss (including without limitation, direct, indirect, special, incidental or consequential loss, economic loss), damage, mishap, bodily injury, death, delay, defect, omission or any irregularity that may be caused to The Client, third parties or properties. IWT LLP is to be released from all liabilities deriving from acts of terrorism, hijacking, civil unrest, natural calamities, labour strikes, thefts or any other factors beyond IWT LLP's control. Any losses and expenses are to be borne by The Client. In the event that IWT LLP is found liable by a court of competent jurisdiction on any basis in relation to The Client's booking done via IWT LLP, IWT LLP's maximum liability to the client is limited to the cost of the booking in question. See our full Terms and Conditions.