"You Name It, Jogja Has It" is our tagline for Yogyakarta, the Indonesian city most famous for its Borobudur World Heritage Site. Yogyakarta, also known as Jogjakarta or Jogja, has something to offer for every type of traveller – cultural landmarks, historical ruins, white sand beaches, volcano trekking, river rafting, caving, orchard gardens, shopping and gastronomic tour, café hopping, etc. Despite being the second most popular tourist destination in Indonesia after Bali, Yogyakarta is still very much laid back with a relaxed atmosphere and friendly locals.
ITINERARY
Day 01
SINGAPORE – YOGYAKARTA (MERPAI LAVA TOUR)
Fly directly from Singapore Changi to Yogyakarta International Airport. Upon arrival, you will be greeted by our friendly guide who will transfer you to Kliadem for the Merapi Lava Tour. You will explore Kaliadem (1,100m above sea level) in 4WD which is located only 5km from the peak of Mount Merapi for a close up view of the volcano. The recent 2010 eruptions had completely transformed Kaliadem's landscape from lush greenery to a barren treeless wilderness and covered it with layers of grey volcanic sands and rocks. The highlights include a small Pompeii-liked museum with display of burnt artifacts and an underground bunker for emergency shelter during eruption. Transfer back to your hotel in Yogyakarta.
Overnight: Hotel in Yogyakarta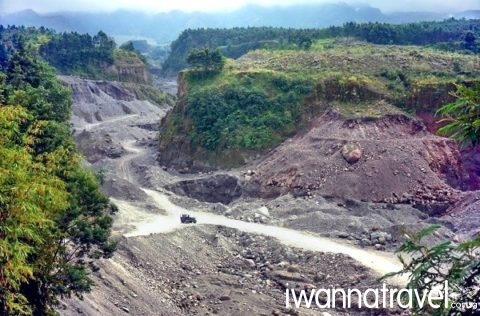 Day 02
YOGYAKARTA (JOMBLANG CAVE, TIMANG BEACH)
Enter Jurassic Park where mosses, ferns, bushes and even big trees remain untouched and preserved over thousands of years. The Jomblang Cave that leads down to the ancient underground forest is a colossal sink hole that measures 50m in width and 80m in depth. To reach the bottom of the cave, one has to abseil down via a single rope pulley system. Image hanging by a safety harness in the air while descending into unknown territory. The adventure continues after you touch ground. Jomblang Cave is just part of a cave complex in the area. A further 250m along the ancient forest is another gigantic cave called Goa Grubog with a subterranean river that flows out to the sea. Other than the endemic flora, interesting geological structures and adrenalin abseiling, the best highlight is unarguably the heavenly light effect created by the diffusion of sun rays through the sink hole. Jomblang Cave was discovered by the Indonesia's Indiana Jones Cahyo Alkantana an entrepreneur cum explorer who stumbled upon the cave in the 1980s. Since then he has developed it into an eco-adventure site for outdoor enthusiasts.Thereafter, you will visit Timang Beach to try out the adrenaline "cable car" ride.
Overnight: Hotel in Yogyakarta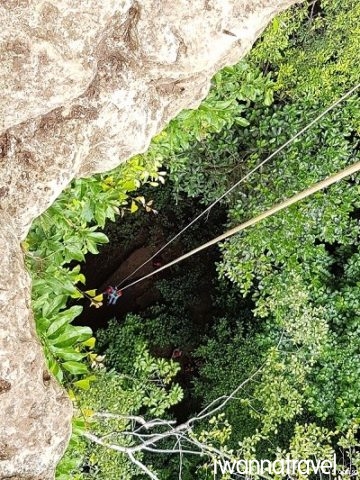 Day 03
YOGYAKARTA (PRAMBANAN, KOTA GEDE, SULTAN PALACE, WATER CASTLE, PARANGTRITIS BEACH, JALAN MARIBORO)

In the morning, you will visit Prambanan, a Hindu temple complex and a UNESCO World Heritage Site, built around AD 856 to commemorate a major battle victory. The complex which is situated inside a large, pleasant and visitor friendly park consists of 224 temples (many are in ruined state); the most important of which are the three restored temples Candi Siva, Candi Brahma and Candi Vishnu, each dedicated to the three principal Hindu gods of trimurti.On the way back to Yogyakarta, you will visit the litle town of Kota Gede once the seat of the mighty Mataram Empire.Sights within the town include silverwork factory, the Mataram kings cemetery, etc. After lunch, you will , you will visit the two centuries old Sultan's Palace (Kraton) where the current Yogyakarta sultan and his family still reside. The Javanese dominated style complex consists of the sultan residence, throne hall, performance pavilions, mosque, museums and an immense royal garden. Visit the Water Palace (Taman Sari) a partly ruined complex built as a pleasure garden by the first Sultan and be marveled by its large artificial lake, bathing pools, labyrinth network of tunnels and chambers and an imposing mansion of European design. Thereafter, you will visit Parangtritis beach, a wide stretch of black volcanic sandy beach with big surfing waves backed by dramatic jagged cliffs. You may ride on horse drawn carriage or try out ATV (All-terrain vehicle) along the beach while waiting for sunset over the Indian Ocean. At night, visit the shopping district of Jalan Maliboro for souvenirs, handicrafts and street foods.
Overnight: Hotel in Yogyakarta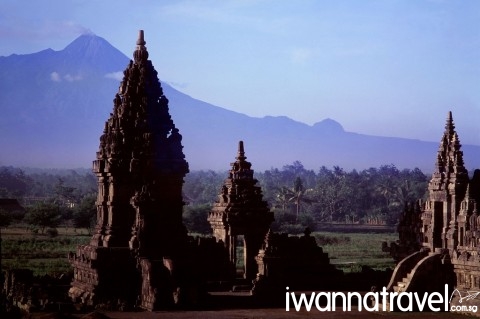 Day 04
YOGYAKARTA – BOROBUDUR – SINGAPORE
Enjoy a leisurely one-hour drive through scenic villages and padi fields to Borobudur – the biggest Buddhist monument in the world. From a bird's eye view, Borobudur which sits on a square base with four entry points supporting a hemispheric body and a crowning spire forms a mandala, a geometric aid for meditation. The structure in the form of a stepped pyramid consists of 10 levels – six rectangular storeys, three circular terraces and a central stupa forming the summit – which represents the ten levels of a Bodhisattva's life which he or she must develop to become a Buddha or the awakened one. The rectangular storeys contain galleries of carved stone reliefs depicting moralistic fables and Buddha's life from the Jataka tales. The top level terraces contain circles of mini stupas of Buddha statues in various mudras (meditative hand gestures) facing outward from the temple. You will follow the traditional pilgrimage route entering the monument from the east and circumambulating each level clockwise to appreciate how the reliefs, carvings and statues contributes to the whole. Thereafter you will be transferred to the airport for your flight home.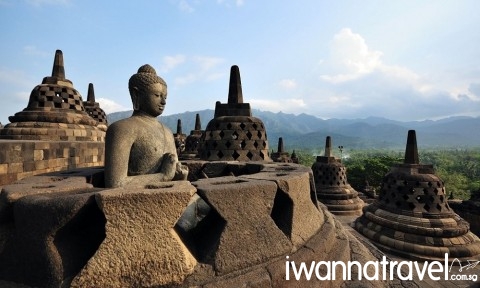 Package includes:
All local land transfers including airport transfers
All accommodations
All hotel breakfasts
English speaking guide
Entrance fees and activities fees to all places of interest stated in above itinerary
Package excludes:
Return international air tickets
Travel insurance
Indonesian VISA (ASEAN citizens are VISA-free up to 30 days)
All meals not indicated
Tips for guides
All expenses of a personal nature
OPTIONAL PROGRAM
If Jogja is not under the radar destinations for your next vacation, we believe the recommendations here will change your mind. We can customise an itinerary to suit your interest.
Contact us today to find out more!
DISCLAIMER
IWT LLP, acts only as an agent for The Client in acquiring transportation, accommodations, sightseeing, trekking and other services for The Client's benefit, and on the express condition that IWT LLP shall not be liable nor responsible for any loss (including without limitation, direct, indirect, special, incidental or consequential loss, economic loss), damage, mishap, bodily injury, death, delay, defect, omission or any irregularity that may be caused to The Client, third parties or properties. IWT LLP is to be released from all liabilities deriving from acts of terrorism, hijacking, civil unrest, natural calamities, labour strikes, thefts or any other factors beyond IWT LLP's control. Any losses and expenses are to be borne by The Client. In the event that IWT LLP is found liable by a court of competent jurisdiction on any basis in relation to The Client's booking done via IWT LLP, IWT LLP's maximum liability to the client is limited to the cost of the booking in question. See our full Terms and Conditions.