Wae Rebo is an isolated and unspoilt Manggaraian highland village situated 1100m above sea level in the crater of an ancient volcano. The village can only be reached via a 3-4 hours uphill trek from the lowlands. The village centers around seven unique cone-shaped traditional houses called Mbaru Niang which are built entirely with nature material like grass and wood. Each Mbaru Niang is a communal house consisting of five levels; the first level is the families' living quarters, the second level is for storage of food and goods, the third is for storage of seeds, the fourth is for storage of food reserve in case of drought and the fifth is for the purpose of ancestor worshipping. A central wooden beam and strong rattan fibers hold the whole construction together without the use of any nail. Visitors are welcome to spend the night in the Mbaru Niang, and to socialize and dine with the Wae Rebo community.
ITINERARY
Day 01
Singapore / Bali – Labuan Bajo – Denge
Upon arrival at Labuan Bajo, you will be picked up by our friendly guide to Denge Village (approx. 5-6 hrs. drive). Along the way, you will stop by the hilltop village of Melo which offers a bird-eye view of Labuan Bajo Bay and the islands of the Komodo National Park. If time permits, you can also visit the intricate spider web rice fields at Cancar probably one of its kind in the whole world.
Overnight: Homestay in Denge
Day 02
Denge – Wae Rebo
The 8km uphill hike from Denge to Wae Rebo takes about 3-4 hrs. to complete. There are three rest points along the way; Wae Lomba – a scenic creek about 45 min hike from Denge, Pocoroko – another hour hike away and the last place before Wae Rebo with mobile signal coverage and Nampe Bakok – a lookout point located at the crater rim which offers spectacular views of the sea below and the aloft Gunung Inerie afar. Along the way, you will encounter friendly local carrying coffee beans down to sell at the market. Spend your afternoon, exploring the village and surrounding fields, interacting with the locals or playing soccer with the kids. In the evening, you will join the families for a simple communal dinner.
Overnight: Homestay in Mbaru Niang
Day 03
Wae Rebo – Denge – Labuan Bajo
Wake up early in the morning to enjoy an enchanting sunrise over the cloud forest. After breakfast, you will hike downhill towards Denge where you will be picked up by private transport back to Labuan Bajo.
Package includes:
All land transfers including airport transfers

Homestays in Denge and  Mbaru Niang

All homestay breakfasts

Dinner for Day 02

Local English speaking guide

All entrance fees to places of interest
Package excludes:
Return international air ticket
Travel insurance
All meals not indicated
Tips for guide
All expenses of a personal nature
HIKING GRADE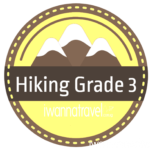 TESTIMONIALS
We enjoyed the activities such as snorkelling in the sea, staying on the boat and village hut. Motorcycle experience on a muddy road (due raining) was really scary but good experience. Guides, driver and boat cabin are experienced in their field and exercised precaution at times.
– Liling (Group of 5 on a 7D6N Flores Trip in July 2018)
We always received prompt replies from our communications with IWT (Bob). Information provided prior to the trip was useful to help us prepare in terms of packing, budgeting, expectations and physical training. The itinerary was customized slightly and incorporated elements of activities that we wanted to do. The guide and driver were friendly and saw to all our needs throughout the trip. 
– Ms Anonymous (Group of 2 on a 7D6N Flores Trip in July 2016)
Though it's a bit out of the way, the unspoilt nature and authentic culture more than make up for the slight inconvenience. The itinerary was very diverse; we did snorkeling, dragon-hunting, trekking and visited really traditional and authentic villages where locals still maintain much of their old customs. We saw a group of locals working together and toiling under the sun to build a school for the village kids –  a testimonial to their communal spirit. One of our best moments was to see hundreds of thousands of bats streaming out simultaneously of the mangrove swamp in Kalong Island – a really magical sight! Thanks Bob for recommending this hidden gem destination to us
– Ms Nyew (Group of 3 on a 7D6N Flores Trip in Mar 2016)
Contact us today to find out more!
DISCLAIMER
IWT LLP, acts only as an agent for The Client in acquiring transportation, accommodations, sightseeing, trekking and other services for The Client's benefit, and on the express condition that IWT LLP shall not be liable nor responsible for any loss (including without limitation, direct, indirect, special, incidental or consequential loss, economic loss), damage, mishap, bodily injury, death, delay, defect, omission or any irregularity that may be caused to The Client, third parties or properties. IWT LLP is to be released from all liabilities deriving from acts of terrorism, hijacking, civil unrest, natural calamities, labour strikes, thefts or any other factors beyond IWT LLP's control. Any losses and expenses are to be borne by The Client. In the event that IWT LLP is found liable by a court of competent jurisdiction on any basis in relation to The Client's booking done via IWT LLP, IWT LLP's maximum liability to the client is limited to the cost of the booking in question. See our full Terms and Conditions.