Looking for a Bali-like destination that is not Bali? Look no further than Lombok and the Gili Islands – the idyllic, untouched sister islands of Bali. Lombok is what you would image an unspoiled Bali to be before the advent of tourism boom. Lombok has thousand miles of unspoilt beaches, endless stretches of green rice paddies and lush mountainous landscape with cascading waterfalls. The Sasak – the indigenous people of Lombok are also incredibly hospitable and excited to share their culture with visitors, which is an enriching experience for someone who has never strayed beyond the hustle and bustle of Bali.
ITINERARY
Day 01
SINGAPORE – LOMBOK
Fly direct from Singapore Changi Airport to Lombok International Airport. Upon arrival, you will be picked up by our friendly driver to the world renowned Autore Pearl Farm located off the crystal clear waters of Pamenang. During this tour, you will walk through the pearl growing process step by step from microscopic baby oysters hatchery, plankton laboratories which produce the nutritious diets for oysters to the actual operations to insert the grafting nucleus and to extract the pearls. You will also get to see the oysters in various stages of growth. You will have the change to extract a pearl from a real oyster and learn how to evaluate pearl quality. After the farm visit, you will be transferred to your resort in the beach town of Sengggi where you can enjoy dinner while watching sun sets over the Lombok Strait.
Overnight: Hotel in Lombok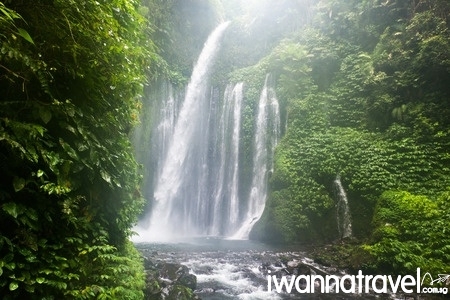 Day 02
LOMBOK SIGHTSEEING AND TREKKING 
After hotel breakfast, you will be transferred via private vehicle to visit the traditional market of Lendang Bajur where you can experience a slice of local life and watch how sweet wine is made from palm sugar.  You will proceed to the foot of the might Mount Rinjnai where you will commence your soft hike to the beautiful Sendang Gile and Tiu Kelep Waterfalls. Sendang Gile is an easy 20 minutes hike from the trailhead. For the more energetic, the second waterfall – Tiu Kelep is another hour's hike upriver from Sendang Gile where you can enjoy a nature jacuzzi massage by resting beneath the falling waters. After enjoying a nice picnic lunch by the waterfall, you will proceed to Senaru Sasak Village where you can observe traditional architecture and walk through the communities' gardens and the irrigation channel. On the return journey, you will stop at Malimbu Hill which offers an excellent lookout point for the  idyllic Gili Islands to the east and Mount Agung to the west.
Overnight: Hotel in Lombok
Day 03
LOMBOK – GILI ISLANDS
After hotel breakfast, you will be transferred via private speedboat to one of the Gili Islands which is an archipelago of three laid back small islands – Gili Trawangan, Gili Meno and Gili Air – with white sandy beaches, clear turquoise waters and beautiful reefs teeming with marine life. Unique to the Gili Islands is that all motorized vehicles are prohibited, so getting around the islands is by foot, bicycle or horse cart. The islands offer a wide range of activities: scuba diving, snorkeling, surfing, kayaking, stand-up paddling, island hopping, horseback riding, yoga traditional massage etc.
Overnight: Resort in one of the Gili Islands
Day 04
GILI ISLANDS – LOMBOK – SINGAPORE
Free and easy at your own leisure till transfer airport transfer.
Package includes:
All local land transfers
Speedboat transfers between Lombok and Gili Island
Two nights' accommodations in Sengggi Lombok
One night accommodation in Gili Air or Trawangan
All hotel breakfast
Trekking guide for waterfall
Entrance fees to all places of interest mentioned in above itinerary
Package excludes:
Return international air tickets
Travel insurance
Indonesia VISA (ASEAN citizens are VISA-free up to 30 days)
All meals not indicated
Activities in Gili Islands
Tips for guide
All expenses of a personal nature
TESTIMONIALS
The climb was great, the view was amazing. We really enjoyed the fact that it wasn't too touristic and all hikers were local. The guide was very helpful and brought us around in Surabaya on Saturday.
–
Aijing (Group of 2 on a 4D3N Mt Arjuno & Mt Welirang trip in Apr 2019)
Personalised pickup and attention to our well being. Focused to help us to have good experiences. Guide Udin is very professional. Dependable, attention to details, providing good advices. Porters are friendly and helpful. We are very happy with the service level, professionalism of the whole team to bringing good experiences to hikers like us.
– YT (Group of 3 on a 2D1N Mt Merbabu Camping trip in Nov 2018)
Hi Bob, thanks very much for making the arrangements and making this trip a meaningful one for me. The service that you have provided is exception, really unlike any vendors that I have engaged before. The prompt replies and staying connected with the traveller during the trip helps to reassure the traveller. The guides that were engaged were also very professional and ensures the safety of the climber. The guides takes the effort to brief the climber and checks that there are proper safety equipment before the hike so that safety of the climber will not be compromised. It was a smooth trip. The drivers for the transfers were also punctual. It's really a great trip! Thank you very much!
– Pei Yi (Solo hiker on a 4D3N Semeru trip in Aug 2018)
The guide and porters were experienced and very nice! They were very helpful and fun 🙂 the cooking was delicious and they were wonderful hosts. We were pretty slow but they were understanding about it. They were very accommodating of our wants to stop and take pictures along the way too. I'd like to commend porter Diu (I hope I'm spelling it right), my Friend was struggling up and he offered to carry her bag for her. During the descend, I kept slipping and he was so kind to help me down the many steep paths.
– Stef (Group of 6 on an 2D1N Mt Merbau Summit & Camping trip in Jul 2018)
We were lucky, the weather was good and sunny throughout the trip. Scenery was beautiful and most importantly food was great. A great trek but not a stroll in the park. Summit push was a struggle for some of us. Thanks Ying for making our trip a success.
– Jace Lee (Group of 4 on a 4D3N Semeru trip in June 2018)
Profession guide ensures a safety and comfortable journey during the adventure. Tents and pillows were of good condition and organisation of daily itinerary was based on our capability and ability to continue the hike rather than rushing for the schedules. The hiking and trip journey was enjoyable.
– Adam (Group of 4 on a Mt Rinjani trip in May 2017)
The whole arrangement from the start to the end was smooth. The support of the guide was immense and we enjoyed ourselves all the way through. But kudos to the guide who made this experience a beautiful one.
– Mus (Group of 4 on a Mt Rinjani trip in May 2017)
It has been a fulfilling trip from the start to the end. Ying has been very meticulous from the beginning; paying great attention to our dietary requirement, rooming arrangement etc. Thanks Abdul, our guide, for the encouraging gestures to keep us going especially during the summit push. Fond memories for years to come!
– Celine (Group of 7 on a Mt Rinjani trip in June 2016)
This was our third trekking trip with IWT after Rinjani and Ophir. We continued to be impressed with their consistent personalized customer service and responsiveness. The pre-trip briefing package which consisted of a detailed packing list and things to take note of are especially useful for our climb preparation.Thanks Bob for keeping a constant check on us during the trip. We look forward to many more trips with you.
– HL Chua (Group of 5 on a 5D4N Semeru trip in May 2016)
Thanks to our guide Arief for making my life so much bearable during the 3d2n trek. It was a tough trek especially for someone like me who's not so fit but the scenery was really worth the sweat. Looking back it's a trip well planned and executed. Thanks for making this happen.
– Jiahui (Group of 5 on a Mt Rinjani trip in May 2016)
We had a great trip and received very good services from the mountain guide and his helpers. We greatly appreciate the  thoughtfulness with which iwannatravel planned the itinerary especially when we need to make last minute change to reduce the group size. Our trip is all well planned and executed. We greatly enjoyed ourselves throughout the trip.
– Susana Chua (Group of 3 on a 5D4N Semeru trip in Sept 2015)
Kudos to IWT for making our Semeru trip a success; everything from driver, guide to accommodation were well planned and organised! The Semeru FAQ and packing list provided by Bob were especially useful in helping us to prepare for this trip. Bob was always very prompt and patient towards our enqueries and requests for itinerary amendment. We look forward to our next trip with IWT! 
– Jeremy (Group of 6 on a 5D4N Semeru trip in Aug 2015))
We are very happy with the overall arrangement of everything from the choice of trekking company, the transportation and the accommodations. We were very well taken care of on the trek. The foods on our camping trip was really great. Beyond our expectation actually. =) Thanks you Bob for the patience to answer to all our queries and giving us advises that helps us greatly to planned out our extension stay after the climb. Will definitely join their other climbs or engage them to plan another trip again. =)
– Yen Wei (Group of 9 on a Mt Rinjani & Gili Trip in Aug 2015)
Read more at
testimonials
!
Contact us today to find out more!
PHOTO GALLERY
Contact us today to find out more!
DISCLAIMER
IWT LLP, acts only as an agent for The Client in acquiring transportation, accommodations, sightseeing, trekking and other services for The Client's benefit, and on the express condition that IWT LLP shall not be liable nor responsible for any loss (including without limitation, direct, indirect, special, incidental or consequential loss, economic loss), damage, mishap, bodily injury, death, delay, defect, omission or any irregularity that may be caused to The Client, third parties or properties. IWT LLP is to be released from all liabilities deriving from acts of terrorism, hijacking, civil unrest, natural calamities, labour strikes, thefts or any other factors beyond IWT LLP's control. Any losses and expenses are to be borne by The Client. In the event that IWT LLP is found liable by a court of competent jurisdiction on any basis in relation to The Client's booking done via IWT LLP, IWT LLP's maximum liability to the client is limited to the cost of the booking in question. See our full Terms and Conditions.