Northern Circuit is the newest and longest route on Kilimanjaro. It begins in the west at the Londorossi Gate and follows the Lemosho Route for the first few days. At Lava Tower, instead of turning south to Barranco Camp, it heads north and circles the mountain clockwise from Moir Hut to Buffalo Camp to School Hut, before summiting from the east. This route which requires at least 8 days to complete offers great varied scenery and excellent opportunity for acclimatization.
ITINERARY
Day 01
SINGAPORE – TANZANIA
Fly from Singapore Changi Airport to Tanzania Kilimanjaro Airport. There is no direct flight between Singapore and Tanzania. Below airlines connect Singapore and Tanzania with a transit stop in between:
Ethiopia Airlines – transit at Addis Ababa in Ethiopia
Qatar Airways – transit at Doha in Qatar
Emirates – transit at Dubai in United Arab Emirates
Overnight: On flight
Day 02
KILIMANJARO INTERNATIONAL AIRPORT – MOSHI
Upon arrival at Kilimanjaro International Airport, you will be picked up by our friendly driver to your hotel in Moshi (approx. 1 hr 45 min drive). After settling down in the hotel, you will meet your mountain guide who will provide a comprehensive pre-climb briefing to prepare you for the challenge ahead. Free and easy at your own leisure for the rest of the day.
Overnight: Hotel in Moshi
Day 03
MOSHI – LONDOROSSI GATE – LEMOSHO GATE – MTI MKUBWA CAMP (7 km; 3 hrs hike)
In the morning, you will be transferred to Londorossi Gate (2250m; approx. 2 hrs drive). Enjoy your packed lunch in a sheltered pavilion while your guide registers your hike with the National Park authorities. Thereafter you will be transported to the trailhead at Lemosho Gate (2100m; approx. 30 min drive). Hike along beautiful forest trails to Mti Mkubwa Campsite (2650m; 7km; approx. 3 hrs hike) where you will set up tents for the night. Mit Mkubwa means "big tree" in Swahili an adept reference to big trees around it. Along the way, look out for the ubiquitous Blue monkeys and the Colobus monkeys with distinctive white capes and tails.
Overnight: Tents with sleeping bags
Day 04
MTI MKUBWA CAMP – SHIRA 1 CAMP (7 km; 5 hrs hike)
Wake up to the chirping of birds. Today starts with a gradual hike through the final stretch of the rainforest zone and then gets steeper as you approach the open landscape of savanna and scrubland. After about 4-5 hours of hiking, you will reach the western edge of the Shira Plateau before dropping gently down to Shira 1 Camp (36010m). From here you can catch your first glimpse of snow covered Kibo across the plateau. The plateau is exposed so be prepared for a cold night with possibility of sub-zero temperature.
Overnight: Tents with sleeping bags
Day 05
SHIRA 1 CAMP – CATHEDRAL POINT – SHIRA 11 CAMP (10 km; 6 hrs hike)    
Today you will hike across the Shira Plateau from west to east over a pleasant relatively flat terrain. Take your time to explore the spectacular plateau which is one of the tallest plateau on earth. Along the way, you can make a side visit to Cathedral Point (3806m), a huge buttress of lava rock surrounded by steep spires and pinnacles. From the top, you will be rewarded with an expansive view of the plateau and the distant Mount Meru (4562m) – second tallest peak of Tanzania – floating on a sea of clouds. Among the three peaks of Kilimanjaro; Shira, Mawenzi and Kibo, Shira was the first volcano to extinct and is also the oldest and smallest peak. Thereafter you will proceed towards Shira 11 (3850m) located on the eastern edge of the Shira Plateau. Today's hike which takes about 6 hours to complete will provide an excellent acclimatization opportunity.
Overnight: Tents with sleeping bags
Day 06
SHIRA 11 CAMP – LAVA TOWER – MOIR CAMP (14 km; 7 hrs hike)
The mesmerizing sunrise over the distant Meru Peak will undoubtedly be one of your trip's highlights. Today you will head into some serious altitude towards the 4,600m high Lava Tower – an imposing lava plug, a geological "cork" over a volcanic vent, formed when Kilimanjaro was an active volcano. Along the way, you will pass through the "Garden of the Senecios" with giant groundsels and lobelias which are larger than a human. From Lava Tower, you will hike along the Northern Circuit route down to Moir Camp (4200m) – an isolated and seldom used camp site with great views over the Shira Plateau. The Northern Circuit route as it is named circumvents around the north-western side of Kibo.  Climbing high and sleeping low is a good way to acclimatise your body to the high altitude. It takes about 3-4 hours to reach Lava Tower and another 2-3 hours to reach Moir Camp.
Overnight: Tents with sleeping bags
Day 07
MOIR CAMP – BUFFALO CAMP (12 km; 7 hrs hike)
From Moir Camp, the trail continues to circumnavigate Kibo, climbing steeply out of the valley before descending to Buffalo Camp (4020m). Depending on your energy level, you can take a small detour to explore the Lent Hills (4375m) before returning to the main trail. Along the way, you can enjoy close-up views of Kibo and expansive panoramic views of Kenya's wild savannah to the north.
Overnight: Tents with sleeping bags
Day 08
BUFFALO CAMP – THIRD CAVE CAMP (8km, 6 hrs hike)
Today's hike starts with a climb up the Buffalo Ridge and down into Porfu Camp where you will have lunch. The trail then continues east around the northern slopes to the Third Cave Camp (3800m). Immerse yourself in the wilderness of this rarely travelled route and look out for buffaloes crossing your path.
Overnight: Tents with sleeping bags
Day 09
THIRD CAVE CAMP – SCHOOL HUT (5km, 6 hrs hike)
Today you will climb up and over the saddle that connects the Kibo and the Mawenzi peaks. No long into the hike, you will get to see Mawenzi (5148m). Mawenzi is the third highest peak in Africa and one of the three volcanic cones on Kilimanjaro. After 5 hours of uphill hike, you will reach School Hut where you can start to prepare your gear (down jacket, balaclava, fresh batteries for head lamp, etc.) for D-Day tomorrow. There will be nothing much for you to do except to get plenty of rest. After an early dinner, you will return back to your tent for further rest. At 4750 high, School Hut is at the highest altitude that you will sleep at for the whole hike. Your guide will wake you up around 11pm for the summit push.
Overnight: Tents with sleeping bags
Day 10
SCHOOL HUT – UHURU PEAK – MWEKA CAMP (17km; 14 hrs hike)
The summit push is the most mentally and physically challenging portion of the hike. After 5-7 hours of hiking, you will reach the crater rim at Gilman's Point (5681m). Along the way you will pass by the famous Hans Meyer Cave (5150m) named after the first European who reached the summit in 1889. From Gilman's Point, it is another 2 hours climb to Uhuru Peak. As you step foot on Uhuru Peak – the highest point in Africa, you will feel that your months of training for this adventure is a worthwhile effort. From the summit, you will descend to Barafu Camp for some rest and lunch before continuing to Mweka Camp where you will spend your last dinner and night on the mountain.
Overnight: Tents with sleeping bags
Day 11
MWEKA CAMP – MWEKA GATE – MOSHI (10 km; 3 hrs hike)
After breakfast, you will descend for 2-3 hours through a beautiful mossy forest to Mweka Gate where you will be transferred back to your hotel in Moshi (approx. 30 min drive). Free and easy at your own leisure for the rest of the day.
Overnight: Tents with sleeping bags
Day 12
MOSHI – KILIMANJARO INTERNATIONAL AIRPORT
Free and easy at your own leisure till airport transfer for your onward journey.
Package includes:
All local land transport including airport transfers
Pre and post trek 3-star accommodation with breakfast in Moshi (twin-sharing basis in private room with attached toilet)
Kilimanjaro National Park permit, entrance fee and camping fee
All meals during the trek
Drinking water during the trek (at least 3 litres of water per person per day)
Licensed, certified and experienced English speaking mountain guide and assistant guide
Porters for tents, food and communal equipment
Porters for personal luggage (subjected to a maximum of 15kg per trekker)
Tents, sleeping mats and dining tent with table and chairs
Oximeter for measuring pulse rate and blood oxygen level
Bottled oxygen (for emergency rescue only)
Rescue fees via stretcher and land vehicle from the mountain
Mount Kilimanjaro Certificate for a successful ascent
Package excludes:
Return international air tickets
Tanzania VISA (Visa-free for Singaporean and Malaysian visitors)
Travel insurance
All meals not indicated
Tips for guides, porters and cook
Sleeping bags (available for rental)
Toilet tent (available for rental)
All expenses of a personal nature
It is possible to reduce the trekking duration from 9D8N to 8D7N by condensing Day 05 and Day 06 into one day. From Shira 1 Camp you will head directly to Shira 2 Camp for lunch and then carry on to Moir Camp: SHIRA 1 CAMP – SHIRA 11 CAMP – MOIR CAMP. However this is not an ideal itinerary as it offers less days for acclimatization.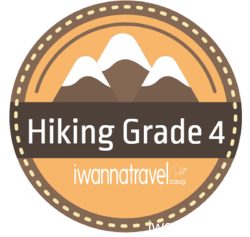 FAQ 
Need more information on Mount Kilimanjaro? Read through our Mount Kilimanjaro frequently asked questions and get them answered!
OPTIONAL PROGRAM
11D10N Kilimanjaro Program (8D7N Lemosho Route)
TESTIMONIALS
Thanks! You guys were so prompt and helpful. And the Kili team who brought us up there was amazing!
–  Jace & Jos on 12D11N Trip to Tanzania in Aug 2018
PHOTO GALLERY
Contact us today to find out more!
DISCLAIMER
IWT LLP, acts only as an agent for The Client in acquiring transportation, accommodations, sightseeing, trekking and other services for The Client's benefit, and on the express condition that IWT LLP shall not be liable nor responsible for any loss (including without limitation, direct, indirect, special, incidental or consequential loss, economic loss), damage, mishap, bodily injury, death, delay, defect, omission or any irregularity that may be caused to The Client, third parties or properties. IWT LLP is to be released from all liabilities deriving from acts of terrorism, hijacking, civil unrest, natural calamities, labour strikes, thefts or any other factors beyond IWT LLP's control. Any losses and expenses are to be borne by The Client. In the event that IWT LLP is found liable by a court of competent jurisdiction on any basis in relation to The Client's booking done via IWT LLP, IWT LLP's maximum liability to the client is limited to the cost of the booking in question. See our full Terms and Conditions.