Mount Gede-Pangrango National Park located only 50km away from Jakarta is one of the oldest and best preserved national parks in Indonesia. The park is centred on two volcanoes; active Mount Gede (2,958m) and dormant Mount Pangrango (3,019m) whose summits are connected by a high saddle known as Kandang Badak. The national park is associated with some famous names in history. The famous naturalist Alfred Russel Wallace was so impressed by its beauty and uniqueness that he wrote, "by far the most interesting incident in my visit to Java was a trip to the summits of the Pangrango and Gede mountains". The trail on the south-eastern slopes was found by Sir Thomas Raffles in 1811 while the earliest recorded summit climb was by C.G.C. Reinwardt in 1819. The trail passes through some interesting and beautiful landscapes like Alun-alun Suryakencana – a highland meadow covered with edelweiss flowers, a 50m high Cibeureum Waterfall, a blue colour Biru Lake, some hot springs etc. The park is also rich in wildlife and birds such as the Java Gibbon which is endemic to Java, Javan langur, leopards, pangolin, wild boars, hawk eagle, owl etc.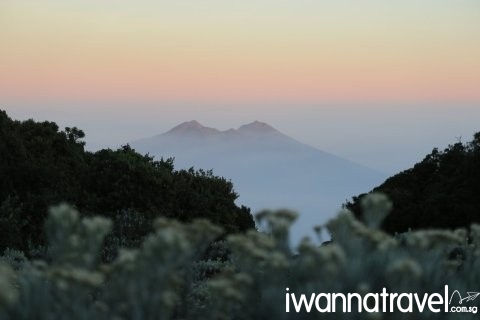 ITINERARY
Day 01 
SINGAPORE – JAKARTA – GEULIS
Upon arrival at Soekarno Hatta International Airport in Jakarta, you will be picked up by our friendly driver to your accommodation in Geulis (approx. 3 hrs drive).
Day 02 (B, L, D)
GEULIS – GUNUNG PUTRI GATE – ALUN-ALUN SURYAKENCABA – MT GEDE – KANDANG BADAK SHELTER
600am – Wake-up call. After breakfast, you will be transferred via mini-van to the trailhead at Gunung Putri Gate (1 hr drive).
830am – Climb registration follow by safety briefing at the national park post at Gunung Putri Gate.
900am – Start your climb towards Alun-alun Suryakencana (2,705m) a beautiful meadow covered with edelweiss flowers.
100pm – Reach Alun-alun Suryakencana where you will stop for lunch.
130pm – Continue your climb to the summit of Mount Gede.
230pm – Reach the summit. Rest and enjoy the scenery.
300pm – Descend to Kandang Badak shelter where you will camp for the night.
500pm – Arrive at Kandang Badak shelter and find your tents already set up by our porters.
630pm – Enjoy your camping dinner. Turn in early for the next day sunrise summit hike.
Day 03 (B, L, D)
KANDANG BADAK SHELTER – MT PANGRANGO – ALUN-ALUN MANDALAWANGI – KANDANG BADAK SHELTER – CIBODAS GATE – GEULIS
230am – Wake-up call. You will be served some coffee/tea and bread before your summit climb.
315am – Start the climb to the summit of Mt Pangrango.
600am – Reach the summit and enjoy the sunrise view. Descend to Alun-alun Mandalawangi where you will take a rest and enjoy a view of Mt Salak.
630am –Descend to Kandang Badak shelter.
900am – Back to camp site and enjoy your breakfast before breaking camp. Descend all the way to Cibodas. Along the way, you will pass by a hot spring and Cibeureum Waterfall which you can visit and take a dip. Lunch will be served along the way.
300pm – Arrive at Cibodas. Take a short beak before transferring via mini-van to your accommodation in Geulis.
600pm – Dinner time. Rest and relax at your own leisure till bed time.
Day 04
GEULIS – JAKARTA (B)
Morning – Transfer to Jakarta airport for your flight home.
Package includes:
All land transport including airport transfers
National park entrance fee
Trekking permit
Local trekking guide (English speaking)
All meals and drinks (boiled water, coffee and tea) during the trek
All meals indicated in above itinerary
Porters for tents, sleeping bags, food and communal equipment
Camping equipment
Two nights' accommodations in Geulis (non-air con but hot shower is available)
Package excludes:
Return international air tickets
Travel insurance
All meals not indicated
Porter to carry personal belongings
Tips for guide and porters
All expenses of a personal nature
HIKING GRADE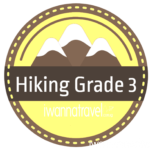 MISCELLANEOUS INFORMATION
Climbing Season: During the dry months from February to September except August when the trails are closed for maintenance
Rainy Season: October to January
Temperature: It gets cold in the mountain at night and in the early morning. Warm clothing is an absolute must.
Difficulty Level: Mt Gede and Mt Pangrango are suitable for anybody of reasonably good fitness and with prior mountain trekking experience (e.g. Mt Ophir).  The summit climb is not as steep compared to Mt Rinjani or Mt Kerinci. Porters will be provided for carrying communal equipment, food and water. But you are still expected to carry your own personal daypack of around 5 kilograms. Normal trekking throughout. No rock climbing or technical climbing skills needed.
OPTIONAL PROGRAM
We can also arranged a 2D1N trip with pickup from Jakarta at around 4am. The trip will end late night with a drop off at Jakarta on day 2. As traffic can be unpredictable, we will advise customers to avoid taking a late flight on day 2 but fly off on day 3 morning instead.
TESTIMONIALS
The climb was great, the view was amazing. We really enjoyed the fact that it wasn't too touristic and all hikers were local. The guide was very helpful and brought us around in Surabaya on Saturday.
–
Aijing (Group of 2 on a 4D3N Mt Arjuno & Mt Welirang trip in Apr 2019)
Personalised pickup and attention to our well being. Focused to help us to have good experiences. Guide Udin is very professional. Dependable, attention to details, providing good advices. Porters are friendly and helpful. We are very happy with the service level, professionalism of the whole team to bringing good experiences to hikers like us.
– YT (Group of 3 on a 2D1N Mt Merbabu Camping trip in Nov 2018)
Hi Bob, thanks very much for making the arrangements and making this trip a meaningful one for me. The service that you have provided is exception, really unlike any vendors that I have engaged before. The prompt replies and staying connected with the traveller during the trip helps to reassure the traveller. The guides that were engaged were also very professional and ensures the safety of the climber. The guides takes the effort to brief the climber and checks that there are proper safety equipment before the hike so that safety of the climber will not be compromised. It was a smooth trip. The drivers for the transfers were also punctual. It's really a great trip! Thank you very much!
– Pei Yi (Solo hiker on a 4D3N Semeru trip in Aug 2018)
The guide and porters were experienced and very nice! They were very helpful and fun 🙂 the cooking was delicious and they were wonderful hosts. We were pretty slow but they were understanding about it. They were very accommodating of our wants to stop and take pictures along the way too. I'd like to commend porter Diu (I hope I'm spelling it right), my Friend was struggling up and he offered to carry her bag for her. During the descend, I kept slipping and he was so kind to help me down the many steep paths.
– Stef (Group of 6 on an 2D1N Mt Merbau Summit & Camping trip in Jul 2018)
We were lucky, the weather was good and sunny throughout the trip. Scenery was beautiful and most importantly food was great. A great trek but not a stroll in the park. Summit push was a struggle for some of us. Thanks Ying for making our trip a success.
– Jace Lee (Group of 4 on a 4D3N Semeru trip in June 2018)
Profession guide ensures a safety and comfortable journey during the adventure. Tents and pillows were of good condition and organisation of daily itinerary was based on our capability and ability to continue the hike rather than rushing for the schedules. The hiking and trip journey was enjoyable.
– Adam (Group of 4 on a Mt Rinjani trip in May 2017)
The whole arrangement from the start to the end was smooth. The support of the guide was immense and we enjoyed ourselves all the way through. But kudos to the guide who made this experience a beautiful one.
– Mus (Group of 4 on a Mt Rinjani trip in May 2017)
It has been a fulfilling trip from the start to the end. Ying has been very meticulous from the beginning; paying great attention to our dietary requirement, rooming arrangement etc. Thanks Abdul, our guide, for the encouraging gestures to keep us going especially during the summit push. Fond memories for years to come!
– Celine (Group of 7 on a Mt Rinjani trip in June 2016)
This was our third trekking trip with IWT after Rinjani and Ophir. We continued to be impressed with their consistent personalized customer service and responsiveness. The pre-trip briefing package which consisted of a detailed packing list and things to take note of are especially useful for our climb preparation.Thanks Bob for keeping a constant check on us during the trip. We look forward to many more trips with you.
– HL Chua (Group of 5 on a 5D4N Semeru trip in May 2016)
Thanks to our guide Arief for making my life so much bearable during the 3d2n trek. It was a tough trek especially for someone like me who's not so fit but the scenery was really worth the sweat. Looking back it's a trip well planned and executed. Thanks for making this happen.
– Jiahui (Group of 5 on a Mt Rinjani trip in May 2016)
We had a great trip and received very good services from the mountain guide and his helpers. We greatly appreciate the  thoughtfulness with which iwannatravel planned the itinerary especially when we need to make last minute change to reduce the group size. Our trip is all well planned and executed. We greatly enjoyed ourselves throughout the trip.
– Susana Chua (Group of 3 on a 5D4N Semeru trip in Sept 2015)
Kudos to IWT for making our Semeru trip a success; everything from driver, guide to accommodation were well planned and organised! The Semeru FAQ and packing list provided by Bob were especially useful in helping us to prepare for this trip. Bob was always very prompt and patient towards our enqueries and requests for itinerary amendment. We look forward to our next trip with IWT! 
– Jeremy (Group of 6 on a 5D4N Semeru trip in Aug 2015))
We are very happy with the overall arrangement of everything from the choice of trekking company, the transportation and the accommodations. We were very well taken care of on the trek. The foods on our camping trip was really great. Beyond our expectation actually. =) Thanks you Bob for the patience to answer to all our queries and giving us advises that helps us greatly to planned out our extension stay after the climb. Will definitely join their other climbs or engage them to plan another trip again. =)
– Yen Wei (Group of 9 on a Mt Rinjani & Gili Trip in Aug 2015)
Read more at
testimonials
!
PHOTO GALLERY
Contact us today to find out more!
Disclaimer: IWT LLP, acts only as agent for the client in acquiring transportation, accommodations, sightseeing, trekking and other services for the clients' benefit, and on the express condition that IWT LLP shall not be liable for any loss, damage, mishap, death, bodily injury, delay, defect, omission or irregularity which may occur or be occasioned, whether by reason of any act, negligence or default of any company or person engaged in or responsible for carrying out any of the arrangements, or otherwise in connection therewith. IWT LLP is to be released from all liabilities deriving from acts of terrorism, hijacking, civil unrest, natural calamities, labor strikes, thefts or any other factors beyond IWT LLP's control. IWT LLP reserves the right to alter or modify itineraries in anyway for the interests of tour members or due to any other uncontrollable circumstances such as weather or other local conditions. See our full Terms and Conditions.