Worrying about getting around in South Korea without speaking Korean? Wishing to maximise your vacation time and eke out every moment of it? Looking for a mandarin speaking guide for your elderly parents? Or researching hard for halal authentic Korean food? Look no further than IWannaTravel's Korean local tour guide! By engaging our licensed and professional English or Mandarin speaking expert local, you can travel efficiently and learn more about the local culture, history and cuisine. Never again worry about language barrier, logistic issue or dishonest torts. Simply relax and enjoy your South Korea tours.
SAMPLE ITINERARY
Day 01
SINGAPORE – SEOUL
(GYEONGBOKGUNG PALACE – BUKCHON HANOK VILLAGE – INSADONG STREET – GWANGJANG TRADITIONAL FOOD MARKET – NAMSAN SEOUL TOWER)
Upon arrival at Seoul, you will be picked by our friendly guide who will bring you to tour around Gyeongbokgung Palace – the first and largest of the royal palaces built during the Joseon Dynasty. Watch the changing of the royal guard ceremony at the main entrance Gwanghwamun, then set aside a few hours exploring the palace compound. Immerse yourselves in a quintessential Korean culture at Bukchon Hanok Village, a historic village which features hanok or Korean traditional houses. Complete your visit by donning a rented hanbok and posing for Instagram worthy photos. Next move on to Insadong, a quaint neighbourhood lined with a plethora of antique shops, art galleries, handicraft stores and bookstores. In the evening eat your way through Gwangjang Market, one of the best places in Seoul for authentic Korean street food. Wind up your day at Namsan Seoul Tower with its astonishing 360 degree panorama over the city.
Overnight: Hotel in Seoul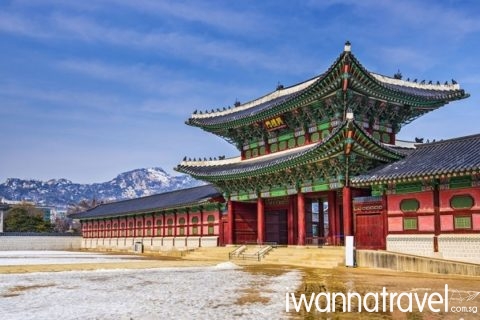 Day 02
SEOUL
(YEOUIDO PARK – SAMSUNG D'LIGHT EXHIBITION – LOTTE WORLD TOWER & MART – BANPO BRIDGE RAINBOW FOUNTAIN)
After hotel breakfast, proceed to Yeouido Park, a large recreational park with various theme-based sections: Traditional Korean Forest, Grass Square, Culture Square, and Nature's Ecosystem Forest. One great way to experience the beauty of the garden landscape and the Han River flowing around it is by pedaling along the cyclist friendly path. Coincide your visit with the Yeouido Spring Flower Festival (in mid-April) and you will be treated with a dazzling display of cherry blossom, azaleas, forsythia and royal azaleas. Ferry enthusiasts can go for a short Hangang River Cruise to enjoy the scenery from a different viewpoint. After lunch, proceed to the futuristic Samsung d'light for an interactive and hands on experience on the latest and upcoming customer electronics technology. Thereafter visit Lotte World Tower & Mall for a contemporary shopping, entertainment and dining experience. In the evening, treat yourself to a spectacular display of colour, light and water over the Banpo Bridge.
Overnight: Hotel in Seoul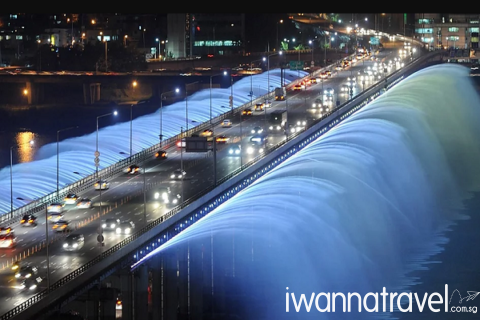 Day 03
SEOUL
(GANGCHON RAIILBIKE – NAMI ISLAND – GARDEN OF MORNING CALM)
Hope on a rail bike and pedal along disused railway tracks to explore the mountainous countryside along the Bukhan River. Experience riding through different fun themed tunnels (disco, bubble, romance) of colourful lights and sounds along the course. After peddling for 50 min (approx. 6km long), break for rest at the transfer station for some refreshment before embarking on a 20 min romantic train ride to Gangchon Station. After lunch, proceed to Nami Island a half moon-shaped isle known for its picturesque tree-lined lanes and the filming location for the famous Korean drama "Winter Sonata." The Garden of Morning Calm is the oldest botanical garden in South Korea with 20 connected themed sections and houses 5,000 species of plants. With a picturesque setting, the garden has been used as a filming location for some of the most popular k-dramas and variety shows including the hit drama "Moonlight Drawn by Clouds," starred by Park Bo-gum and Kim Yoo-jung.
Overnight: Hotel in Seoul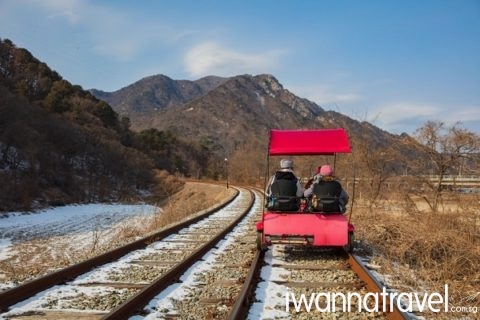 Day 04
SEOUL – BUSAN
(JAGALCHI FISH MARKET – LOTTE DEPARTMENT STORE – GAMCHEON CULTURE VILLAGE)
Board the comfortable High-speed KTX train to Busan (approx.2.5 hours) and watch the country scenery slide by your window. Upon arrival at Busan, proceed to Jagalchi Fish Market, South Korea's largest seafood markets for a unique lunch experience. There is a wide variety of live seafood for sale: king crabs, snow crabs, octopus, clamp, eels, as well as more exotic items like sea snails, urchins and Scorpion fish. You can buy any life seafood of your choice on the ground floor and bring it to any restaurant on the second floor for cooking. Burn off your calories at Lotte Department Store with its 10 floors of shopping. Some of its unique attractions are: Aqua Mall – world's largest indoor musical water fountain; The Editing Shop which displays fashion selected specially by famous designers; Rooftop Park where you can enjoy a bird eye view of the entire city and even catch the lifting of Yeongdo-daegyo that allows ships to pass between south and north ports at 14:00-14:15 daily. Visit the quaint and artsy Gamcheon Culture Village, a charming village formed by houses built in staircase-fashion on the foothills of a coastal mountain. Get lost in its maze-like alleys with vibrantly decorated murals and sculptures like Tower of Doknak, the Little Prince and the Desert Fox, etc.
Overnight: Hotel in Busan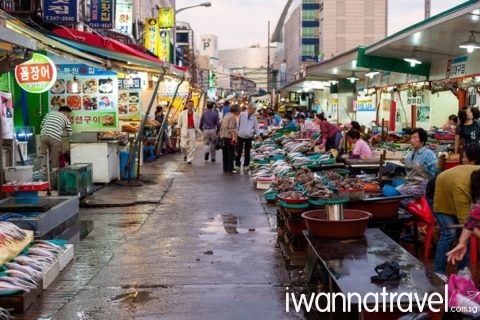 Day 05
BUSAN
(IGIDAE COSTAL WALK – ORYUKDO SKYWALK – SHINSEGAE CENTUM CITY – HAEUNDAE BEACH)
Take a respite from the urban jungle for a leisure hike along Igidae Costal Walk – a 5km long costal trail with gorgeous views of the ocean and cliffs. The hike will culminate at the Oryukdo Skywalk, a glass bridge that hangs over a 35m high coastal cliff. Be thrilled by the roaring waves while looking down through the transparent floor. After lunch, proceed to Shinsegae Centum City, the largest shopping mall in the world for some crazy shopping. Otherwise pamper yourself to a modern jjimjilbang (Korean bathhouse) experience at Spa Land Centum City. The spa complex consists of 22 different spas treatment with various themes fed by two different kinds of all-natural spring water pumped up from 1000m underground. Drop by Haeundae Beach, the most famous beach in Busan to catch a beautiful sunset over the ocean. Carry on to Haeundae Market, a traditional market for an authentic Korean street food treat.
Overnight: Hotel in Seoul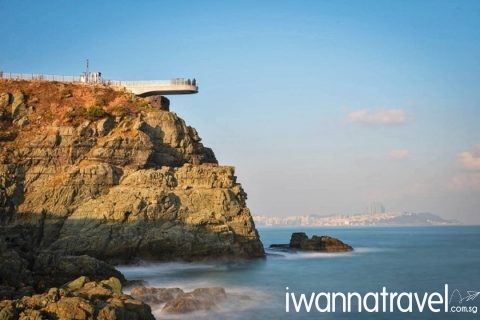 Day 06
BUSAN – JEJU ISLAND
(MANJANGGUL LAVE TUBE – MAZE LAND – SEOPJIKOJI)
Board a morning flight to the volcanic island of Jeju across the Korea Strait. Don your geology hat for Manjanggul Lava Tube, one of the longest and best preserved lava caves in the world. Be enthralled by the various geological structures like stalactites, stalagmites, flowstones, lava tubes, lava shelves, and lava rafts. Test your wits and challenge your sense of orientation at Maze Land, reputed to be the world's largest stone maze. In addition to the maze, there is also a maze museum where you can learn about the history of mazes and try out puzzle games. In the late afternoon, proceed to Seopjikoji a scenic plateau especially in spring when yellow canola flowers are in full bloom. Seopjikoji was the filming site of "Gingko Bed," "The Uprising," "One Thousand and One Nights" and other Korean TV dramas. Nearby attractions include Jeju Folk Village and Udo Island. Catch a beautiful sunset at nearby Seongsan Ilchulbong, a magnificent crater peak that rose from under the sea in a volcanic eruption over 100,000 years ago.
Overnight: Hotel in Jeju Island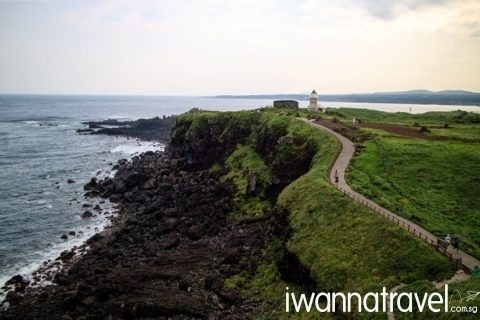 Day 07
JEJU ISLAND
(HALLASAN/SARYEONI FOREST PATH – GWANEUMSA TEMPLE)
Don your hiking attire to for an adventurous climb up Hallasan – the top of Jeju Island. At 1950m, it is also the highest mountain in South Korea. It takes an average of 4-5 hours (approx. 9km) to reach the summit. At the top you will be rewarded with views of the mountain's massive Baengnokdam Crater Lake. If the summit climb is too much for you, there are also shorter trails which allow you take in the beauty of nature at a more relaxing pace. For a flatter trail, you can also consider the Saryeoni Forest Path which cuts through a lovely forests of Japanese oak, birch, cypress and cedar trees. After your Hallasan exploration, you can drop by Gwaneumsa Temple located at the foot of the mountain. The tranquilizing temple with its beautiful entryway, intricate wood engravings, stone statues and koi pond is full of aesthetic beauty.
Overnight: Hotel in Jeju Island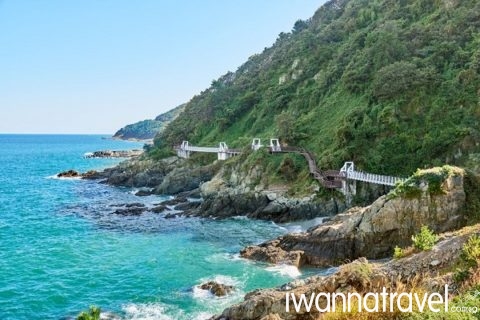 Day 08
JEJU ISLAND – SEOUL/SINGAPORE
Free and easy at your own leisure till airport transfer for your flight home.
Package includes:
All land transport including airport transfers
Private comfortable air-conditioned vehicle
Fuel, toll charges, parking fees, etc
Licensed English/Mandarin speaking guide for the whole trip (same person as driver)
Meals for guide
Package excludes:
Return international air tickets
Travel insurance
Korean VISA
All accommodations (can be arranged upon request)
Entrance fees to places of interest (you only pay for what you are interested in)
All meals
Tips for guide
All expenses of a personal nature
TOUR VEHICLE TYPES
Depending on your family group size, we would provide one of the following three vehicle sizes:
11 seater Hyundai Grand Starex mini-van: for 1-7 pax
15 seater Kia Bongo mini-bus: for 8-10 pax
25 seater Hyundai Country mini-bus: for 8 pax and above
Unless you do not have any luggage and will be doing very little shopping, we try not to fill the vehicle to its maximum seating capacity. Otherwise the 11-seater mini-van can comfortably accommodate up to 11 pax. Same applies to both the 15-seater and 25-seater vehicles.
7 seater sedan can also be arranged but we do not recommend as it is not as comfortable and spacious as a mini-van.
Contact us today to find out more!
DISCLAIMER
IWT LLP, acts only as an agent for The Client in acquiring transportation, accommodations, sightseeing, trekking and other services for The Client's benefit, and on the express condition that IWT LLP shall not be liable nor responsible for any loss (including without limitation, direct, indirect, special, incidental or consequential loss, economic loss), damage, mishap, bodily injury, death, delay, defect, omission or any irregularity that may be caused to The Client, third parties or properties. IWT LLP is to be released from all liabilities deriving from acts of terrorism, hijacking, civil unrest, natural calamities, labour strikes, thefts or any other factors beyond IWT LLP's control. Any losses and expenses are to be borne by The Client. In the event that IWT LLP is found liable by a court of competent jurisdiction on any basis in relation to The Client's booking done via IWT LLP, IWT LLP's maximum liability to the client is limited to the cost of the booking in question. See our full Terms and Conditions.