The island of Java boasts one single mountain that almost all serious local hikers aspire to climb: Mount Semeru. Mount Semeru also known as Mahameru, meaning "The Great Mountain" is one of the most active volcanoes and challenging mountain climbs in Indonesia. The trail is also blessed with finest scenery throughout from savannah grasslands, lavender fields, and beautiful tranquil lakes to fuming crater.
ITINERARY
DAY 01
SINGAPORE – SURABAYA –RANU PANE
Fly direct from Singapore Changi Airport to Surabaya Juanda International Airport. Upon arrival at the airport, you will be picked up by our friendly driver to your homestay in Tumpang village (approx. 3.5 hrs drive).
Overnight: Homestay
DAY 02
RANU PANE – KALIMANTI CAMP 
After breakfast, you will be transferred via 4WD (approx. 2.5 hrs drive) to the trailhead at Ranu Pane village (2100m) where you will start the 6-8 hrs. trek to Kalimanti Camp (2700m). Along the trek, you will enjoy good views of Mount Agropur and the occassional fuming smoke from Mount Semeru. You will stop for lunch at the beautiful Ranu Kumbolo Lake (2400m) located high up on the slope of Mount Semeru. After lunch, you will continue your trek to Kalimanti (Dead River) while passing through vast field of Savannah with beautiful purple wild flowers. From Kalimanti, it is another steep 1.5 hrs trek to Arcopodo Camp where you will set up tents for the night.
Overnight: Tents with sleeping bags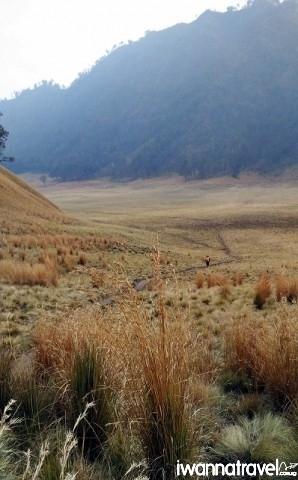 DAY 03
KALIMANTI CAMP – SUMMIT – RANU KUMBOLO LAKE 
You will be given an early morning wake up call at 1am for the summit trek. The terrain of the 4-5 hrs. trek up the summit is steep with loose volcanic soil – considered to be the most challenging part of the Semeru trek. After the workout, you will be rewarded with amazing sunrise views above the clouds at the summit (3676m). The view from the rooftop of Java is incredible with breathing views of east Java's major peaks as well as vista of Bali. After sunrise, you will "skid down" (it is difficult to stop yourselves from sliding down the slippery terrain) to Kalimati Camp for breakfast, after which you will break camp and descend to Ranu Kumbolo Lake where you will set up camp for the night. Be mesmerized by the enchanting sunset over the lake.
Overnight: Tents with sleeping bags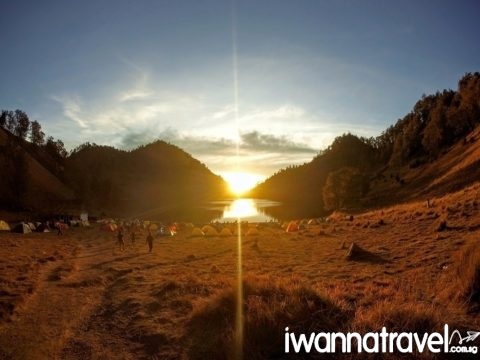 DAY 04
RANU KUMBOLO LAKE – RANU PANE – SURABAYA 
After breakfast, you will trek back to Ranu Pane village using a different route via Gunung Ajekajek which has some up slope section but offers an alternative view of the mountain. Upon arrival at Ranu Pane village, you will be transferred to your hotel in Surabaya. Freshen up with a hot shower and some rest after which the driver will bring you out for dinner and some shopping.
Overnight: Hotel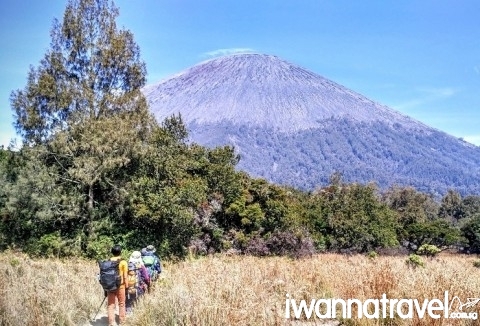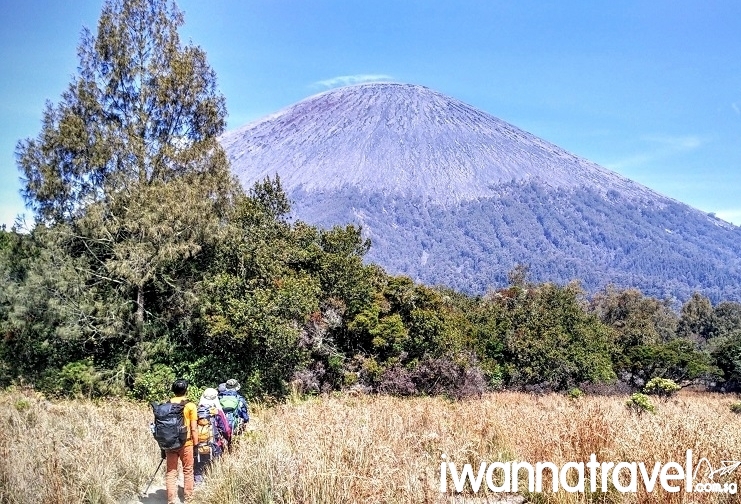 DAY 05
SURABAYA – SINGAPORE
Free and easy at your own leisure till your flight back to Singapore
Package includes:
All local land transfers
First night accommodation in homestay
Last night accommodation in hotel
Homestay and hotel breakfast
All meals and drinks (boiled water, coffee and tea) during the trek
All camping equipment (tents, sleeping mats, sleeping bags)
Local Indonesian trekking guide (English speaking)
Porters for tents, sleeping bags, food and communal equipment
Gunung Semeru National Park entrance fee
Mandatory basic medical check up at local clinic (required by the National Park)
Package excludes:
Return international air tickets
Travel insurance
Indonesia VISA (ASEAN citizens are VISA-free up to 30 days)
All meals not indicated
Porters for personal bags
Tips for guide and porters
All expenses of a personal nature
FAQ 
Need more information on Mount Semeru? Read through our Mount Semeru frequently asked questions and get them answered!
Mount Bromo sunrise tour via 4WD can be arranged on the fifth day of the itinerary.
TESTIMONIALS
This was our third trekking trip with IWT after Rinjani and Ophir. We continued to be impressed with their consistent personalized customer service and responsiveness. The pre-trip briefing package which consisted of a detailed packing list and things to take note of are especially useful for our climb preparation.Thanks Bob for keeping a constant check on us during the trip. We look forward to many more trips with you.
– HL Chua (Group of 5 on a 5D4N Semeru trip in May 2016)
Kudos to IWT for making our Semeru trip a success; everything from driver, guide to accommodation were well planned and organised! The Semeru FAQ and packing list provided by Bob were especially useful in helping us to prepare for this trip. Bob was always very prompt and patient towards our enqueries and requests for itinerary amendment. We look forward to our next trip with IWT! 
– Jeremy (Group of 6 on a 5D4N Semeru trip in Aug 2015)
We had a great trip and received very good services from the mountain guide and his helpers. We greatly appreciate the  thoughtfulness with which iwannatravel planned the itinerary especially when we need to make last minute change to reduce the group size. Our trip is all well planned and executed. We greatly enjoyed ourselves throughout the trip.
– Susana Chua (Group of 3 on a 5D4N Semeru trip in Sept 2015)
Contact us today to find out more!
DISCLAIMER
IWT LLP, acts only as an agent for The Client in acquiring transportation, accommodations, sightseeing, trekking and other services for The Client's benefit, and on the express condition that IWT LLP shall not be liable nor responsible for any loss (including without limitation, direct, indirect, special, incidental or consequential loss, economic loss), damage, mishap, bodily injury, death, delay, defect, omission or any irregularity that may be caused to The Client, third parties or properties. IWT LLP is to be released from all liabilities deriving from acts of terrorism, hijacking, civil unrest, natural calamities, labour strikes, thefts or any other factors beyond IWT LLP's control. Any losses and expenses are to be borne by The Client. In the event that IWT LLP is found liable by a court of competent jurisdiction on any basis in relation to The Client's booking done via IWT LLP, IWT LLP's maximum liability to the client is limited to the cost of the booking in question. See our full Terms and Conditions.