The Salkantay trek offers a great alternative to the heavily trodden and overhyped Inca Trail leading to Machu Picchu. Unlike the Inca Trail, a permit is not required for the Salkantay trek. This off the beaten path will take you through varying ecological zones and landscapes from snowcapped mountains to jungle terrain. It was one of the ancient trade routes for transporting coca and potatoes and passes some interesting Inca ruins like Llactapata which offers a good view of Manchu Picchu. At El Passo Pass– highest point of the trek – you will enjoy a close-up view of the glacier-capped Salkantay also known as "Savage Mountain" in the local Quechua language. Other than the stunning mountain scenery, the trek also allows you to observe unique flora and fauna of the Andean habitats and a chance to take a dip in waterfalls and hot springs.
DAY 1
CUSCO – MOLLAPATA – MARCOCASA – SORAYPAMPA
In the morning, you will be picked up from your hotel to Mollapata (2900m) located at the upper limit of the jungle (approx. 4 hrs. drive). After a refreshing local breakfast, you will continue on to Marcocasa (3500m) where the trek begins (approx. 45 min drive). The initial part of the trail follows an old Inca aqueduct that is still used to transport water from the mountains to the lower valleys. The awe-inspiring Andean range slowly comes into view as you ascend up the trail towards Checchicancha (3650m) where you will stop for lunch (approx. 4 hrs. trek). After lunch, you will continue for another 3 hours uphill trek to Soraypampa (3850m) where you will set up camp for the night. If you make it to camp early, you can do a side trek (approx. 2 hrs. return journey) to the beautiful turquoise Umantay Lake (4150) at the base of a glacier. (Approx. total trekking distance and duration: 12km, 7 hrs.)
Overnight: Tent with sleeping bag
DAY 2
SORAYPAMPA – El PISCO – HUARACMACHAY – CHUALLAY
Today's trek is the longest and toughest but arguably the most magical day of the trek. The most challenging part of the ascent is conquering the Siete Culebras (7-Snakes) a series of 7 steep switchbacks which takes you up to El Pisco Pass (4600m) – the highest point of the trek. At the pass, you will be rewarded with amazing views of Salkantay (6271m) to your right and Huamantay (5917m) to your left and snow-capped peaks of the Vilcabamba Range in every other direction. Look out for the cute chinchillas hiding among the rocks and the majestic Andean condors gilding in the sky. After catching your breath and admiring the stunning landscape, you will begin your descent to Huaracmachay (3750) for a picnic lunch. Thereafter, you will descend along the banks of the Sunchuccata River to your campsite at Chaullay (2850m).  (Approx. total trekking distance and duration: 15km, 9 hrs.)
Overnight: Tent with sleeping bag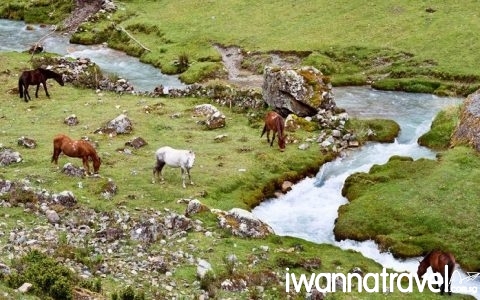 DAY 3
CHUALLAY – LA PLAYA
Wake up to the chirping of birds and catch the beautiful sunrise over the stunning Chuallay Valley. Embark on an easy downhill trek through cloud forest from the temperate zone into the high jungle zone Ceja de Selva ("Eyebrow of the Jungle") where coffee, cocoa passion fruit plantations can be seen. Along the way, we will pass by Collpapampa (2800m) and Lluscamayo (2600m) where you can interact with the friendly Quechua villagers or enjoy a refreshing dip in the beautiful cascading waterfalls to soothe your aching muscles. Ceja de Selva also offers great bird-watching opportunities as many tropical birds inhabit this area. You will camp overnight at the pit stop village of La Playa (2200m) where you can get some cold drinks and snacks. (Approx. total trekking distance and duration: 10km, 6 hrs.)
Overnight: Tent with sleeping bag
DAY 4: LA PLAYA – LLACTAPATA – HIDROELECTRICA – AGUA CALIENTES
Today's trek consists of some up and down hill. You will ascend uphill for 2.5 hrs. to Llactapata (2700m), an Inca ruin, which was discovered by Hiram Bingham on the same journey that he discovered Machu Picchu in 1911. From here, you can have a bird's eye view of Machu Picchu and its two towering companions Huayna Picchu and Montana Picchu as well as part of the Inca Trail. The site is still covered by thick vegetation so it gives a good sense of what Machu Picchu must have look like when Bingham first stumbled upon it. Thereafter, you will descend back into the cloud forest to the Hydroelectric Station where you can either trek for 2-3 hours or take a 45 min train ride to Aguas Calientes (2000m) – the gateway town to Machu Picchu. (Approx. total trekking distance and duration: 15km, 7hrs)
Alternative program: Hot Springs in Colcamayu
For a more relaxing day, you can opt for a visit to the hot springs in Colcamayu which is accessible via vehicle from La Playa. After an invigorating dip in the hot spring, you will be transferred via vehicle to Hydroelectric Station where you can either trek or take a train ride to Aguas Calientes.
Overnight: Tent with sleeping bag
Package includes:
All meals and drinks (boiled water, coffee and tea) during the trek
All camping equipment (tents, sleeping mats, sleeping bags)
Local Peruvian trekking guide (English speaking)
Porters for tents, sleeping bags, food and communal equipment
Package excludes:
Return international air ticket*
Travel insurance*
All meals not indicated
Tips for guide and porters
All expenses of a personal nature
*International fights and AIG Travel Guard Insurance can be arranged on your behalf.
Contact us today to find out more!
DISCLAIMER
IWT LLP, acts only as an agent for The Client in acquiring transportation, accommodations, sightseeing, trekking and other services for The Client's benefit, and on the express condition that IWT LLP shall not be liable nor responsible for any loss (including without limitation, direct, indirect, special, incidental or consequential loss, economic loss), damage, mishap, bodily injury, death, delay, defect, omission or any irregularity that may be caused to The Client, third parties or properties. IWT LLP is to be released from all liabilities deriving from acts of terrorism, hijacking, civil unrest, natural calamities, labour strikes, thefts or any other factors beyond IWT LLP's control. Any losses and expenses are to be borne by The Client. In the event that IWT LLP is found liable by a court of competent jurisdiction on any basis in relation to The Client's booking done via IWT LLP, IWT LLP's maximum liability to the client is limited to the cost of the booking in question. See our full Terms and Conditions.