Event: Kayaking at Macritchie
Date: Saturday, 29th March 2014 (9 – 11 AM) at Mushroom Cafe (located inside the reservoir park)
Description: Kayaking fun at the calm waters of Macritchie reservoir. Sit-on-top kayaks (one/two seater) are available for rental from The Paddle Lodge.  Certified one star kayakers can rent recreational kayak (one-seater). If you want to rent the recreational kayak, please produce your one-star cert for verification (a photo of the cert will suffice). Lockers and showers are available in the park. After the shower, we can go for a nice lunch at nearly Shunfu market.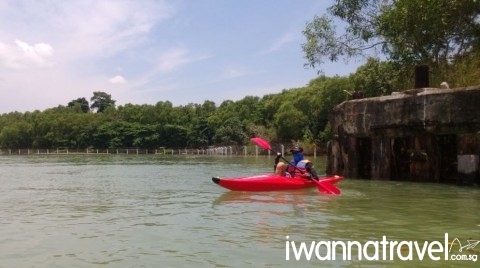 Cost: The kayak rental is S$15.00 per hour for open deck kayaks (regardless of singles or doubles) and S$20 for hours for recreational kayaks
Group Size: ~10
Difficulty Level: Suitable for beginners
Status: Completed with excellent weather on the day!
Contact us today to find out more!
Disclaimer: IWT LLP, acts only as agent for the client in acquiring transportation, accommodations, sightseeing, trekking and other services for the clients' benefit, and on the express condition that IWT LLP shall not be liable for any loss, damage, mishap, death, bodily injury, delay, defect, omission or irregularity which may occur or be occasioned, whether by reason of any act, negligence or default of any company or person engaged in or responsible for carrying out any of the arrangements, or otherwise in connection therewith. IWT LLP is to be released from all liabilities deriving from acts of terrorism, hijacking, civil unrest, natural calamities, labor strikes, thefts or any other factors beyond IWT LLP's control. IWT LLP reserves the right to alter or modify itineraries in anyway for the interests of tour members or due to any other uncontrollable circumstances such as weather or other local conditions. See our full Terms and Conditions.