Event: Southern Islands Kayaking Trip
Date: Sunday, 6th April 2014 (Full Day)
Description: Start off from Sentosa Island to the Southern Islands using either single or twin Gumotex kayaks. Many of us will be going to paddle there for the first time, so this could be exciting but also full of uncertainties. But please be assured that the route has been designed for beginners and intermediate paddlers alike. As long as you have a sense of adventure, do not worry about how far or how long we will paddle. It is not about your fitness but your desire for new experiences. We will all make it together.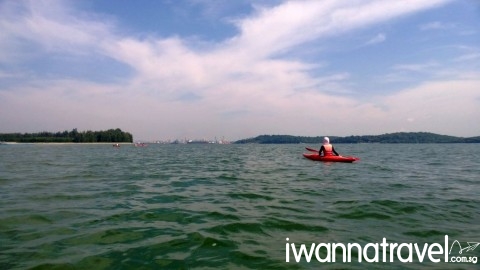 Group Size: 10 – 15
Difficulty Level: Beginners / Intermediate.
Distance: 15+ km
Meeting time/place: 8am sharp changed and ready at Wave House (Siloso Beach, Sentosa).
Weather: Expect our day to be very hot. There might be a small chance of rain in the afternoon.
Itinerary:
(Subject to weather and sea conditions)
8am – Safety briefing at Siloso Beach, Sentosa. Please be punctual.
8.30am -Start to Southern Islands
12pm – Arrival at St John's Island. Lunch & explore other islands (Lazarus Island, Kusu Island, Secret River if tide permits, Pink Lagoon, Seringat Island).
3pm – Head back to Sentosa
4.30pm – Arrival Sentosa and end of trip
Gear/Dressing for Kayaking: Sun protection is important – long sleeve shirt, long pants, sun hat, sunglasses, gloves, & sun cream. As you will paddle with sit-on-tops kayaks, your legs would be exposed. So it is advisable to wear long pants as well.
Gear Provided: Kayaks, PFDs, paddles, dry bags, kayak guides, & First Aid Kit.
Things to Bring:
– Sun protection (hat, long sleeve clothing, sunglasses, sun cream)
– 1.5L water bottle (must!). 2 bottles even better!
– Snacks & Lunch
– Change of clothes (will get wet!)
– Wear proper footwear. Try not to wear slippers. Sandals and shoes are OK.
– Phone, camera or other electronics (please waterproof properly)
You can leave things in lockers or event car while you go kayaking.
Status: Completed! Nice weather and great fun exploring the islands!
Contact us today to find out more!
Disclaimer: IWT LLP, acts only as agent for the client in acquiring transportation, accommodations, sightseeing, trekking and other services for the clients' benefit, and on the express condition that IWT LLP shall not be liable for any loss, damage, mishap, death, bodily injury, delay, defect, omission or irregularity which may occur or be occasioned, whether by reason of any act, negligence or default of any company or person engaged in or responsible for carrying out any of the arrangements, or otherwise in connection therewith. IWT LLP is to be released from all liabilities deriving from acts of terrorism, hijacking, civil unrest, natural calamities, labor strikes, thefts or any other factors beyond IWT LLP's control. IWT LLP reserves the right to alter or modify itineraries in anyway for the interests of tour members or due to any other uncontrollable circumstances such as weather or other local conditions. See our full Terms and Conditions.