Event: Mount Angsi Day Trip
Date: 24th May 2014
Description:
Mount Angsi is located in Ulu Bendol Recreational Forest on the outskirts of Seremban, the capital of Negri Sembilan. At 825m above sea level and with a well defined trail, it is a suitable climb for beginner to intermediate hikers.
There are two treks that will bring you up to Gunung Angsi, one via the Ulu Bendol Forest Park and the other via Bukit Putus. For this climb, we will go for the longer but more interesting trail via the Ulu Bended Forest Park. Some of the sights that we will see include a cascading waterfall and two rivers.
At the summit, you will be rewarded with a bird eye's view of Seremban town. For an average hiker, the trek to the summit is estimated to take about 4 hours while the descent will take another 4 hrs.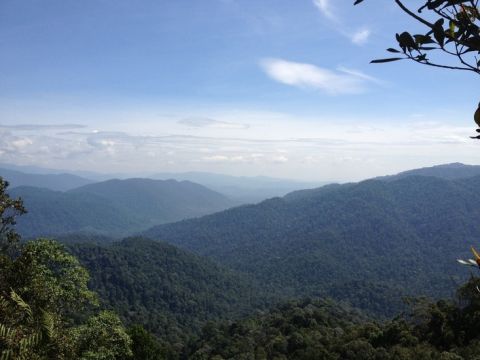 Photo credit: Krish 
Itinerary:
0430 hrs: Pick up from Singapore.
1000 hrs: Reach Mount Angsi Park HQ for climb registration.
1030 hrs: Start trekking
1430 hrs: Reach summit. Lunch at summit.
1445 hrs: Start descent.
1845 hrs: Reach back to Park HQ. Wash-up.
1930 hrs: Depart from Park HQ for dinner in Seremban town before heading back to Singapore.
We estimate to reach Singapore at around 2am.
Cost:
NA
Include:
Return transport

Climb permit

Hiking guide

Tipping for guide and driver
Exclude:
Lunch (please bring your own food)
Travel insurance (AIG Travel Guard Insurance can be purchased on your behalf)
Group Size: 10 – 15
Difficulty Level: Moderate fitness and mountain hiking experience recommended
Things to Note:
As there might be leeches on Mount Angsi, we recommend shoes, long socks and pants.
Status: Completed. 825m it might be but Mount Angsi might pose a problem to beginner hikers. Nevertheless, the hike was a memorable adventure and what is most important is that all of us make it back safe and sound!
Contact us today to organise your own Angsi adventure!

Disclaimer: IWT LLP, acts only as agent for the client in acquiring transportation, accommodations, sightseeing, trekking and other services for the clients' benefit, and on the express condition that IWT LLP shall not be liable for any loss, damage, mishap, death, bodily injury, delay, defect, omission or irregularity which may occur or be occasioned, whether by reason of any act, negligence or default of any company or person engaged in or responsible for carrying out any of the arrangements, or otherwise in connection therewith. IWT LLP is to be released from all liabilities deriving from acts of terrorism, hijacking, civil unrest, natural calamities, labor strikes, thefts or any other factors beyond IWT LLP's control. IWT LLP reserves the right to alter or modify itineraries in anyway for the interests of tour members or due to any other uncontrollable circumstances such as weather or other local conditions. See our full Terms and Conditions.