Event: Dragon Boat Orientation Program @ Marina Reservoir
Date: Sunday, 14th Sept 2014 (845 AM – 12 PM) at Kallang Water Venture Club
Description: Row with us in Marina Reservoir with its spectacular city skyline backdrop of Singapore Flyer, Esplanade, and Marina  Bay Sands.  The program will start off with a physical warm up and some dry land coaching (correct method of holding paddle, paddling techniques and commands etc) before on-board rowing. We will launch the dragon boat from Kallang Water Venture near the mouth of Kallang River and into Marina Reservoir and towards Marina Barrage (if time permits). The Dragon Boat Orientation Course is suitable for those who want a taste of team rowing, and to enjoy building comradeship with like-minded people.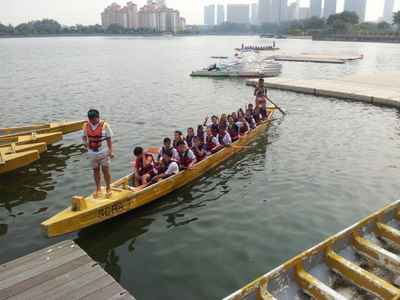 Cost: SGD20 pax
Meeting Time and Venue:
845am sharp @ Kallang Water Venture Club
Program Schedule:
0900hrs – 0915hrs: Attendance taking
0915hrs – 0930hrs: Collection of equipments (E.g Paddles, floatation device, etc.)
0930hrs – 0945hrs: Safety briefing on dragon boating
0945hrs – 1000hrs: Physical warm up
1000hrs – 1030hrs: Introduction and guide to dragon boating / Dry practice (E.g ways of paddling and technique)
1030hrs – 1145hrs: On-board dragon boat rowing
1145hrs – 1200hrs: Returning of equipments
Group Size: 10-20
Requirement: Sense of adventure, team spirit, never say old =)
Status: Closed
Steps to sign up:
1. Download the Water Venture Activity Form. Fill up the form and scan it to soft copy.
Take note:
• You need to seek medical clearance from your doctor if you indicate "Yes" for any condition listed in 1 and 2 in PART 4 of the form.
• You need to seek your parent/Guardian's approval to participate in this event and fill up PART 5 of the form if you are below 21 years old
2. Transfer full payment of SGD 20.00 to DBS Current Account: 018-903228-1
3. Contact us with the soft copy form via email once (1) and (2) are done
Activity Area Map
FAQ:
Do participants need to be able swimmers?
Personal floatation device will be provided. Participants do not have to be able swimmers. All participants should have reasonable level of water confidence and not prone to serious motion sickness or water phobia.
Is there an age limit for participants?
At least 12 years old and above as of 1 Jan 2014.
Do participants need to be reasonably fit?
Dragon boating is a relatively safe sport and not as strenuous as many other sports, given the team effort. It does not require a person to be fit to get going. However, to be on the safe side, participants with pre-existing heath conditions (like hypertension, high blood pressure etc) are required by Water Venture to obtain health clearance from their physician before signing up for this program.
How many people can participate? Is there a minimum number?
A small dragon boat can take 10 people while the larger boat will accommodate 20. So, the minimum number would be at least 10 participants.
What do participants have to bring and how should they be attired?
Comfortable shorts and lightweight t-shirts (long sleeved for sun protection if preferred). Covered shoes is compulsory.
Disclaimer: IWT LLP, acts only as agent for the client in acquiring transportation, accommodations, sightseeing, trekking and other services for the clients' benefit, and on the express condition that IWT LLP shall not be liable for any loss, damage, mishap, death, bodily injury, delay, defect, omission or irregularity which may occur or be occasioned, whether by reason of any act, negligence or default of any company or person engaged in or responsible for carrying out any of the arrangements, or otherwise in connection therewith. IWT LLP is to be released from all liabilities deriving from acts of terrorism, hijacking, civil unrest, natural calamities, labor strikes, thefts or any other factors beyond IWT LLP's control. IWT LLP reserves the right to alter or modify itineraries in anyway for the interests of tour members or due to any other uncontrollable circumstances such as weather or other local conditions. See our full Terms and Conditions.