Date: Saturday, 25th July 2015 (Full Day)
Meeting Point: 700am at Lavender MRT Station Exit A
Group Size: 15-20
Status: Completed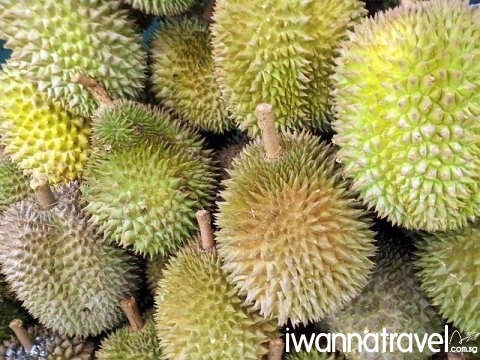 ITINERARY
0700am – Pick-up from Lavender MRT Station Exit A to Uncle Lim Durian Farm. Have a light breakfast at home before coming.
0930am – Arrive at Uncle Lim Durian Farm for unlimited durian feast.  You will have a chance to roam around the durian plantation (beware of falling durians…); understand the durians' planting and harvesting process and see for yourself how a durian tree looks like.  Besides durians, you can also feast on rambutans, mangosteens, bee hoon and vegetarian curry which are all included in the package.
1100am – Leave the durian farm for Zenxin Organic Farm.
1200pm – Arrive at Zenxin Organic Farm – one of the most established and largest organic farms in Malaysia where you will be taken on a guided tour. This scenic 100-acre park comprises of a greenhouse area for vegetables like Cai Xin, Kang Kung, Spinach, Kai Lan, Bitter Gourd etc. and dragon fruit farm and other tropical fruits, such as passion fruit, papaya, pineapple etc. and more than 100 types of herbs. It is a visitor friendly farm combining the educational and recreational purposes where visitors can explore and learn about the farm operations. Zenxin Organic farm is where you can experience country life, learn more about organic and sustainable farming, participate in farm-related activities and enjoy fresh farm-to-table fare at its restaurant, purchase "green" produce. There is a nice café in the farm with delectable organic lunch menu.
0200pm – Leave the farm for some shopping (e.g. Aeon Tebrau City or KSL City)
0300pm – Arrive at shopping center. Free and easy at your own leisure till dinner time.
0530pm – Transfer to Kota Tinggi for dinner and firefly cruise.
0630pm – Arrive at Kota Tingi for a sumptuous Chinese Zhi Char Style dinner follow by an enchanting firefly cruise down the Johor River.
0830pm – Transfer back to Singapore.
1030pm – Estimated time of arrival at Lavender MRT Station in Singapore.
 Package includes:
Transport from Singapore to Johor and back
Unlimited durian (except for premium breeds like XO, Red Prawn, Mustang King which have to be bought separately), rambutan, mangosteen, bee hoon and vegetarian curry at Uncle Lim
Entrance fee to Zenxin farm
Guided tour at Zenxin Farm
Dinner* and firefly cruise at Firefly Valley Leisure Park
English speaking tour guide
 Package excludes:
All meals except dinner
Travel insurance
All expenses of a personal nature
* Restaurant does not serve beef and pork but is not halal-certified due to sale of alcohol.
DISCLAIMER
IWT LLP, acts only as an agent for The Client in acquiring transportation, accommodations, sightseeing, trekking and other services for The Client's benefit, and on the express condition that IWT LLP shall not be liable nor responsible for any loss (including without limitation, direct, indirect, special, incidental or consequential loss, economic loss), damage, mishap, bodily injury, death, delay, defect, omission or any irregularity that may be caused to The Client, third parties or properties. IWT LLP is to be released from all liabilities deriving from acts of terrorism, hijacking, civil unrest, natural calamities, labour strikes, thefts or any other factors beyond IWT LLP's control. Any losses and expenses are to be borne by The Client. In the event that IWT LLP is found liable by a court of competent jurisdiction on any basis in relation to The Client's booking done via IWT LLP, IWT LLP's maximum liability to the client is limited to the cost of the booking in question. See our full Terms and Conditions.