Date: 21st (Sat) to 22nd (Sun) Mar 2015 (2D1N)
Pricing: SGD 165 per pax
Meeting Point: 630am at Lavender MRT Station Exit A
Group Size: 10 – 15
Status: Completed
Mount Ophir, or Gunung Ledang, is a 1,276m tall mountain situated at northwest Johor in Malaysia. It's one of the most popular mountains in the region and was said to be the most climbed mountain in the country.  On the first day of the trip, we will take a hike to the Twin falls at Kolam Gajah and camp at CP4 for the night.  We will finish the adventure on the second day with a sunrise hike to the summit.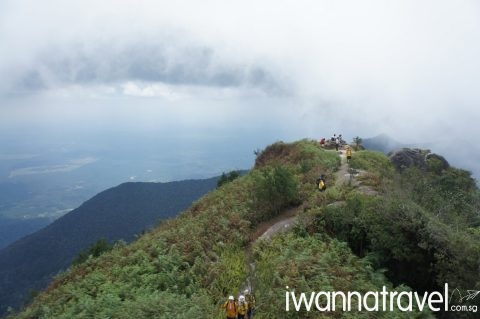 ITINERARY
Day 1
630am – Pick up from Lavender MRT Station and have breakfast along the way to Ophir.
1100am – Arrive at Ophir (Ledang) Mountain Base and meet the mountain guides at Park HQ who will provide an introduction to the mountain and conduct a safety briefing. We will be required to declare the items we are bringing up the mountain and provide a refundable rubbish deposit.  Deposit any stuff (e.g. a set of fresh clothing for return trip and shower stuffs) we do not wish to carry up to the mountain at the Park Office (locker available at 10 MYR ea). Check with the guide regarding the camping equipment (tents and burners) which we have reserved.
(Please note that you have to carry your tents and burners up the mountain).
1130am – Start of hike
230pm – Reach CP4 Kolam Gajah, set up your tents and have a quick lunch (bring your own food), before heading off to the Twin Falls for a waterfall massage.
(Please note that the hike to Twin Falls is subjected to weather conditions, only bring your valuables with you to the waterfalls)
500pm – Back to CP4, prepare your dinner (instant noodles and canned food) and enjoy the night!
Day 2
200am – Rise and shine! You can leave your tents and non-valuable items at the campsite.
600am to 800am – Reach summit for sunrise view and take some time to enjoy the scenery and have your breakfast.
800am – Decend to CP4.
1130am – Break camp at CP4, take a short break before descending to base
230pm – End of hike and wash up before transferring to Tangkak town for late lunch. Transfer to Singapore after that.
700pm – Back at Lavender MRT Station
DIFFICULTY
Hikers should be of moderate fitness, has trekking experience and be comfortable with walking on slopes and uneven terrain for a duration of around 10 hours.
PACKAGE INCLUDES
Day 1 transport from Singapore to Mount Ophir
Day 2 transport from Mount Ophir to Singapore
Entrance permit, hiking permit, guide fees (1 mountain guide for both days), climbing insurance (basic and mandatory insurance provided by national park), campsite fees, 4-man tents (comes with ground sheet and extra fly sheet) and burners
Tips to mountain guides and drivers
PACKAGE EXCLUDES
All items not mentioned in the above inclusion list but not limited to:
All meals
Climbing Certificate (SGD 6)
Travel Insurance (AIG Travelguard can be arranged upon request)
All expenses of a personal nature
EXTRA NOTES
We will send a to-bring list to everybody once the trip is confirmed but two important items to prepare and bring are sleeping bag and headlamp
Each tent is good for 3 to 4 pax. If you prefer to carry your own private tent, just let us know.
There will be no porters so we will share the load.
This event is organised by IWT to seek like-minded people to join in the tour.  Contact us today if you are keen to join!
Disclaimer: IWT LLP, acts only as agent for the client in acquiring transportation, accommodations, sightseeing, trekking and other services for the clients' benefit, and on the express condition that IWT LLP shall not be liable for any loss, damage, mishap, death, bodily injury, delay, defect, omission or irregularity which may occur or be occasioned, whether by reason of any act, negligence or default of any company or person engaged in or responsible for carrying out any of the arrangements, or otherwise in connection therewith. IWT LLP is to be released from all liabilities deriving from acts of terrorism, hijacking, civil unrest, natural calamities, labor strikes, thefts or any other factors beyond IWT LLP's control. IWT LLP reserves the right to alter or modify itineraries in anyway for the interests of tour members or due to any other uncontrollable circumstances such as weather or other local conditions. See our full Terms and Conditions.