Date: 29 May to 1 June 2015
Group Size: 8 – 12 pax
Status: Completed
Mount Gede-Pangrango National Park only 50km drive away from Jakarta is one of the oldest and best maintained and preserved national parks in Indonesia. The park is centred on two volcanoes; active Mount Gede (2,958m) and dormant Mount Pangrango (3,019m) whose summits are connected by a high saddle known as Kandang Badak. The national park is associated with some famous names in history. The famous naturalist Alfred Russel Wallace was so impressed by its beauty and uniqueness that he wrote, "by far the most interesting incident in my visit to Java was a trip to the summit of the Pangrango and Gede mountains". The trail on the south-eastern slopes was found by Sir Thomas Raffles in 1811 while the earliest recorded summit climb was by C.G.C. Reinwardt in 1819. The trail passes through some interesting and beautiful landscapes like Alun-alun Suryakencana – a highland meadow covered with edelweiss flowers, a 50m high Cibeureum Waterfall, a blue colour Biru Lake, some hot springs etc. The views from the summit are especially stunning at sunrise and sunset. At day break, the 3 semi-active craters, Lanang (male) Ratu (queen) and Wadon (female) will slowly reveal before your eyes. Standing above the clouds, one can see Mt Krakatau and Sumatra afar and the towns of Cianjur, Sukabumi and Bogor below. The park is also rich in wildlife and birds such as the Java Gibbon which is endemic to Java, Javan langur, leopards, Pangolin, wild boars, hawk eagle, owl etc.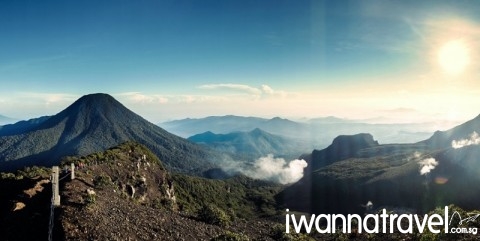 ITINERARY
Day 01 
SINGAPORE – JAKARTA – GEULIS
1100pm – Arrive at Soekarno Hatta International Airport in Jakarta and transfer to dormitory in Geulis (~ 3 hrs. drive). Overnight in dormitory.
Day 02 (B, L, D)
GEULIS – GUNUNG PUTRI GATE – ALUN-ALUN SURYAKENCABA – MT GEDE – KANDANG BADAK SHELTER
0200am – Check-in dormitory to catch up some lost sleep.
0600am – Wake-up call. After breakfast, you will be transfer via mini-van to the trailhead at Gunung Putri Gate (~ 30 min drive).
0830am – Climb registration and safety briefing at the national park post at Gunung Putri Gate.
0900am – Start your climb towards Alun-alun Suryakencana (2,705m) a beautiful meadow covered with edelweiss flowers.
0100pm – Reach Alun-alun Suryakencana. Rest and lunch.
0130pm – Continue your climb to the summit of Mount Gede.
0200pm – Reach the summit. Rest and enjoy the scenery.
0230pm – Descend to Kandang Badak shelter where you will camp overnight.
0430pm – Arrive at Kandang Badak shelter. Set up camp.
0630pm – Enjoy your camping dinner. Turn in early for the next day sunrise summit hike. Overnight camping.
Day 03 (B, L, D)
KANDANG BADAK SHELTER – MT PANGRANGO – ALUN-ALUN MANDALAWANGI – KANDANG BADAK SHELTER – CIBODAS GATE – GEULIS
0300am – Wake-up call. You will be served some coffee/tea and biscuit before your summit climb.
0330am – Start the climb to the summit of Mt Pangrango.
0630am – Reach the summit. Descend to Alun-alun Mandalawangi. Rest and enjoy the scenery.
0700am –Descend to Kandang Badak shelter.
0900am – Breakfast follow by break camp. Descend all the way to Cibodas. Along the way, you will pass by Kandang Batu, Hot Spring and Cibeureum Waterfall. Lunch will be served along the way.
0200pm – Arrive at Cibodas. Take a short beak before transferring via mini-van to your dormitory in Geulis.
0600pm – Dinner time. Rest and relax at your own leisure till bed time. Overnight in dormitory.
Day 04
GEULIS – JAKARTA
Morning – Transfer to Jakarta airport for your flight home.
Includes: All land transfers including airport transfers, national park entrance fee, trekking permit, mountain guide, camping equipment (tents, sleeping bags, mats), meals (as indicated in above itinerary), drinks and water, two nights' accommodation in dormitory in Geulis (non-air con but with hot shower), tips for mountain guide
Excludes: Air fare, travel insurance, porter to carry personal belongings, expenses of a personal nature
Suggested flights:
Outbound: Garuda Flight Number 847
10:05 PM (SINGAPORE) – 10:55 PM (Jakarta)
Inbound: Tiger Flight Number 2275
09:45 AM (Jakarta) – 12:40 PM (SINGAPORE)
This event is organised by IWT to seek like-minded people to join in the tour.  Contact us today if you are keen to join!
Disclaimer: IWT LLP, acts only as agent for the client in acquiring transportation, accommodations, sightseeing, trekking and other services for the clients' benefit, and on the express condition that IWT LLP shall not be liable for any loss, damage, mishap, death, bodily injury, delay, defect, omission or irregularity which may occur or be occasioned, whether by reason of any act, negligence or default of any company or person engaged in or responsible for carrying out any of the arrangements, or otherwise in connection therewith. IWT LLP is to be released from all liabilities deriving from acts of terrorism, hijacking, civil unrest, natural calamities, labor strikes, thefts or any other factors beyond IWT LLP's control. IWT LLP reserves the right to alter or modify itineraries in anyway for the interests of tour members or due to any other uncontrollable circumstances such as weather or other local conditions. See our full Terms and Conditions.