There is a Chinese proverb that goes "上有天堂,下有苏杭", which literally means in heaven there is paradise and on earth there are Hangzhou and Suzhou. Since ancient times, the twin cities of the Yangtze Delta is famous for its interlocking canals, tranquil lakes, classical gardens, ancient architectures and tea plantation. While Shanghai located at the mouth of the delta is a curious mix of ancient culture and fast pace development, a microcosm of China where old history meets the modern world. With this intricately crafted itinerary, we will show you the essence of the three most important cities of the Yangtze Delta.
ITINERARY
Day 01
SINGAPORE – SHANGHAI
Upon arrival at Shanghai Pudong International Airport, you will be greeted by our friendly guide who will transfer you to your hotel in the city center (approx. 1 hr. drive). After settling down at the hotel, your guide will bring for a leisure stroll down The Bund (外滩), a romantic riverside promenade dotted with colonial buildings in various architecture styles of Gothic, Baroque, Romanesque, Classicism, Renaissance, Art Deco, etc. Notable buildings include the HSBC Building (No. 12, The Bund) which has been called "the most luxurious building from the Suez Canal to the Bering Strait", the Custom House (No 13, The Bund) with a clock and bell modelled after the Big Ben, the Russo-Chinese Bank Building (No 15, The Bund) which is one of the first buildings in China to be equipped with an elevator, the Jardine Matheson Building which housed the then-powerful Jardine Matheson company, etc. Your guide will revive for you the tumultuous history of Old Shanghai through stories behind these monumental buildings. Thereafter you will proceed to Nanjing Road – one of the world's busiest shopping streets for dinner and late night shopping.
Overnight: Hotel in Shanghai
Day 02
SHANGHAI – SUZHOU
After hotel breakfast, you will be transferred to the mesmerizing city of Suzhou (approx. 1 hr. 45 min drive), the "Venice of the East". Enjoy a moment of tranquility while strolling through The Master of the Nets Garden (网师园), the smallest but most representative classical gardens in Suzhou. Its perfect harmonious combination of landscaping elements makes its small space seems much larger. Originally built in the twelfth century, it has been rebuilt and perfected over time.  Move on to Pan Gate (盘门) an ancient and unique fortification with both land and water gates. Enjoy a gondola ride down the Grand Canal that played an important role in ancient times in the transportation of grain from the southern provinces to the capital. After a satisfying lunch of Suzhou cuisines, you will visit the highly rated Suzhou Museum which houses a great array of ancient Chinese art and crafts accompanied with good English explanatory texts. Architecture lovers will be glad to know that the museum building was designed by world famous architect I.M.Pei. For non-museum lovers, you can visit the interesting Silk Spinning Factory where you can observe the whole process of silk production from silkworm rearing, cocoons selection and stripping to thread looming. Not forgetting a good bargain for high quality silk products (no forced shopping). In the evening, you will visit one of the vibrant night markets for dinner and some shopping. For a taste of Chinese opera, you can also catch a performance at the famous Kunqu Opera Theater (subjected to show availability).
Overnight: Hotel in Suzhou
DAY 03
SUZHOU – TONGLI – HANGZHOU
In the morning, you will visit the ancient water town of Tongli (approx. 50 min drive), one of the less commercialized and crowded water towns in the Yangtze River Delta. Its network of canals and inland islets linked by ancient stone bridges is reminiscent of Venice. Most of the 49 stone arch bridges and the buildings that lined the waterways date back to the Ming and Qing Dynasty period. As you roam around the laid-back town, it is not difficult to imagine how life was a few hundred years ago. Take in the major sights like Retreat and Reflection Garden, Pearl Tower, Three Bridges, etc. at a leisure pace. Try out some Tongli's specialty food like qianshi (aka "ginseng in water"), Zhuangyuan pig trotters, osmanthus lotus root, etc. before continuing to the Former Residence of Hu Xueyan (approx. 2 hrs. drive) in Hangzhou. Explore the sprawling residence complex of Hu Xueyan, a legendary rags-to-riches businessman of the late Qing Dynasty. The luxury mansion with its labyrinth of ingeniously designed courtyards, terraces, pavilions, bridges and verandas covers at least a couple of acres and was constructed from many top grade timbers like gingko trees, rosewoods, sandalwoods, firs and beeches. The wood carvings and masonry works that adorned the mansion are also of finest workmanship. The rockery in the accompanied Zhiyuan Garden is also the largest artificial karst cave in China.  In the evening, join in the bustle and hustle at Wushan Night Market for some souvenirs and tantalizing street food.
Overnight: Hotel in Hangzhou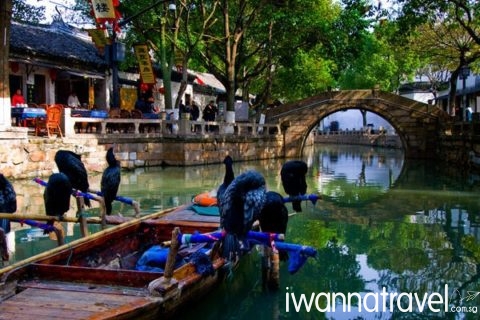 DAY 04
HANGZHOU – SHANGHAI
As the epitome of Chinese Classical beauty, West Lake has a profound influence on the development of landscape design and gardening art in China, Japan and Korea. Spend a few hours on foot, bicycle or battery cart wandering the circumference of the lake and the causeways, and taking in some of its best sights like Three Pools Mirroring the Moon, Viewing Fish at Flower Pond, Leifeng Pagoda, Tomb of Yue Fei, etc. After a relaxing lunch by the lakeside, you will visit the famous Lingyin Temple (灵隐寺) and its adjacent Fei Lai Feng (飞来峰) which houses a large number of impressive ancient grottoes art. In the late afternoon, you will visit a Longjing tea plantation where you can learn about tea growing, harvesting and processing and taste some good quality green tea. Thereafter you will be transferred back to Shanghai (approx. 2.5 hrs. drive) for dinner follow by hotel check-in.
Overnight: Hotel in Shanghai
Day 05
SHANGHAI – SINGAPORE
Journey back in time to French colonial China on a walking tour through the French Concession, a neighborhood that attracted only the French, but Chinese gangsters, missionaries, Communist revolutionaries, and pimps and prostitutes as well. Start off the tour at Xintiandi which composed of restored traditional shikumen houses on narrow alleys – traditional Shanghainese architectural style combining Western and Chinese elements. Take a peek into the life of middle class Shanghainese before the communist era at the well-illustrated Shikumen Open House Museum. Visit the Site of the First National Congress of the Communist Party where Mao Zedong and his comrades founded the Party that now controls the nation. Watch mahjong enthusiasts, tai chi practitioners and dancers etc. doing their rounds at the French-styled Fuxing Park.  Take a coffee break at Kinloch Coffee which is housed in Saint Nicholas' Church, a Russian Orthodox Church built by White Russians refugees. Tour the Former Residence of Sun Yassin where the Father of China and his wife Song Chingling lived between 1918 and 1924. Carry on to Tianzifang an artsy enclave with crafts shops, design studios, galleries, cafes and bars. In the afternoon, you will be transferred to the airport for your flight home.
Package includes:
All local land transfers including airport transfers
Entrance fees to places of interest mentioned in above itinerary
English speaking guide for the whole trip
All accommodations
Package excludes:
Return international air tickets
Travel insurance
Chinese VISA
All meals not indicated
Tips for guide and driver
All expenses of a personal nature
DESTINATION YOU MIGHT ALSO BE INTERESTED IN
4D3N Lijiang, Tiger Leaping Gorge & Jade Dragon Snow Mountain
7D6N Beijing, Datong & Pingyao
8D7N Jiuzhaigou, Huanglong & Langmusi
11D10N Tibet Overland Tour (Lhasa – Kathmandu)
Contact us today to find out more!
DISCLAIMER
IWT LLP, acts only as an agent for The Client in acquiring transportation, accommodations, sightseeing, trekking and other services for The Client's benefit, and on the express condition that IWT LLP shall not be liable nor responsible for any loss (including without limitation, direct, indirect, special, incidental or consequential loss, economic loss), damage, mishap, bodily injury, death, delay, defect, omission or any irregularity that may be caused to The Client, third parties or properties. IWT LLP is to be released from all liabilities deriving from acts of terrorism, hijacking, civil unrest, natural calamities, labour strikes, thefts or any other factors beyond IWT LLP's control. Any losses and expenses are to be borne by The Client. In the event that IWT LLP is found liable by a court of competent jurisdiction on any basis in relation to The Client's booking done via IWT LLP, IWT LLP's maximum liability to the client is limited to the cost of the booking in question. See our full Terms and Conditions.