Taroko National Park (太魯閣國家公園) is an impressive 19km long canyon with marble walls that soar several hundred meters above the roaring Liwu River (立霧溪). Within a short distance of 60km, the landscape rises from sea level near Hualian in the east to some of the tallest 3000m peaks like Hehuan Shan and Qilai Shan in the west. In this 2D1N canyon trip, we will take time to explore the two most coveted and exhilarating trails in Taroko; The Shakadang Trail (砂卡噹步道) and The Jhuilu Old Trail (錐鹿古道).
ITINERARY
Day 01
TAIPEI / HUALIAN – TAROKO NATIONAL PARK
The Shakadang Trail also known as the Mysterious Valley Trail is a beautiful 5km hiking trail along the turquoise-colored Shakadang River with crystal clear pools and fascinating rock faces. This fairly easy hike serves as a perfect warm up hike for your next day more strenuous Jhuilu trek. The tunnel-like trail which winds along the gorge like a giant serpent was hewn out of the cliff-face by the Japanese in the early 20th century to divert water to the nearby hydropower plant. The trail ends at an abandoned Truku settlement called 3D Cabin (三間屋) where you can venture down the river for a refreshing dip. If time permits, we will also visit some of the interesting sights within the canyon like Tunnel of Nine Turns (九曲洞 ), Buluowan (布洛灣), Changchun Shrine (長春祠) etc.
Accommodation: Homestay in Taroko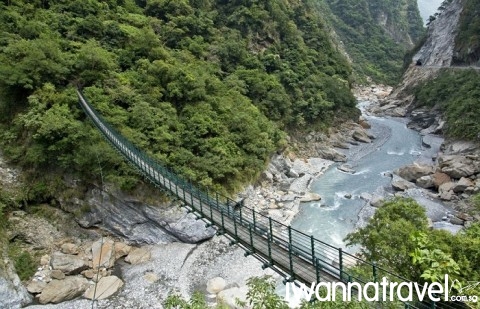 Day 02
TAROKO NATIONAL PARK – TAIPEI / HUALIAN 
The Jhuilu Old Trail (錐鹿古道), was part of the Old Cross-Hehuan Mountain Road used by the mountain tribes for trade and travel. This alternating uphill and downhill 10km trail gets its name from the section of the 1100m-high Jhuilu Cliff that it traverses about 500m above the Liwu River below. At its narrowest and most exposed points, the trail is no more than 60cm wide and is literally cut into the cliff face. This canyon hike will take you across narrow suspension bridges, cascading streams, waterfalls, caves and hanging cliffs overlooking the roaring Liwu River. Along the way, you will also see ruins of Japanese occupation like police post, school and huts.
 Package includes:
All land transport including pick-up and drop-off at Taipei / Hualian
Trekking guide and trekking Permit
Entrance fee to Taroko National Park
One night accommodation in Taroko
Package excludes:
Travel insurance
Air tickets
Visa
All meals
All expenses of a personal nature
HIKING GRADE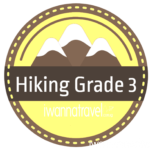 OPTIONAL PROGRAM
2D2N Yushan (Jade Mountain) Climb
2D2N Xue Shan (Snow Mountain) Climb
3D3N Xue Shan (Snow Mountain) & Cui Pond Climb
PHOTO GALLERY
Contact us today to find out more!
DISCLAIMER
IWT LLP, acts only as an agent for The Client in acquiring transportation, accommodations, sightseeing, trekking and other services for The Client's benefit, and on the express condition that IWT LLP shall not be liable nor responsible for any loss (including without limitation, direct, indirect, special, incidental or consequential loss, economic loss), damage, mishap, bodily injury, death, delay, defect, omission or any irregularity that may be caused to The Client, third parties or properties. IWT LLP is to be released from all liabilities deriving from acts of terrorism, hijacking, civil unrest, natural calamities, labour strikes, thefts or any other factors beyond IWT LLP's control. Any losses and expenses are to be borne by The Client. In the event that IWT LLP is found liable by a court of competent jurisdiction on any basis in relation to The Client's booking done via IWT LLP, IWT LLP's maximum liability to the client is limited to the cost of the booking in question. See our full Terms and Conditions.