Xueshan (雪山), which literally means Snow Mountain in English, is the second highest mountain in Taiwan. At 3,886m high, Xueshan is also the highest point of the Syue Mountain Range, which stretches northeast to southeast across Taiwan. This magnificent peak is located in the Shei-Pa National Park (雪霸国家公园) which is also home to 50 other mountains above 3000 meters. The trail goes through a variety of interesting ecosystems ranging from sub-tropical forests, grassland, cypress and cedar forests to the alpine shrubland. Snow, rarely seen in the other parts of Taiwan, is conversely commonly seen on this mountain in the winter months. With its whole peak beautifully covered in a blanket of snow – reminiscence Of Swiss Alps, Xueshan provides avid hikers a good opportunity to experience snow trekking on crampons. At the summit, the 360 degree panorama view at the summit with the morning sun rising from a sea of clouds and casting its first rays on the snowly landscape is a sight to behold.
ITINERARY
Day 01
TAIPEI – NAN SHAN VILLAGE
Leave Taipei City (metro station or hotel) for homestay in Nan Shan Village (南山村) (~5 hrs drive) in the late afternoon (5pm). Check-in to the guesthouse and turn in early for the next day's hike.
Overnight: Homestay in Nan Shan Village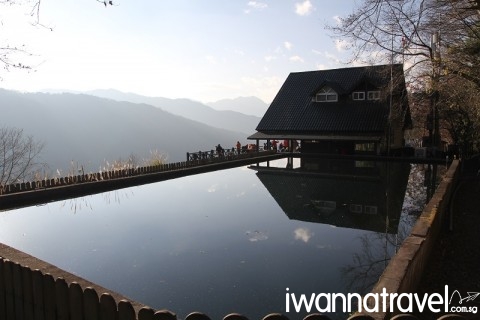 Day 02
NAN SHAN VILLAGE – 369 CABIN
Wake up at 600am to enjoy breakfast at the guesthouse. Check-out from the guesthouse and transfer via minibus to Xueshan trailhead (雪山登山口). You will drive pass Wu Ling Farm (武陵農場) with hundreds of cherry blossom trees (depending on season) lining the hillside. From the trailhead, it will be a 7km moderately steep trek (~ 6 hrs) to 369 Cabin  (三六九山莊) where you will stay overnight before the next day's summit climb. The trail leads you through the beautiful lichen covered forests before opening up to the great views of the Nanhudashan and Hehuanshan mountain ranges. Along the way, you will pass by checkpoints such as the Qika Cabin (七卡山莊) and the infamous crying slope – a series of steep ascends but with amazing views of the mountain ranges from afar and the stone waterfall (a trail filled with large stones). Do keep your eyes peeled for the Formosan Rock Macaque and mountain deers. Not to be missed, is a little side detour that will bring you to the East Peak of Xueshan which stands at 3,201m. After enjoying a communal dinner, you will turn in early for the next day's summit hike.
Overnight: Dormitory in 369 Cabin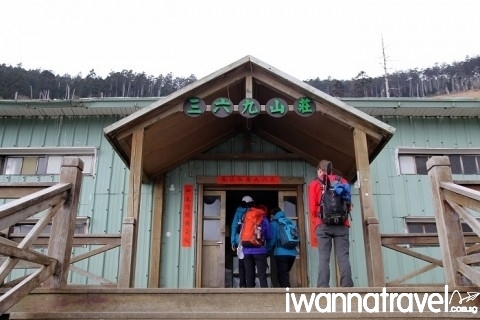 Day 03
369 CABIN – SUMMIT
You will be given a wake up call at 2am for the summit trek, where you will enjoy a quick pre-dawn breakfast prepared by the lodge before starting on your night hike. Don on your cold wear and hiking gears with headlamp to begin your hike under the star-lit sky. After a short hike (~30min), you will enter the Black Forest (黑森林) – a dense forest of deciduous pine tress. From 369 Cabin, it will be a moderately steep trek of 3.9km (~ 4 hrs) to the summit. The initial trail is a relatively gentle uphill hike through the Black Forest (~ 1.5 hrs), a natural habitat of the Formosan black bear (not to worry as sightings of the bear is rare). After going through the black forest, you will emerge above the treeline onto an snowy alpine landscape, resembling the Swiss Alps. From there, it will be a relatively steep climb through windswept snow covered fields (on crampons) to the summit where you will be rewarded with amazing sunrise views over the xueshan range. After sunrise, you will descend back to the 369 cabin for an early lunch before checking out. You will descend back via the same route to the trailhead where your transport will be waiting to fetch you back to Taipei City.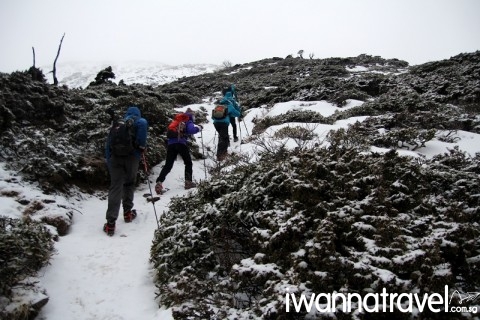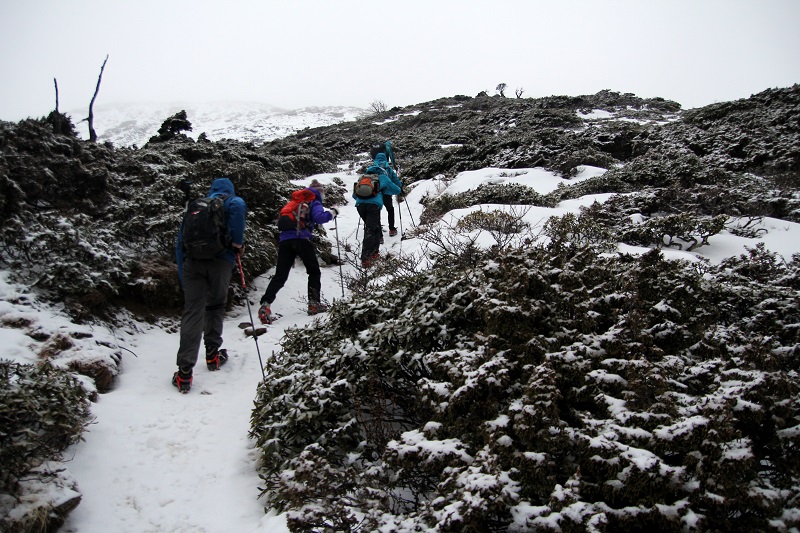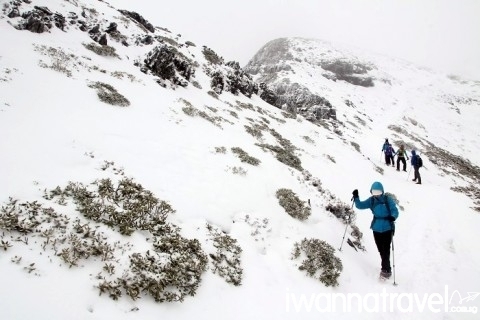 Package includes:
All land transport from Taipei City to Xueshan National Park and back
One night accommodation in homestay in Nan Shan Village
One night accommodation in 369 Cabin
Park entrance fee and climbing permit
Local trekking guide
2 x breakfast, 1 x lunch and 1 x dinner (bring your own cutlery and mess tin)
Package excludes:
Return international air tickets
Travel insurance
Additional transport for different pickup/drop off locations and timings (e.g. Taoyuan Airport pickup/return will incur extra cost)
All meals not indicated above (lunch is not provided on day 02, please bring along own trail food)
Porters to carry personal belonging
Crampons (NT600 per pair for rental, only needed if there is snow)
All expenses of a personal nature
**During the winter months from early Jan to late Feb due to heavy snow coverage which slow down hiking speed (and for safety consideration), the hiking program will be extended by one more day. 
HIKING GRADE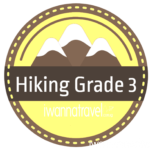 FAQ 
Need more information on Xueshan? Read through our Xueshan frequently asked questions (FAQ) and get them answered!
OPTIONAL PROGRAM
If a 2 day trek is not challenging enough, you can extend the trek to 3 days with a visit to Cui Pond (翠池) – the highest alpine lake in South East Asia.
List of mountain hikes we offer in Taiwan are as below. They can be combined to form a longer itinerary.
2D2N Yushan (Jade Mountain) Climb
2D2N Xue Shan (Snow Mountain) Climb
3D3N Xue Shan (Snow Mountain) & Cui Pond Climb
2D2N Hehuanshan 
3D3N Dabajianshan
3D3N WuLing Sixiu
4D4N Nanhu Dashan
2D2N Qilai Nanfeng & Nanhuashan
TESTIMONIALS
The guide, Mr Lu, was very professional, kind and nice to us! Despite disruptions in our plans due to the rainy weather, he always had alternative options for us. His driving skills were superb, winding through sharp bends for hours where there was so little visibility and still maintaining a positive and optimistic outlook. All these on top of taking us through long hikes makes him one of the most resilient and nicest person I've known! Thank you!
- Xin Han (Group of 6 on a 5D4N Xueshan & Hehuanshan trip in May 2019)
Mountain guide is very friendly. He brings us around to try local delights and share with us local stories and facts.
- Wan Lin (Group of 6 on a 5D4N Xueshan & Hehuanshan trip in May 2019)
The guide was very experienced and friendly. He also plans the ascend and descend schedules very well and is able to walk at a comfortable pace for the team.
- Ruobing (Group of 6 on a 5D4N Xueshan & Hehuanshan trip in May 2019)
Why 5 stars? There key difference was the 雪山 summit climb. On the way up, we met at least two groups that turned back because the trail was completely snowed over. There were doubts and we thought this was going to be an anti-climax. However, when we reach the snow line, our guide hacked through the top layer of hard snow so that our clamp-on spikes could dig into the softer bottom layer. Without doing this, it was not possible for inexperienced climbers to summit. He could have simply said "Let's turn back, this is too dangerous". It was act of professionalism backed by long experience, sound judgment and supreme fitness.
– Chee Wai (Group of 10 on a 3D3N Xueshan trip in Mar 2019)
Honorable mention to the guide, whom was the driver too. Her energy and dedication throughout the trek makes the trip very worthwhile, even though the view at the summit was spoiled by the poor foggy weather. Our team would gladly scale another mountain in taiwan with her as the guide again, if we had the chance.
– Jonathan (Group of 5 on a 2D2N Yushan trip in Mar 2018)
The whole organisation was prepared smoothly prior to the trip. The ample of times attending to the enquiries and the notes given had definitely been useful. For transport, guide (and driver), food, activities, accommodation - they were pleasant. The van provided was spacious especially the legroom, and even had enough room to store our bag packs. The guide and driver were very accommodative, for an instance, stopping the van to allow us take some photos before proceeding to the trail head. Additionally, both tried their best to attempt to make conversations in English. As per food and activities, it was great. The food complimented the next activity well, an example, we were provided rice instead of noodles on the day before our summit push and back to the trail head. It was essential since we had to have plenty carbohydrates for the long trek ahead.
– SR (Group of 5 on a 2D2N Xueshan trip in Oct 2017)
Thanks Ying! You've been very helpful and professional! We truly enjoyed ourselves 😊
– Johan (Group of 9 on a 2D2N Xueshan trip in Jan 2017)
Thanks so much for Organising the Taiwan trip. The 2 mountains were amazing and the guides were great! Everyone enjoyed the trip and were able to make it down from both mountains safely!
– Shaun from NUS Mountaineering Club (Group of 10 on a 5D4N Xueshan -Yushan Climb in Dec 2016)
Read more at
testimonials
!
PHOTO GALLERY
Contact us today to find out more!
DISCLAIMER
IWT LLP, acts only as an agent for The Client in acquiring transportation, accommodations, sightseeing, trekking and other services for The Client's benefit, and on the express condition that IWT LLP shall not be liable nor responsible for any loss (including without limitation, direct, indirect, special, incidental or consequential loss, economic loss), damage, mishap, bodily injury, death, delay, defect, omission or any irregularity that may be caused to The Client, third parties or properties. IWT LLP is to be released from all liabilities deriving from acts of terrorism, hijacking, civil unrest, natural calamities, labour strikes, thefts or any other factors beyond IWT LLP's control. Any losses and expenses are to be borne by The Client. In the event that IWT LLP is found liable by a court of competent jurisdiction on any basis in relation to The Client's booking done via IWT LLP, IWT LLP's maximum liability to the client is limited to the cost of the booking in question. See our full Terms and Conditions.