Yangmingshan's original name was Grass Mountain, referring to the tall silvergrass that covers its slopes. Chiang Kai-shek renamed it Mount Yangming after his favourite Ming philosopher Wang Yangming. The national park sits on a geological fault line sprinkled with dormant volcanoes, fumaroles, lakes and waterfalls. There are well-marked hiking trails of various difficulties, hot springs and numerous relaxing areas to relax your mind and body. The national park is also renowned for its flowers blossom and abundant species of endemic birds and butterflies – a great place to watch nature's ecological diversity.
ITINERARY
Day 01
TAIPEI – YANG MING SHAN
Our friendly driver will fetch you to Shang Huang Xi Parking (上磺溪橋) where the first trail – Yulu Historial Trail (魚路古道) also known as Jinbaoli Trail (金包里大道) is located. In olden days, fish traders from nearby Jinshan (金山) would cut across the mountain path to deliver their produces to today's Shilin (士林) district in Taipei. The trail connects to the Japanese Road (日人路) so named because during the Japanese colonial period (1895-1945), this route was used for hauling artillery over the hills. Along the way you will pass by the Fankeng Waterfall and the ancient Xuyan Bridge built in 1896 by one wealthy Jinshan tea merchants to help his porters to cross the river. Take a short detour along an unmarked path to visit the impressive smoky sulphurous fumaroles of Da You Keng.  After 1-2 hours of trekking, you will emerge out of the forest into a beautiful and breezy grassland plateau called Qingtiangang (擎天崗) where cattle roam freely.  A short trail leads to the top of Mount Zhugao (竹篙山) which offers a great vista of the National Park. Scattered around the hills are some old anti-aircraft platforms built during the early days of Taiwan to protect the capital from a possible mainland air raid.
Overnight: Tian Lai Resort
Day 02
YANG MING SHAN
At 1120m tall, Mount Qixing (七星山) is the highest dormant volcano in Taiwan. The 5km traverse route which starts at Xiaoyoukeng (小油坑) and ends at Lengshuikeng (冷水坑) will bring you up to Mount Qixing Main Peak (七星主峰) and its sister peak  Mt. Qixing East Peak (七星東峰). The 2-3 hike is mostly via concrete stairs and rock stairs and is suitable for both suitable for both young and fit elderly. At the summit you will be rewarded with an amazing view of the surrounding mountains and the tranquil Tamsui River (淡水河) flowing below. At the summit, you should be able to point out the "seven stars" – its seven knobby peaks, said to be laid out in the same shape as the Big Dipper constellation. Below is the meandering Tamsui River, rolling towards the Taiwan Strait. At the Eastern Peak, you can take a detour to view the beautiful Menghuan Pond (夢幻湖) which is a natural habitat for the exclusive Taiwan Isoetes, an endemic quillwort plant. After a well-deserve rest at the cafa in Leng Shui Keng Visitor Center, you can continue to explore other sights like  the lovely Jingshan Suspension Bridge (菁山吊橋), Milk Lake (牛奶湖), etc.
Overnight: Tian Lai Resort
Day 03
YANG MING SHAN – TAIPEI
In the afternoon, you will be transferred to your hotel in Taipei.
Package includes:
All land transport
Two nights accommodation in Tian Lai Resort with breakfast
Package excludes:
Return international air tickets
Travel insurance
All meals not indicated above
All expenses of a personal nature
HIKING GRADE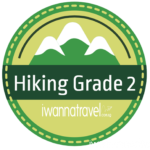 TESTIMONIALS
The guide, Mr Lu, was very professional, kind and nice to us! Despite disruptions in our plans due to the rainy weather, he always had alternative options for us. His driving skills were superb, winding through sharp bends for hours where there was so little visibility and still maintaining a positive and optimistic outlook. All these on top of taking us through long hikes makes him one of the most resilient and nicest person I've known! Thank you!
- Xin Han (Group of 6 on a 5D4N Xueshan & Hehuanshan trip in May 2019)
Mountain guide is very friendly. He brings us around to try local delights and share with us local stories and facts.
- Wan Lin (Group of 6 on a 5D4N Xueshan & Hehuanshan trip in May 2019)
The guide was very experienced and friendly. He also plans the ascend and descend schedules very well and is able to walk at a comfortable pace for the team.
- Ruobing (Group of 6 on a 5D4N Xueshan & Hehuanshan trip in May 2019)
Why 5 stars? There key difference was the 雪山 summit climb. On the way up, we met at least two groups that turned back because the trail was completely snowed over. There were doubts and we thought this was going to be an anti-climax. However, when we reach the snow line, our guide hacked through the top layer of hard snow so that our clamp-on spikes could dig into the softer bottom layer. Without doing this, it was not possible for inexperienced climbers to summit. He could have simply said "Let's turn back, this is too dangerous". It was act of professionalism backed by long experience, sound judgment and supreme fitness.
– Chee Wai (Group of 10 on a 3D3N Xueshan trip in Mar 2019)
Honorable mention to the guide, whom was the driver too. Her energy and dedication throughout the trek makes the trip very worthwhile, even though the view at the summit was spoiled by the poor foggy weather. Our team would gladly scale another mountain in taiwan with her as the guide again, if we had the chance.
– Jonathan (Group of 5 on a 2D2N Yushan trip in Mar 2018)
The whole organisation was prepared smoothly prior to the trip. The ample of times attending to the enquiries and the notes given had definitely been useful. For transport, guide (and driver), food, activities, accommodation - they were pleasant. The van provided was spacious especially the legroom, and even had enough room to store our bag packs. The guide and driver were very accommodative, for an instance, stopping the van to allow us take some photos before proceeding to the trail head. Additionally, both tried their best to attempt to make conversations in English. As per food and activities, it was great. The food complimented the next activity well, an example, we were provided rice instead of noodles on the day before our summit push and back to the trail head. It was essential since we had to have plenty carbohydrates for the long trek ahead.
– SR (Group of 5 on a 2D2N Xueshan trip in Oct 2017)
Thanks Ying! You've been very helpful and professional! We truly enjoyed ourselves 😊
– Johan (Group of 9 on a 2D2N Xueshan trip in Jan 2017)
Thanks so much for Organising the Taiwan trip. The 2 mountains were amazing and the guides were great! Everyone enjoyed the trip and were able to make it down from both mountains safely!
– Shaun from NUS Mountaineering Club (Group of 10 on a 5D4N Xueshan -Yushan Climb in Dec 2016)
Read more at
testimonials
!
Contact us today to find out more!
DISCLAIMER
IWT LLP, acts only as an agent for The Client in acquiring transportation, accommodations, sightseeing, trekking and other services for The Client's benefit, and on the express condition that IWT LLP shall not be liable nor responsible for any loss (including without limitation, direct, indirect, special, incidental or consequential loss, economic loss), damage, mishap, bodily injury, death, delay, defect, omission or any irregularity that may be caused to The Client, third parties or properties. IWT LLP is to be released from all liabilities deriving from acts of terrorism, hijacking, civil unrest, natural calamities, labour strikes, thefts or any other factors beyond IWT LLP's control. Any losses and expenses are to be borne by The Client. In the event that IWT LLP is found liable by a court of competent jurisdiction on any basis in relation to The Client's booking done via IWT LLP, IWT LLP's maximum liability to the client is limited to the cost of the booking in question. See our full Terms and Conditions.