Dabajianshan (大霸尖山; 3492m) with its barrel-shaped peak is one of the most iconic peaks of Taiwan. Its awesome summit with near vertical walls has fascinated visitors for centuries. The Taiwanese called it Century's Unique Peaks while the Atayal and the Saisiyat aborigines believe that this mountain is their holy mountain. It is also officially featured on the back of the 500NT note.
ITINERARY
Day 01
TAIPEI – GUANWU RECREATION AREA
Leave Taipei City (metro station or hotel) for homestay around Guanwu Recreation Area (~5 hrs. drive) in the late afternoon (5pm). Check-in to the homestay and turn in early for the next day's trek.
Overnight: Homestay around Guanwu
Day 02
GUANWU RECREATION AREA – MADARA CREEK TRAILHEAD – JIUJIU HUT
After breakfast, you will be transferred to Guanwu Visitor Center where you will start the 19km trek (~ 6 hrs.) along a flat forest trail (大鹿林道) to the Madara Creek Trailhead (馬達拉溪登山口). A bridge will bring you to the opposite side of the creek. From here the trail becomes narrower and steeper as it winds its way up the mountain for another 4 km to Jiujiu Hut (2,700m; ~ 3 hrs.).
Overnight: Jiujiu Hut
Day 03
JIUJIU HUT – DABAIJIAN – XIAOBAOJIAN – JIUJIU HUT
The initial part of the trail is a steep 2.5km uphill trek to 3,050 Upland (高地, 3,100m) follow by a 2.3km trek over relatively flat terrain to a forked junction and another 600m uphill trek to Jhongba Cabin (中霸山莊; 3,280m). This section will take about 2-3 hours to complete. As you trek along, you will see the peaks of Dabajian and Xiaobajian getting closer and closer. A further 1.4 km trek (~ 1 hr.) up and down a mound will bring you to the base of Dabajian (大霸霸基). For safety reason, access to the top of Dabajian (大霸尖山; 3,490m) is prohibited. A short but exciting clamber (~ 20 mins) around the base of Dabajian will bring you to the forked junction (小霸尖山叉路) that leads to Xiaobajian (小霸尖山; 3,418m). The top of Xiaobajian can be reached via a 45 min scramble and rope work over its steep rocky cliff face. From the top, you can see the whole trail that leads all the way back to Jiujiu Hut. On the way back to Jiujiu Hut, you will make some slight detours to take in two more Top Hundred Peaks (百岳): Mount Yize (伊澤山, 3,297) and Mount Jiali (加利山, 3,112m).
Overnight: Jiujiu Hut 
Day 04
JIUJIU HUT – MADARA CREEK TRAILHEAD – GUANWU RECREATION AREA – TAIPEI
After breakfast, you will retrace your route back to Guanwu Visitor Center where you will be transferred back to Taipei.
HIKING GRADE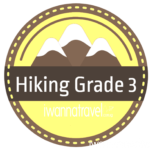 OPTIONAL PROGRAM
2D2N Yushan (Jade Mountain) Climb
2D2N Xue Shan (Snow Mountain) Climb
3D3N Xue Shan (Snow Mountain) & Cui Pond Climb
TESTIMONIALS
Honorable mention to the guide, whom was the driver too. Her energy and dedication throughout the trek makes the trip very worthwhile, even though the view at the summit was spoiled by the poor foggy weather. Our team would gladly scale another mountain in taiwan with her as the guide again, if we had the chance.
– Jonathan (Group of 5 on a 2D2N Yushan trip in Mar 2018)
The whole organisation was prepared smoothly prior to the trip. The ample of times attending to the enquiries and the notes given had definitely been useful. For transport, guide (and driver), food, activities, accommodation - they were pleasant. The van provided was spacious especially the legroom, and even had enough room to store our bag packs. The guide and driver were very accommodative, for an instance, stopping the van to allow us take some photos before proceeding to the trail head. Additionally, both tried their best to attempt to make conversations in English. As per food and activities, it was great. The food complimented the next activity well, an example, we were provided rice instead of noodles on the day before our summit push and back to the trail head. It was essential since we had to have plenty carbohydrates for the long trek ahead.
– SR (Group of 5 on a 2D2N Xueshan trip in Oct 2017)
Thanks Ying! You've been very helpful and professional! We truly enjoyed ourselves 😊
– Johan (Group of 9 on a 2D2N Xueshan trip in Jan 2017)
Thanks so much for Organising the Taiwan trip. The 2 mountains were amazing and the guides were great! Everyone enjoyed the trip and were able to make it down from both mountains safely!
– Shaun from NUS Mountaineering Club (Group of 10 on a 5D4N Xueshan -Yushan Climb in Dec 2016)
Read more at
testimonials
!
Contact us today to find out more!
DISCLAIMER
IWT LLP, acts only as an agent for The Client in acquiring transportation, accommodations, sightseeing, trekking and other services for The Client's benefit, and on the express condition that IWT LLP shall not be liable nor responsible for any loss (including without limitation, direct, indirect, special, incidental or consequential loss, economic loss), damage, mishap, bodily injury, death, delay, defect, omission or any irregularity that may be caused to The Client, third parties or properties. IWT LLP is to be released from all liabilities deriving from acts of terrorism, hijacking, civil unrest, natural calamities, labour strikes, thefts or any other factors beyond IWT LLP's control. Any losses and expenses are to be borne by The Client. In the event that IWT LLP is found liable by a court of competent jurisdiction on any basis in relation to The Client's booking done via IWT LLP, IWT LLP's maximum liability to the client is limited to the cost of the booking in question. See our full Terms and Conditions.