Most visitors to Hong Kong do not associate crowded Hong Kong as a gateway to outdoor adventure. But do you know that open space like forests, mountains, waterfalls beaches and wetlands make up more than 70% of Hong Kong area and that up to 38% of the land area is gazetted as national parks or protected areas for flora and fauna? In fact, most of its great outdoors is just a stone throw away from Hong Kong's downtown.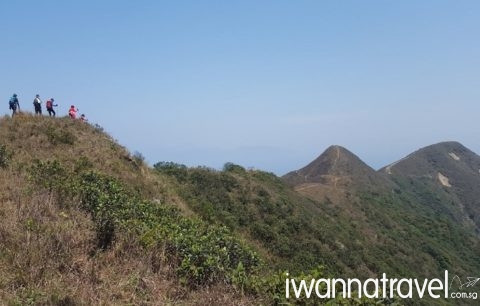 SHARP PEAK
Meeting Time and Venue: 930 am at Sai Kung
Trekking Distance: Up to 15 km
Difficulty: Challenging long duration hike across exposed terrain
ITINERARY
Despite its modest height of 468m, Sharp Peak (蚺蛇尖) with its steep ascend and exposed terrain is reputed to be the most challenging mountain in Hong Kong. Sharp Peak's distinctive pointy peak is recognizable from every direction within the Sai Kung Country Park. Our hiking guide will meet you at Sai Kung and the you will proceed to Pak Tam Au where the trailhead is located. During the initial part of the trail, you will pass through an abandoned fishing village and skirt the coasts of two tranquil shallow lagoons; namely To Kwa Peng and Chek Keng. Hike up to Tai Long Au and then down to Nam She Au. Beyond Nam She Au is the steepest section of the whole trek – the strenuous climb up the southern ridge of Sharp Peak.  At the summit, you will be rewarded with magnificent 360-degree views; Ko Lau Wan and Port Island to the north, indented coastline of Ham Tin Wan, Tai Wan and Tung Wan to the southeast and the rolling meadows of Sai Kung to the west. You will descend along its eastern ridge to Mei Fan Ten and further down to a grassland (look out for cattle grazing!) before reaching the secluded Tung Wan Beach. After a stroll down the beach, you will reach a small enclave called Ham Tin with a small restaurant where you can get some refreshment. Thereafter you will take a small trail that connects to Tai Long Au and retrace your steps back to Pak Tam Au. Depending on the time and your fitness level, you can skip the backtrack by taking a speedboat ride from Ham Tin back to Sai Kung.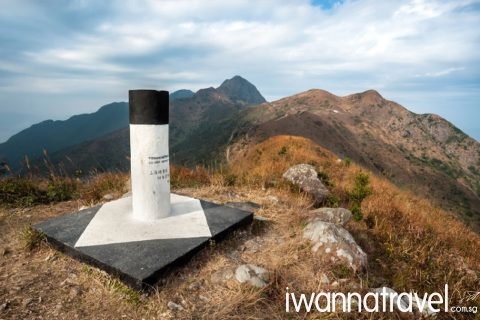 MA ON SHAN
Meeting Time and Venue: 930 am at Heng On MTR Station
Trekking Distance: Up to 8 km
Difficulty: Quick challenging hike
ITINERARY
At 702m high, the horse saddle shaped Ma On Shan (馬鞍山) is among Hong Kong's most distinctive and highest peaks. Other than the majestic landscape, the area is also abundant in flora and fauna including some endemic species. It is also notable for its Rhododendron bloom in spring. Meet your friendly guide at Heng On MTR Station and proceed towards the trailhead. The initial part of the trail overlooks the Sha Tin District and the Shing Mun River. Clear your first obstacle by clamoring up along Wild Goose Valley Path to the 588m Tiu Shau Ngam (吊手岩) – a very famous place among hiking community in Hong Kong – where you can enjoy splendid view across Tolo Harbour, Pat Sin Leng and Ma Shi Chau. The next obstacle is an uphill climb up along a narrow wooded trail to the top of the Hunch Back. The Hunch Back (as tail) together with the Ma On Shan summit (as head) are connected together via a saddle (West Horse Belly) to form the distinctive horse saddle shape. After a final push to the craggy summit, you will be rewarded with panoramic views of Shenzhen's skyscrapers to the north, Hong Kong Island to the south and the Three Fathoms Cove to the east. Enjoy a picnic lunch at the top before descending to the plateau of Ngong Ping and further down to Tai Shui Tseng.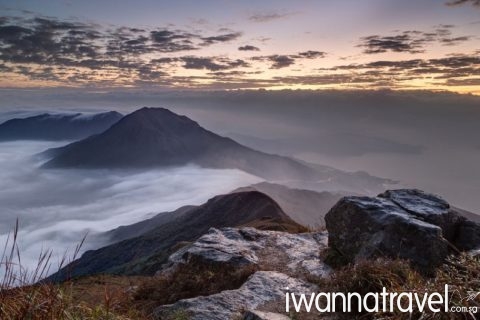 LANTAU PEAK
Meeting Time and Venue: 930 am at Tung Chung MTR Station
Trekking Distance: Up to 5 km
Difficulty: Quick challenging hike
ITINERARY
At 934m high, Lantau Peak (鳳凰山)is the highest peak on Lantau Island and the second highest peak in Hong Kong. This hike will cover Stage 3 (toughest stage) of the Lantau Trail. This interesting hike will culminate with a visit to the famous Big Buddha and Po Lin Monastery. Meet your friendly guide at Tung Chung MTR Station where you will board the bus to the trailhead at Pak Kung Au (approx. 40 mins ride). From the trailhead, it will take about 2 hours to reach the summit. A long undulating uphill climb will bring you to the steps of the notorious "stone ladder" (70 degrees steep with knee level high steps) that leads to the summit. From the summit, you will get to enjoy magnificent views of Hong Kong International Airport and beautiful bays and islands of South China Sea. After an hour of continuous descent, you will reach the so-called Wisdom Path with thirty-eight timber columns arranged as a figure of eight. Each of these columns is inscribed with the Buddhist Heart Sutra verses. After a few more minutes descend, you will reach the tallest seated Buddha statue in the world.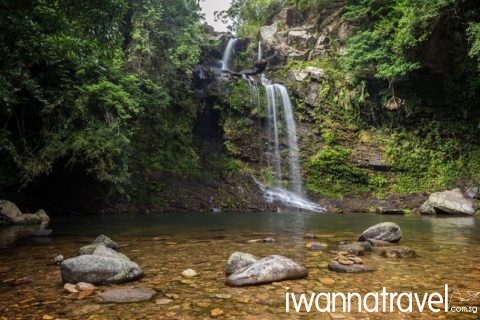 PLOVER CLOVE RESERVOIR COUNTRY TRAIL
Meeting Time and Venue: 930 am at Tai Po Market MTR station
Trekking Distance: Up to 16 km
Difficulty: Challenging long duration hike across exposed terrain
ITINERARY
The 15.5 km long Plover Cove Reservoir Country Trail which circulates a tranquil reservoir of the same name is located in north-east New Territories, one of the most sparsely populated and pristine parts of Hong Kong. This hike will take you through cascading waterfalls, gorgeous sea views, rolling hills and ancient Hakka villages. Meet your guide at Tai Po Market MTR station and flag down a cab for a short ride to Bride's Pool Nature Trail to explore the 15 meter high Bride's Pool Waterfall with crystal clear water. A few hundred meters away is the Hakka village of Wu Kau Tang (烏蛟騰). Hiking through a Feng Shui woods will bring you to the hilltop of Ma Tau Fung (295m) where you can overlook the long dam of the reservoir. Past Ma Tau Fung, you will hike along the ridgeline to Tai Tung and then to Luk Wu Tung. Down in the foothills are rustic hamlets like Kau Tam Tso, Sheung Miu Tin, Ha Miu Tin and their rice terraces. Thereafter the trail hugs the southern edge of the reservoir to Cheung Pai Tun and then across the sub dam to Pak Sha Tuk. From here, you will walk along the 2km main dam back to urban life at Tai Mei Tuk.
Contact us today to find out more!
DISCLAIMER
IWT LLP, acts only as an agent for The Client in acquiring transportation, accommodations, sightseeing, trekking and other services for The Client's benefit, and on the express condition that IWT LLP shall not be liable nor responsible for any loss (including without limitation, direct, indirect, special, incidental or consequential loss, economic loss), damage, mishap, bodily injury, death, delay, defect, omission or any irregularity that may be caused to The Client, third parties or properties. IWT LLP is to be released from all liabilities deriving from acts of terrorism, hijacking, civil unrest, natural calamities, labour strikes, thefts or any other factors beyond IWT LLP's control. Any losses and expenses are to be borne by The Client. In the event that IWT LLP is found liable by a court of competent jurisdiction on any basis in relation to The Client's booking done via IWT LLP, IWT LLP's maximum liability to the client is limited to the cost of the booking in question. See our full Terms and Conditions.