Events are fun activities or short weekend getaways organised by us for everyone to participate in. 
These events encompass the spirit of iwannatravel, where we believe in having fun and creating memorable experiences for everybody. 
We hope to keep in touch with you as friends, so do join in our Mailing List or follow us on Facebook to receive updates on upcoming events!

3D2N Mt Apo Summit Traverse (Group Tour: 3 to 5 Dec 2018)
3rd December 2018,3rd December 2018

-

5th December 2018,5th December 2018

SGT
Mount Apo, with an altitude of 2,954m, is the highest mountain in Philippines. The large stratovolcano is located in Mindanao island near to the provincial capital of Davao. There are many trails leading to the summit and in our itinerary, we will go for the Kapatagan-Kidapawan traverse route which covers the key highlights of Apo – mossy forest, boulders, Lake Venado and Marble River and of course, Mt Apo summit.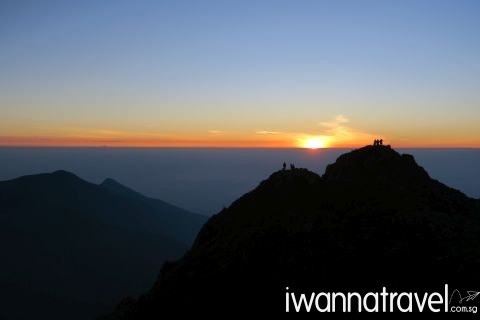 Date: 3 to 5 Dec 2018 (You should arrive at Davao the night before and fly off earliest on 6 Dec)
Meeting Venue and Time: 5am on 3 Dec 2018 at Green Windows Dormitel (to be confirmed again prior to trip)
Flights: Please check Cebu Pacific and Philippines Airline for flights
*Flights are not included in package price and you have to buy your own air tickets
Minimum Group Size: 2 to go
Maximum Group Size: 8
Price: SGD 385 Per Pax
Status: Trip confirmed
ITINERARY
Day 01
Davao City – Tinikaran Camp 2
500am Pick up by our friendly local representative from Davao City
7:30am Depart for Baruring
8:00am ETA Baruring, start trekking
8:30pm ETA Colan
9:00am ETA Tumpis
Lunch On the Trail
3:00pm ETA Tinikaran Camp 2 (actual camp site is dependent on hike progress)
3:45pm Pitch tent and dinner
8:00pm Lights off
Day 02
Tinikaran Camp 2 – Boulders – Apo Summit
4:45am Wake Up Call
5:00am Prepare breakfast/packed lunch and fetch water
7:00am Ascend Summit via Boulders, Mini Rock Tower, Gabroq E-Camp, Botoy's Ridge
Lunch on the trail
3:00pm ETA summit
4:00pm Pitch tent
5:15pm Peak hopping and sunset watching
6:30pm Dinner
8:00pm Lights off
Day 03                       
Apo Summit – Lake Venado – Davao City
4:45am Wake Up Call
5:00am Peak hopping and experience sunrise at peak
7:00am Prepare breakfast/packed lunch and fetch water
8:00am Break camp and descend to Lake Venado
11:30am ETA Lake Venado and lunch
12:00pm Descend Lake Agco Via Koo-ong Trail, Marble River
3:00pm ETA Marble River (River Crossing)
5:00pm ETA Lake Agco
5:30pm Depart for Davao City
9:30pm ETA Davao City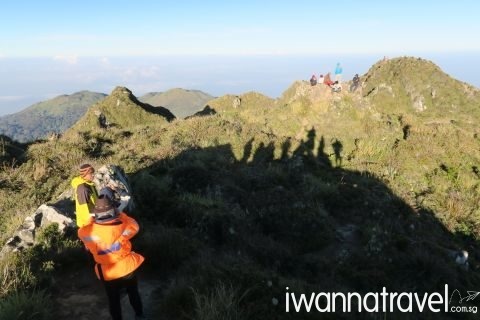 Package includes:
Climb Permit
Mountain Guide Fee
Climbing Certificate
Transportation from Davao City to trail head and back
Equipment Rentals for Tent, Sleeping Bag, Trekking Pole, Mess Kit and Stove with fuel
Meals during trek (dinner on the 1st day up to lunch on day 3)
Porters for camping equipment and food
Package excludes:
Return international/domestic air ticket
Travel insurance
Philippines VISA (ASEAN citizens are VISA-free up to 30 days)
Lodgings in Davao (can be arranged upon request)
Transfers between airport and Davao city
All meals not indicated in above itinerary
Tips for guides and porters
Porters to carry clients' personal belongings
All expenses of a personal nature
Notes
1) Mindanao is still under martial law due to recent bombing so security will be stricter. Mt Apo is however still open. While we are the organisers of the hike, please take necessary precautions for personal safety and we recommend you register at https://eregister.mfa.gov.sg/ before your trip.  Please do not sign up for the hike if you are uncomfortable traveling to Mindanao.
2) Mt Apo is a tough climb. Hikers must be of good physical condition and have prior hiking experience such as Mt Ophir, Mt Kinabalu or Mt Rinjani.
3) There are only 50 climbing slots each day so we recommend early booking.
4) Your slot is only confirmed after you received an email from us with registration and payment instructions and you have performed the given instructions before deadline.  Failure to do so will have your open trip registration removed so other interested participants can sign up. This also allows us to know the committed group size and if the open trip can proceed. Initial payment required is 50% of the trip price. Full refund of this deposit payment will be given if the open trip did not meet the minimum group size. Balance payment is required one month before trip departure date.  We will regularly update the status of the trip on this page.
In case you have any questions, you can sign up for the open trip first and contact us at 

.
Disclaimer: IWT LLP, acts only as agent for the client in acquiring transportation, accommodations, sightseeing, trekking and other services for the clients' benefit, and on the express condition that IWT LLP shall not be liable for any loss, damage, mishap, death, bodily injury, delay, defect, omission or irregularity which may occur or be occasioned, whether by reason of any act, negligence or default of any company or person engaged in or responsible for carrying out any of the arrangements, or otherwise in connection therewith. IWT LLP is to be released from all liabilities deriving from acts of terrorism, hijacking, civil unrest, natural calamities, labor strikes, thefts or any other factors beyond IWT LLP's control. IWT LLP reserves the right to alter or modify itineraries in anyway for the interests of tour members or due to any other uncontrollable circumstances such as weather or other local conditions. Visit our T&Cs for full terms and conditions.