Events are fun activities or short weekend getaways organised by us for everyone to participate in. 
These events encompass the spirit of iwannatravel, where we believe in having fun and creating memorable experiences for everybody. 
We hope to keep in touch with you as friends, so do join in our Mailing List or follow us on Facebook to receive updates on upcoming events!

4D3N Ijen Crater & Mount Bromo (Group Tour: Apr 2019- Good Friday Holiday!)
18th April 2019,18th April 2019

-

21st April 2019,21st April 2019

SGT
This short retreat will bring you up close to two of the most majestic volcanic landscapes in the Indonesian Ring of Fires; Ijen crater and Mount Bromo. Be mesmerised by the electric blue flames of Ijen which can only be seen in the wee hours. Savour the beauty of the turquoise coloured acidic lake and witness the indomitable spirit of the miners as they battle the treacherous terrain to haul heavy loads of mined sulphur to make a living. Hop on a 4WD to catch the rising sun casting its first rays over the surreal landscape of Tengger Caldera. The fuming Mount Bromo rising from the flat volcanic sand bed of the gigantic caldera will be a sight to behold. The top of Mount Bromo can be reached via 253 concrete steps making it one of the most accessible active volcanos in the world.  End the trip with a visit to Surabaya, home to many of the nation's fiercest independence fighters and thus known to locals as Kota Pahlawan (City of Heroes).
Date: 18 to 21 Apr 2018 (Thu to Sun, only 1 day of leave needed as Friday is a public holiday!)
Meeting Venue and Time: Surabaya Airport International Terminal Arrival Hall (Pop Chicken's Restaurant) at 930am, our guide will be holding a sign.
Arrival Flight:
– Scoot TR264 Depart SG 815am, Arrive Surabaya 935am
– Singapore Airline MI5880/SQ931 Depart SG 750am, Arrive Surabaya 915am
Departure Flight:
– Scoot TR265 Depart Surabaya 1015am, Arrive SG 1330pm
– Singapore Airlines MI5881/SQ930 Depart Surabaya 1010am, Arrive SG 1330pm
*Flights are not included in package price and you have to buy your own air tickets.  Please only buy your air tickets after we have confirmed the trip with you. We only provide 2 possible airlines with similar timings so that everybody can arrive and depart together.
Minimum Group Size: 4 to go
Maximum Group Size: 8
Price: SGD 408 each person
Status:  Trip is confirmed, registration closed
See our previous open trip photos here!
ITINERARY
Day 01
SINGAPORE – SURABAYA – BONDOWOSO
Upon arrival at Juanda International Airport Terminal 2 in Surabaya (Indonesia is 1 hr behind Singapore), meet up with our friendly tour guide (meetup point outside Pop Chicken's Fast Food Restaurant, watch out for a sign with iwannatravel) who will send you to your lodge in Bondowoso. (approx. 7-8 hrs). There will be breaks along the way for lunch and tea.
Upon first opportunity, please go through itinerary with your tour guide to ensure mutual understanding. If you have any food preference or wish to purchase a local sim card (buy at airport), please let your tour guide know as well. 🙂
Overnight: Ijen View Hotel or similar in Bondowoso (Twin Sharing)
Day 02
BONDOWOSO – IJEN CRATER – CEMORO LAWANG
You will be given an early morning wakeup call at around 230am* to prepare for the Ijen night hike. A short drive (approx. 45 min) will bring you to the trail head at the Ijen ranger post, where you will start the trek to the Ijen crater (approx. 1- 1.5 hrs). At the crater rim, you will be rewarded by an amazing view of the gigantic crater and the 200 meter deep turquoise sulfuric crater lake. You will also be able to witness how some of the world's toughest workers battle the toxic fumes and treacherous terrain to haul 70kg sacks brimming with sulphur deposit to make a living. After enjoying the sunrise view at the crater, you will first enjoy a dip at the local hot spring before making your way to the Lumbang Village to catch a view of the 200m cascading Madakaripura Waterfalls** – the second highest in Indonesia. Proceed on to your hotel in Cemoro Lawang to rest and relax. (approx. 4 hrs)
* It is possible to hike down the Ijen crater to have a closer view of the blue flame, but you would have to set off earlier (at around 130am) from the hotel.  Whole group will set off at 130am, those who do not wish to hike down the crater can take a rest in the vehicle for another hour or so before hiking to crater for sunrise.
** Madakaripura Waterfalls is not accessible if it is raining heavily or if you arrive too late in the afternoon.
Overnight: SM Hotel or similar in Cemoro Lawang (Twin Sharing)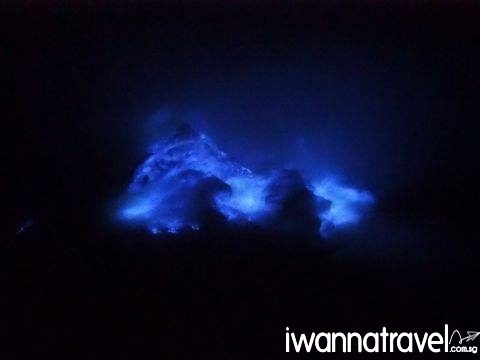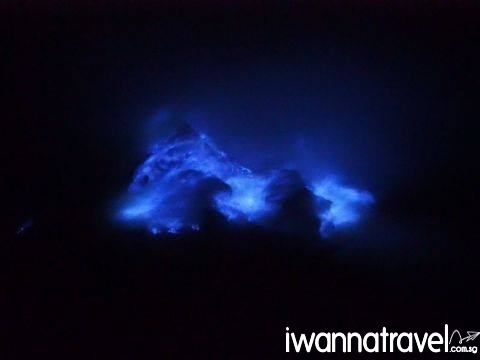 Photo contributed by Jessica
Day 03
CEMORO LAWANG – MOUNT BROMO – SURABAYA
You will be given an early morning wakeup call at around 330am to prepare for Mount Bromo sunrise hike. An exciting ride on the 4WD will bring you to the neighbouring peak of Gunung Penanjakan (2770m) at the edge of the Tengger crater rim to witness the beautiful sunrise views over the Bromo landscape. Rising from the flat volcanic sand bed of the caldera is the dormant core of Mount Batok (2440m) and the active volcano of Mount Bromo (2329m). Further south beyond the crater wall lies mighty Gunung Semeru (3676m) – the highest and most active volcano in Java. After enjoying the sunrise, you will then continue the exciting ride on the 4WD over the Laotian Pasir (Sand Sea) to Poten – a Tenggerese Hindu temple beside Mount Bromo. From Poten, you can choose to take a 3km hike or a pony ride to get to the base of Mount Bromo, where you will be rewarded with the close- up views of the Crater Rim after ascending a steep flight of 253 steps. Return to your lodge for breakfast.
Continue the journey to Surabaya city (approx.4 hrs) and check in to your hotel for a short rest.  Go on a food adventure with the many restaurants available in Surabaya not forgetting to sample rujak cingur, a local salad with tapioca-peanut sauce and cingur (slices of cooked cow nose) and sate kelopo (satay with coconut sauce).
Overnight: Artotel or similar in Surabaya (Twin Sharing)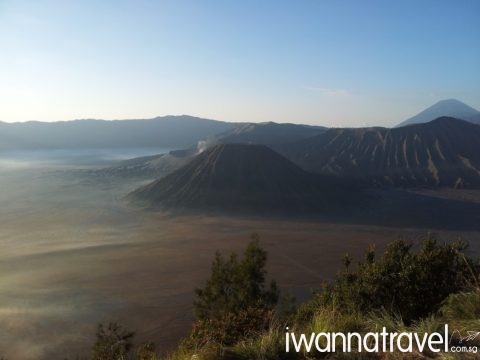 Day 04
SURABAYA – SINGAPORE
After enjoying your breakfast in the hotel, you will be transferred at 7am to the Juanda International Airport for your flight back to Singapore.
Package includes:
All local land transfers including airport transfers
All accommodations (twin sharing – Ijen View at Bondowoso, SM Hotel at Cemoro Lawang, Artotel at Surabaya) – read note 1
All accommodations' breakfasts
Local English speaking guide for the whole trip (driver is separate person)
Entrance fees to Ijen National Park, Bromo National Park and Madakaripura Waterfalls
4WD for Mount Bromo
Tips to driver and guide
Package excludes:
Return international air tickets – read note 2
Travel insurance
Indonesian VISA (ASEAN citizens are VISA-free up to 30 days)
All meals except breakfasts
Horse ride at Mount Bromo
Ijen guide for optional hike down the crater (optional at 200,000 IDR each person, payable directly to Ijen guide – ex-miner) – read note 3
All expenses of a personal nature
Notes
1) Single supplement is subjected to availability at SGD 90 extra. For solo participants, we will match you with another participant of the same gender.
2) For arrival flights, please only take one of the possible flights provided due to the long drive to Ijen area. There will only be 1 pickup point (at the airport) in the morning of day 1. For departure flight, we will only provide one airport transfer from Artotel at 7am in the morning to be in time for either the Scoot or Silkair/SQ flight. It is possible for customer to take a later flight. This means that the customer will sight-see Surabaya on his/her own and transfer to the airport on his/her own on day 4 of the trip. Price remains the same.
3) Whole group will depart from Ijen View Hotel at around 130am. This timing makes it possible to head down the crater for closer view of the blue flame. For those who do not wish to hike down the crater, you can rest in the vehicle for around an hour first before starting the trek so you can be at the crater before sunrise.
4) Your slot is only confirmed after you received an email from us with registration and payment instructions and you have performed the given instructions before deadline.  Failure to do so will have your open trip registration removed so other interested participants can sign up. This also allows us to know the committed group size and if the open trip can proceed. Initial payment required is 50% of the trip price. Full refund of this deposit payment will be given if the open trip did not meet the minimum group size. Balance payment is required one month before trip departure date.  We will regularly update the status of the trip on this page.
5) As this is an open trip, itinerary is fixed. In case you prefer to customise your itinerary, we recommend that you book a private tour with us.  This open trip is mainly targeted to small groups of 1 – 2 pax to reduce their cost of traveling. For bigger group size, we recommend that you book a private tour with us for flexibility.
In case you have any questions, you can sign up for the open trip first and contact us at 

.
TIPS FOR YOUR TRIP:
1. Do remember to bring along your winter wear (fleece jacket, scarf, beanie, gloves) as it gets really really cold and windy in the wee hours. Dress in layers so you can remove them easily after the sun comes out.
2. Due to the dust and sulphur at Mt Bromo and Ijen Crater, our guide will bring along basic disposal face masks for everybody. But it will be advisable to higher quality masks (e.g. N95 Air+) on your own. If you are taking the optional hike down Ijen Crater, the extra cost comes with the rental of a gas mask.
3. You may get wet at the waterfalls. So bring along appropriate footwear (e.g. wet shoes, avoid footwear with poor grip) and clothing (poncho, towel). Waterproof your gears such as camera as well. There will be a place to change into dry clothing after a visit to the waterfalls.
4. Bring a torch light (or use your mobile phone app) for the early morning Mt Bromo and Ijen Crater sunrise, head lamp will be good as it leaves your hands free.
5. Reaching Ijen crater requires a 2-3 hour hike so if you do not exercise regularly, do take the time to train up to make it more comfortable experience.
6. The accommodations at Mt Bromo and Ijen Crater are in the countryside so they are generally more basic and comfort level are not as high as the hotels in cities.
7. As there long road journeys on windy roads, please bring along car sickness or motion sickness medicines if you need them. During the journey, do request our driver to make frequent stops for rest.
8. Due to the distances between sights, early wake-ups and the many sights to visit, most people will find the itinerary rather tiring. Do rest early at night.
9. While meals in the countryside can be basic, once you reach the city like Surabaya, you will find many good restaurants. Our local guide will be able to give good recommendations based on your preference or you can consider some of the restaurants listed in our FAQs.
10. For amount of IDR to bring, IDR 1,500,000 should be more than enough each person for meals (6 meals of IDR 100,000 to IDR 150,000 each), IDR 200,000 for optional hike down Ijen crater and some spare cash. Bring more cash if you intend to do some shopping.
11. For a generic packing list, please refer to https://iwannatravel.com.sg/downloads/PackingList.pdf
Read more information on Bromo and Ijen at our FAQs:
Disclaimer: IWT LLP, acts only as agent for the client in acquiring transportation, accommodations, sightseeing, trekking and other services for the clients' benefit, and on the express condition that IWT LLP shall not be liable for any loss, damage, mishap, death, bodily injury, delay, defect, omission or irregularity which may occur or be occasioned, whether by reason of any act, negligence or default of any company or person engaged in or responsible for carrying out any of the arrangements, or otherwise in connection therewith. IWT LLP is to be released from all liabilities deriving from acts of terrorism, hijacking, civil unrest, natural calamities, labor strikes, thefts or any other factors beyond IWT LLP's control. IWT LLP reserves the right to alter or modify itineraries in anyway for the interests of tour members or due to any other uncontrollable circumstances such as weather or other local conditions. Visit our T&Cs for full terms and conditions.