Events are fun activities or short weekend getaways organised by us for everyone to participate in. 
These events encompass the spirit of iwannatravel, where we believe in having fun and creating memorable experiences for everybody. 
We hope to keep in touch with you as friends, so do join in our Mailing List or follow us on Facebook to receive updates on upcoming events!

Annapurna Base Camp (ABC) Trek (20 Apr to 3 May 2018)
20th April 2018,20th April 2018

-

3rd May 2018,3rd May 2018

SGT
Date: 20 Apr to 3 May 2018
Meeting Time and Venue: Kathmandu Airport (suggested flights – Malaysian Airlines at around SGD 452 or Thai Airways at around SGD 590)
Expected Group Size: 4-6 pax (4 pax already confirmed going)
ITINERARY
Annapurna Base Camp (ABC for short) trek begins in the lovely town of Pokhara through the foothills of Annapurna South and finally to Annapurna Base Camp. Taking you through traditional Nepalese villages and snow-capped mountain landscape, the beautiful trek with its moderate altitude is suitable for all experienced and beginner trekkers alike.
Day 01                       
SINGAPORE – KATHMANDU (D)
Upon arrival at Kathmandu's Tribhuvan International Airport, you will be greeted by our friendly local representative who will send you to your hotel in Thamel followed by a welcome dinner. (Approx. 1 hr)
Overnight: Hotel
Day 02                      
KATHMANDU – POKHARA (823m) (B)
After enjoying your breakfast, our friendly local guide will bring you on a shared tourist bus to ride to Pokhara. (Approx. 6 hrs) The journey transverses through a winding road along the Trishuli River, perfect for you to slowly appreciate the surrounding greenery and scenery. As Pokhara is situated near to 3 of the 10 highest mountains in the world— Dhaulagiri, Annapurna I and Manaslu, there are several opportunities for you to spot these towering mountains as you are nearing Pokhara. Pokhara is also home to three major lakes – Phewa, Rupa and Begnas, which, together with the snowcapped mountains and fresh air, gives rise to a perfect picture worthy natural backdrop. Upon reaching Pokhara, enjoy the evening chilling out by the Lakeside- a lively area full of restaurants, cafes and souvenir shops that stay open till late at night.
Overnight: Hotel
Day 03                       
POKHARA – GHANDURUK (1940m) (B/L/D)
After breakfast, Drive to Nayapul by private car (1 and half hour) and trek up to Ghandurk, walking mostly uphill through cultivated fields and local villages. The scenic Gurung Village is inhabited by a mix of Gurung, Brahman and Magar communities and offers a spectacular view of the Himalayan ranges including the Annapurna south and and Machhapuchhare range.
Overnight: Guesthouse
Day 04                       
GHANDURUK – CHHOMRONG (2170m) (B/L/D)
After breakfast, head to Chhomrung through a rice terraces and forest.  The trail continues to Jhinu where you can enjoy a natural hot spring at Jhinu Danda. From there  it is another hour uphill to Chhomrong. Towering Chhomrong is the mighty peak of Annapurna South.
Overnight: Guesthouse
Day 05                       
CHHOMRONG – BAMBOO (2310m) (B/L/D)
After breakfast, start your journey to Bamboo. The trail descends on a stone staircase and crosses the Chhomrung Khola. Climbing high above the Modi Khola on its west banks, the trails continues through forest of bamboo, rhododendron and oak. Climbing further on a rocky trail you reach at Bambo.
Overnight: Guesthouse
Day 06                      
BAMBOO – DEURALI (3230m) (B/L/D)
After breakfast, start the trek to Deurali. The trail is usually muddy, but it is compensated with nice views of the rushing river and waterfall.
Overnight: Guesthouse
Day 07                       
DEURALI – ANNAPURNA BASE CAMP (4130m) (B/L/D)
After breakfast, you will continue your journey to ABC. you will be walking up on the bed of the glacier to reach Annapurna Base Camp at 4237m.
Overnight: Guesthouse
Day 08                       
ANNAPURNA BASE CAMP – BAMBOO (2310m) (B/L/D)
After breakfast you will return same way to Bamboo. The track remains on the west bank of the Modi, now flowing through a more open valley and eventually emerges into the Sanctuary.
Overnight: Guesthouse
Day 09                      
BAMBOO – JHINU DANDA  (B/L/D)
After breakfast, start trek to Jhino Dada where you have a chance to dip into a hot spring again. An evening we will have fire camp, drinking, dancing with porters and guides.
Overnight: Guesthouse
Day 10         
JHINU DANDA – POKHARA (B)
After breakfast, start trek to Nayapul and drive back to Pokhara. Overnight at Hotel.
Overnight: Hotel
Day 11           
POKHARA (B)
After enjoying your breakfast in the hotel, for those who prefer an adrenaline rush, you will be transferred to Sarangkok where you can paraglide down to Pokhara's lake side, enjoying the views while being in the safe hands of your paragliding pilot.
Spend the rest of the day soaking up the beauty of Pokhara. Pokhara is blessed with stunning panoramic views of the Annapurna range which forms its backdrop; Machhapuchhre largely dominates its scenery due to its proximity to the valley and can be seen from anywhere in Pokhara. Two other eight-thousand meter tall peaks (Dhaulagiri, Manaslu) can also be seen from the city. You can paddle in Phewa Lake, stroll around at your own pace or simply sit back and enjoy the tranquil environment. Visit the impressive Devi's fall where the river flows towards the underground after the water falls. There is also an option for you to take a short hike to the World Peace Pagoda situated atop a hill where you can enjoy the sunset views.
Overnight: Hotel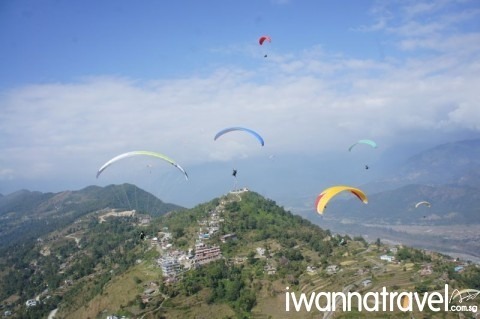 Day 12            
POKHARA – KATHMANDU (B)
After enjoying your breakfast, your local guide will bring you back to Kathmandu city. (Approx. 6 hrs) Enjoy the rest of the evening by exploring the restaurants and shops in the areas around Thamel Street.
Overnight: Hotel
Day 13                        
KATHMANDU – SINGAPORE  (B)                 
Prepare to bid goodbye to the lovely city of Kathmandu as you will be transferred to the airport for your flight home after breakfast. You will expect to reach SG on Day 14 very early morning (3 May 2018).
Package includes:
All land transfers including airport transfers
All accommodations in Kathmandu (3 star Fuji Hotel or similar) /Pokhara (3 star Kotee Hotel or similar) and during the trek (guest house)
All hotel breakfasts in Kathmandu/Pokhara
All meals and drinks (boiled water, coffee and tea) during the trek
Licensed Nepali sightseeing and trekking guide (English speaking)
Personal porter (2 customers to 1 porter ratio, porter can take up to 30kg)
Accommodations, meals & insurance for guide and porters
Trekking permit
All entrance fees to places of interest mentioned
Package excludes:
Return international air ticket
Travel insurance (details to be submitted to us before trip)
Nepal Airport taxes (please check your ticket, it may be already included)
Nepal Visa (Single entry cost around USD25 – depend on duration of stay and subjected to change)
All meals not indicated
Personal medical supplies
Tips for guide and porters
All expenses of a personal nature
To Bring:
5 pcs passport size photos for Visa and trekking permit
Visa can be applied in your country before arrival or there is also visa on arrival for most nationalities, please check your visa requirements before the trip
IMPORTANT NOTES 
Interested participants have to be of good fitness level and have prior trekking experience. Extension with extra night stay at Kathmandu can be arranged.
Deadline to join the trip is 15 Mar 2018.
Disclaimer: IWT LLP, acts only as agent for the client in acquiring transportation, accommodations, sightseeing, trekking and other services for the clients' benefit, and on the express condition that IWT LLP shall not be liable for any loss, damage, mishap, death, bodily injury, delay, defect, omission or irregularity which may occur or be occasioned, whether by reason of any act, negligence or default of any company or person engaged in or responsible for carrying out any of the arrangements, or otherwise in connection therewith. IWT LLP is to be released from all liabilities deriving from acts of terrorism, hijacking, civil unrest, natural calamities, labor strikes, thefts or any other factors beyond IWT LLP's control. IWT LLP reserves the right to alter or modify itineraries in anyway for the interests of tour members or due to any other uncontrollable circumstances such as weather or other local conditions. Visit our T&Cs for full terms and conditions.