Events are fun activities or short weekend getaways organised by us for everyone to participate in. 
These events encompass the spirit of iwannatravel, where we believe in having fun and creating memorable experiences for everybody. 
We hope to keep in touch with you as friends, so do join in our Mailing List or follow us on Facebook to receive updates on upcoming events!

Mount Mulu Summit Climb (Group Tour: May 2019- Vesak Day Holiday!)
16th May 2019

-

21st May 2019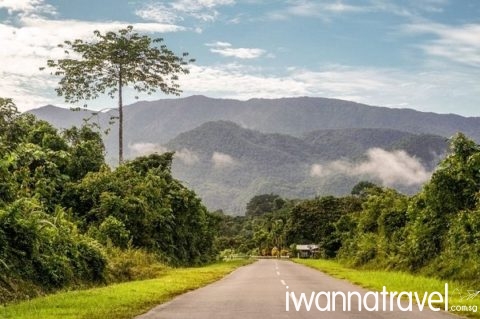 With its 2376m, Gunung Mulu is the 5th highest mountain in Malaysia and the second highest in Sarawak. It is part of the Tama Abu Range in northern Sarawak. For our trek we will follow the route discovered in the 1920's; the only successful route to the summit. It involves overnight stops at jungle camps.
Date: 16 to 21 May 2019
Recommended Flights:
AirAsia AK1756
Departs Singapore at 10:15am 16th May
Arrives Miri at 12:15pm 16th May
MASWings MH3632
Departs Miri at 14:20pm 16th May
Arrives Mulu at 14:50pm 16th May
MASWings MH3631
Departs Mulu at 10:15am 21th May
Arrives Miri at 10:45am 21th May
AirAsia AK1755
Departs Miri at 12:40am 21th May
Arrives Singapore at 14:40pm 21th May
*Flights are not included in package price and you have to buy your own air tickets.  Please only buy your air tickets after we have confirmed the trip with you. 
Minimum Group Size: 3 pax
Maximum Group Size: 12 pax
Price: SGD 290 each person
Status:  Open
ITINERARY
Day 01
SINGAPORE – MIRI – MULU PARK HQ

Fly from Singapore to Mulu Airport with a short transit in Miri. Upon arriving at Mulu Airport, proceed to Mulu Park HQ. Rest and relax at your own leisure for the rest of the day.
Overnight: Hotel/Dormitory in Park HQ
Day 02

MULU PARK HQ – MOUNT MULU

After breakfast, you will begin your hiking adventure. Today you will climb for 6-8 hours to Camp 3.
Overnight: Hut accommodation in Camp 3
Day 03
MOUNT MULU
Today will be a shorter climb (but no less easier) of 4 hours to Camp 4 where you will spend your night. The reason we do not recommend that you summit on day 2 is that it would be a 10 hour climb and usually the summit is covered in cloud during the afternoons spoiling the views.
Overnight: Hut accommodation in Camp 4
Day 04
MOUNT MULU
After an early breakfast you will embark on the summit push. At the summit you will be rewarded with amazing view of the Borneo mountain vista. The return trip to Camp 4 will take about 5–6 hours. After lunch, continue another 4 hours trek to Camp 3 for the night.
Overnight: Hut accommodation in Camp 3
Day 05
MOUNT MULU – MULU PARK HQ
A 6 hours trek will bring you back to Park HQ. Estimated time of arrival will be around 1-2pm. Free and easy at your own leisure for the rest of the day.
Overnight: Hotel/Dormitory in Park HQ
Day 06
MULU PARK HQ – MIRI – SINGAPORE

Proceed to Mulu Airport for you flight back Singapore with a short transit in Miri.
Package includes:
Park entrance fees and permits
Licensed mountain guide
3 nights accommodation at Camp 3 & Camp 4
Package excludes::
International/domestic flights (See flight recommendation below)
Travel insurance (Important: Please arrange your own comprehensive travel insurance)
2 nights accommodation (with breakfast) at Mulu Park HQ
All meals (we have to bring along our own food for the climb)
Porter to carry personal belongings
All expenses of a personal nature
Notes
1) We will be staying two nights at Mulu Park HQ; one night before the climb and one night after the climb. Two accommodation options are available:
Air-conditioned Private Room with attached bathroom:
SGD 100 per pax per room per night for single room
SGD 60 per pax per room per night for twin-sharing
Ceiling Fan Dormitory with shared bathrooms:
SGD 20 per pax per bed per night
All rooms and dormitories come with hot shower.
2) Porter for personal belonging can be hired at SGD 250 per porter for the whole trip. Each porter can carry up to 15kg so a few of us can share one porter if we do hire one.
3) Your slot is only confirmed after you received an email from us with registration and payment instructions and you have performed the given instructions before deadline.  Failure to do so will have your open trip registration removed so other interested participants can sign up. This also allows us to know the committed group size and if the open trip can proceed. Initial payment required is 50% of the trip price. Full refund of this deposit payment will be given if the open trip did not meet the minimum group size. Balance payment is required one month before trip departure date.  We will regularly update the status of the trip on this page.
4) As this is an open trip, itinerary is fixed. In case you prefer to customise your itinerary, we recommend that you book a private tour with us.  This open trip is mainly targeted to small groups of 1 – 2 pax to reduce their cost of traveling. For bigger group size, we recommend that you book a private tour with us for flexibility.
In case you have any questions, you can sign up for the open trip first and contact us at 

.
Disclaimer: IWT LLP, acts only as agent for the client in acquiring transportation, accommodations, sightseeing, trekking and other services for the clients' benefit, and on the express condition that IWT LLP shall not be liable for any loss, damage, mishap, death, bodily injury, delay, defect, omission or irregularity which may occur or be occasioned, whether by reason of any act, negligence or default of any company or person engaged in or responsible for carrying out any of the arrangements, or otherwise in connection therewith. IWT LLP is to be released from all liabilities deriving from acts of terrorism, hijacking, civil unrest, natural calamities, labor strikes, thefts or any other factors beyond IWT LLP's control. IWT LLP reserves the right to alter or modify itineraries in anyway for the interests of tour members or due to any other uncontrollable circumstances such as weather or other local conditions. Visit our T&Cs for full terms and conditions.