Events are fun activities or short weekend getaways organised by us for everyone to participate in. 
These events encompass the spirit of iwannatravel, where we believe in having fun and creating memorable experiences for everybody. 
We hope to keep in touch with you as friends, so do join in our Mailing List or follow us on Facebook to receive updates on upcoming events!

Taiwan Xueshan (Snow Mountain) Climb (25 to 27 Nov 2017)
25th November 2017

-

27th November 2017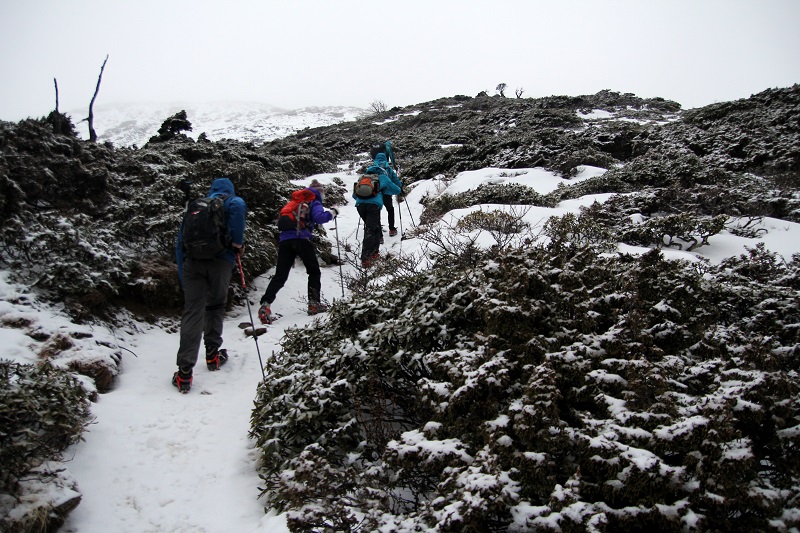 Standing at a towering height of 3,886m, Xue Shan (雪山), which literally means Snow Mountain in English, is the second highest mountain in Taiwan. It is also the highest point of the Syue Mountain Range, which stretches northeast to southeast across Taiwan. This magnificent peak is located in the Shei-Pa National Park (雪霸国家公园) which is also home to 50 other mountains above 3000 meters. The trail goes through a variety of interesting ecosystems ranging from sub-tropical forests, grassland, cypress and cedar forests to the alpine shrubland. Snow, rarely seen in the other parts of Taiwan, is conversely commonly seen on this mountain in the winter months. With its whole peak beautifully covered in ablanket of snow – reminiscence Of Swiss Alps, this setting provides avid hikers a good opportunity to experience snow trekking on crampons. At the summit, the 360 degree panorama view at the summit with the morning sun rising from a sea of clouds and casting its first rays on the snowly landscape is a sight to behold.
Detailed Itinerary: http://iwannatravel.com.sg/east-asia/2d2n-xue-shan-snow-mountain-climb
Travelling Date: 25th-27th Nov 2017
Meeting Venue: Taipei Main Station
Trekking Duration: 2D2N
Expected Group Size: 6-8 Pax
Price: SGD550 Per Pax
 Package includes:
All land transport from Taipei City to Xue Shan National Park and back
One night accommodation in homestay in Nan Shan Village
One night accommodation in 369 Cabin
Park entrance fee and climbing permit
Local trekking guide
2 x breakfast, 1 x lunch and 1 x dinner
Package excludes:
Return international air tickets
Travel insurance*
Additional transport for different pickup/drop off locations and timings (e.g. Taoyuan Airport pickup/return will incur extra cost)
All meals not indicated above (lunch is not provided on day 02, please bring along own trail food)
Porters to carry personal belonging
All expenses of a personal nature
*AIG Travel Guard Insurance can be arranged on your behalf.
IMPORTANT NOTES 
Xueshan is a tough hike. Interested participants have to be of high fitness level and have prior trekking experience.
This trip is without expedition leader from Singapore. Participants will meet our mountain guide at Taipei Main Station.
More Questions? Read through our Xueshan frequently asked questions (FAQ) and get them answered!
Deadline to join the trip is 25 Sep 2017. First come first served!
Disclaimer: IWT LLP, acts only as agent for the client in acquiring transportation, accommodations, sightseeing, trekking and other services for the clients' benefit, and on the express condition that IWT LLP shall not be liable for any loss, damage, mishap, death, bodily injury, delay, defect, omission or irregularity which may occur or be occasioned, whether by reason of any act, negligence or default of any company or person engaged in or responsible for carrying out any of the arrangements, or otherwise in connection therewith. IWT LLP is to be released from all liabilities deriving from acts of terrorism, hijacking, civil unrest, natural calamities, labor strikes, thefts or any other factors beyond IWT LLP's control. IWT LLP reserves the right to alter or modify itineraries in anyway for the interests of tour members or due to any other uncontrollable circumstances such as weather or other local conditions. Visit our T&Cs for full terms and conditions.