This weekend retreat begins with a visit to the magnificent Mount Bromo, known for its stunning surreal landscape. Hop on a 4WD to catch the rising sun casting its first rays over the surreal landscape of Tigger Caldera. The fuming Mount Bromo rising from the flat volcanic sand bed of the gigantic caldera will be a sight to behold. The top of Mount Bromo can be reached via 253 concrete steps making it one of the most accessible active volcanos in the world. End the trip with a visit to Surabaya, home to many of the nation's fiercest independence fighters and thus known to locals as Kota Pahlawan (City of Heroes).
ITINERARY
Day 01
SINGAPORE – SURABAYA – CEMORO LAWANG
Fly direct from Singapore Changi Airport to Juanda International Airport International Airport. Upon arrival you will be picked up by our local representative to your lodge in Cemoro Lawang (4-5 hrs drive).
Overnight: Lodge in Cemoro Lawang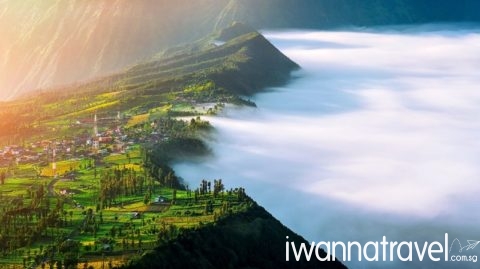 Day 02
CEMORO LAWANG – MOUNT BROMO – SURABAYA 
You will be given an early morning wake up call at around 330 am to prepare for Mount Bromo sunrise hike. A 4WD will drive you to the neighbouring peak of Gunung Penanjakan (2770m) at the edge of the Tengger crater rim for sunrise over the Bromo landscape – a 10km wide caldera formed from the collapsed remnants of an ancient volcano. Rising from the flat volcanic sand bed of the caldera is the dormant core of Mount Batok (2440m) and the active volcano of Mount Bromo (2329m). Further south beyond the crater wall lies mighty Gunung Semeru (3676m) – the highest and most active volcano in Java. After sunrise, the 4WD will drive you over the Laotian Pasir (Sand Sea) to Poten – a Tenggerese Hindu temple beside Mount Bromo. From Poten, it is a 3km hike or pony ride to the base of Mount Bromo. You will then ascend a steep flight of 253 steps to the crater edge of Mount Bromo. Take a peep into the steaming crater where offerings of chickens, rice and money are still thrown into by Tengger Hindus to express their gratitude to the Gods. Leave the barren volcanic landscape to visit the quiet and beautiful Whispering Savannah nearby. Proceed back to your hotel in Surabaya (approx.4 hrs) for some rest before going for dinner and night market shopping in the evening.
Overnight: Hotel in Surabaya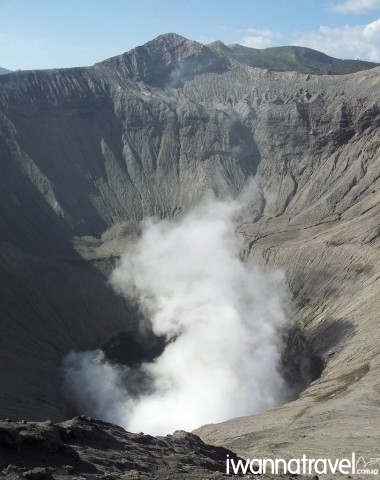 Day 03                       
SURABAYA – SINGAPORE
After enjoying your hotel breakfast, you will proceed for a city tour of Surabaya, visiting House of Sampoerna Museum, Jembatan Merah Monument KRI Pasopati (Sub Marine Monument) and Mirota handycraft center before transferring to Juanda International Airport for your flight home.
Package includes:
All local land transfers including airport transfers
All accommodations
All hotel breakfasts
English speaking guide
Entrance fees of all attractions stated in above program including Mount Bromo National Park Permit
4WD for Mount Bromo
Package excludes:
Return international air tickets
Travel insurance
Indonesian VISA (ASEAN citizens are VISA-free up to 30 days)
All meals other than hotel breakfasts (our guide will recommend highly rated restaurants according to your preference)
Horse riding in Mount Bromo
Tips for guide and driver
All expenses of a personal nature
HIKING GRADE
FAQ 
Need more information on Mount Bromo? Read through our Mt Bromo frequently asked questions (FAQ) and get them answered!
OPTIONAL PROGRAM
We can also customise an itinerary to suit your interest.  Other itineraries for your consideration are as follows:
Activities such as Whitewater rafting at Pekalen River (near Bromo) can also be arranged.
TESTIMONIALS
First of all, this was a last minute trip, booked a few days before its commencement, and HS from iwannatravel was very pro-active in answering the queries and preparing the itinerary in a rush. Other than that, we had really very little to plan. The organization was tailored to our needs, flawless. We had ample time, during our trip to enjoy all activities and scenery. The guide and the driver were great - punctual and well prepared. All the entrance fees and guides were organized behind the scene without us being involved. The food and accommodations were great too. Amazing for a last minute booking. All in all, the trip went well beyond any expectation. Top service from the local crew. And what a beautiful landscape. I can really recommend anyone to visit those volcanoes - and with this Team.

– Ian (Group of 2 on an 3D2N Ijen, Bromo & Surabaya trip in Jul 2019)

The tour and transport were well organised. The van was comfortable, considering we had to spend a long time in it travelling from one spot to the next. The planning for the activities was done so we won't be missing out on the sunrise and yet there's enough time to reach the next destination, accounting for the traffic too. Overall, a very enjoyable trip!

– Raj (Group of 7 on an 4D3N Ijen, Bromo & Surabaya trip in Apr 2019)

the tour guide is very friendly, informative and extremely helpful, he even lend us money when we don't have enough local money to pay for the hike down Ijen crater (it's not included in the trip package) the scenery was magnificent, from the blue fire and the lake in Ijen crater to the sunrise and the valley view from Kingkong hill

– Vince (Group of 3 on an 4D3N Ijen, Bromo & Surabaya trip in Apr 2019)

+ Having Dimas as a tour guide was a treat. Fun, friendly & flexible but reliable & down to earth. 10/10 would travel again with. + Ijan crater's vibrant colors were amazing to watch, especially during sun rise. + Shout out to the local helper at the crater. Without him I wouldn't have made it all the way up. + Mount Bromo sunrise was breathtaking. The jeep ride was awesome as well. + Huge fan of having meals mixed between restaurant food and local food, giving us safe options for picky individuals but still offering a taste of something more authentic.

– Huynh (Group of 3 on an 4D3N Ijen, Bromo & Surabaya trip in Apr 2019)

Iwannatravel has been proffessional in many aspects of the trip. From trip preparation to the entire trip itself, i felt that the itinerary is arranged and subsequently executed in proper manner. HS was in constant contact, and messages or updates about the trip were communicated promptly.When we were in Surabaya, we were pleased to have Bayu as our tour guide. He is friendly and constantly checking with me about the itinerary, checking if I would like to make adjustments to the itinerary because of wet weather.

– Simon (Group of 5 on an 4D3N Ijen, Malang/Batu & Surabaya trip in Feb 2018)

IWT handled the pre-trip administration very well and the itinerary was swiftly and properly communicated to us. The itinerary was clear and useful as it gave us a rough gauge of what to expect and what to prepare for the trip. Our tour guide Mr Dimas, along with our driver, possess welcoming and friendly personalities and they always ensured that our welfare is well taken care of. During the trip, they were always providing us with insights into Surabaya to tell us more about their country and even provided excellent recommendations for activities and their local cuisine. All in all, a very good and trip and would certainly recommend.

– Zhen Siang (Group of 2 on an 4D3N Ijen, Bromo & Surabaya trip in Dec 2018)

Organisation is the best where the trip was well planned and it is according to the scheduled. The guide., Bob Bayu, is very competence and responsible person who assist us to everyone needs. He will do extra miles such as he helps us to send us to airport although it is not suppose in the scheduled. He has to do it twice on sending us to the airport. He can simply ask taxi to do it but he insist to do it.

– Shali (Group of 10 on an 4D3N Ijen, Bromo & Surabaya open trip in Nov 2018)

Guide spoke really good English. Driver was skillful and my husband and I felt safe.

– Emmeline (Group of 10 on an 4D3N Ijen, Bromo & Surabaya open trip in Nov 2018)

great service from guide and driver. activities well planned. accomodations quite ok. great choice of restaurant.

– Matthew (Group of 2 on an 4D3N Ijen, Bromo & Surabaya trip in Jul 2018)

-The transport (as in the vehicle) is comfortable. -Driver Bondan is superb. He is a careful and calculated driver, yet he tries his best to reach the destinations expeditiously. -Bayu has a good command in English, and very understanding. He is also a great support in our hiking trips. -The booking and communication with hs is prompt and we like the reminders (for payment etc).

– Desmond (Group of 6 on an 4D3N Ijen, Bromo & Surabaya trip in Jun 2018)

The whole trip was simply awesome. The moment we met our guide Mr Bayu we welcome by him at the promised meeting point and immediately usher us. We were impressed that our guide is very able to speak fluent English and also we were able to connect to our guide easily as our age gap were quite near. The guide was very knowledgeable about the whole trip and able to inform us accurately on what we can expect when climbing the mountain. The whole drive to and fro different places was very well navigated by the driver. The driver Mr Bondan knew his way around places and able to get us safely to our destination despite heavy traffic conditions along the way.

– Zahin (Group of 2 on an 4D3N Ijen, Bromo & Surabaya trip in Mar 2018)

The trekking to Mount Bromo and Ijen Crater was an interesting and rewarding experience. Our guide Dimas was very helpful and friendly on showing us interesting place to dine and was very accommodating to our requests.

– Alfi (Group of 4 on an 4D3N Ijen, Bromo & Surabaya with water rafting trip in Mar 2018)

transport hotel and food selection all good. the guides didnt bring us to tourist places (which usually pays them commission) which i was afraid of, instead they bring us to the local favs.

– Irvin (Group of 10 on an 6D5N Bromo, Batu & Yogyakarta trip in Feb 2018)

The trip and activities well planned and quite flexible, not too hectic but just nice. The hotels are amazing in both services and locations. The tour guide are super friendly and easy going.

– Priska (Group of 10 on an 6D5N Bromo, Batu & Yogyakarta trip in Feb 2018)

The tour guide, Enggar was excellent. She was friendly, engaging and ensured we had the most complete experience. Not to forget our shy but friendly driver, Yuli. He drove fast but make sure we are safe to the destination. Even offer me a pillow so that I can rest comfortably on the car! The organization of the trip was also well planned and also allowed room for flexibility to have minor changes in the schedule. Overall, an enjoyable time spent.

– Terence (Group of 4 on an 5D4N Ijen Bromo Yogyakarta trip in Nov 2017)

Went in a group of 2 for 4D3N Ijen Crater & Mount Bromo Tour. The booking of this tour was hassle-free with prompt responses from hs whom handled our case. All the information were well conversed and in sequence, building up a better understanding of the upcoming trip. Itinerary given was well structured and organized, and it corresponds perfectly with the trip. Had to compliment also the local guide (Putri) and driver (Henry) that took good care of us during the entire trip. They would always find the opportunities to let us know more about their culture and lifestyle, and more importantly, understand the things we required. As a whole, the journey was a fruitful and enjoyable one, all aspects of the trips were to expectation.

– Leong Ming (Group of 2 on an 4D3N Ijen Crater & Mount Bromo trip in Nov 2017)

Everything was perfect from transport to food to activities and location/ accommodations. We had an amazing local tour guide named Andika and local driver Wiwin, they were both very patient and friendly and made the experience very memorable, like we were travelling with friends and not simply tour guides! IWT seamlessly organizes day to week-long trips and down to the smallest detail. I could not ask for a better tour agent for such exotic places we went to - Mount Bromo, Ijen Crater and Batu village.

– Sche (Group of 2 on a 5D4N Ijen, Bromo, Batu & Surabaya trip in Oct 2017)

Accommodation was excellent, the waterfall was my absolute favourite, but of course the volcanoes were fantastic. I enjoyed the food very much - i love indonesian food. Definitely transport was as good as it was going to get and I appreciate it. Indonesia's traffic unfortunately is never pleasant, however I can understand this is out of our control. Hopefully in the future there will be better transport options... Our guide and driver (Yudi and Budi?) were excellent. Yudi was very enthusiastic about the volcanoes and walks, giving us information and being upbeat (despite the fact that he has been on this route so many times already, and just about to do it again with another group after us!). All you could ask for in a guide!

– Pierre & Cassandra (Group of 2 on a 3D2N Ijen & Bromo trip in Oct 2017)

Our guide, Mr Dimas is friendly and knowledgeable. He is very clear and patient in his explanation and is very proactive. He helps us with our luggage and bough mineral water for us. My mom wanted to get buah salak and he brought us to a great place to buy the fruit. In addition to that, our 2 drivers (one of them is Bayu) are very vigilant when driving, which makes us feel safe during the journey. Overall, had a great time during our trip. The hotels were pleasant.

– Sanddy (Group of 4 on a 5D4N Ijen, Bromo & Yogyakarta trip in Oct 2017)

We enjoyed ourselves very much, and we were very well taken care of by Mr Andika and Mr Widodo. The waterfall that we went after Mt Bromo was an unexpected and pleasant surprise, and the scenery was breathtaking! Kudos to Andika and Widodo for being such great hosts and shared so much about their culture. Wish more people will come to know about Mt Ijen and Mt Bromo!

– Jael (Group of 2 on a 4D3N Bromo & Ijen trip in Oct 2017)

Transport was good as the Innova could fit all of us and was comfortable and clean. Activities were great for us adventure seekers and the days were fully utilized as they were jam packed with things to do. Guide and driver were both helpful and attentive to our needs. Recommended accommodation, Yochy Guesthouse was great and they even upgraded our room.

– Joevy (Group of 4 on a 4D3N Bromo Ijen Batu trip in Oct 2017)

- Accommodations Although they are mid range accommodations, they were great with all necessary facilities and most importantly they are clean and within acceptable distance to attractions - Driver Driver was attentive and got us to all places safely and smoothly. - Guide Replacement guide was good and provided recommendations - Activities Activities were amazing. Ijen Crater, Mount Bromo and the waterfall was totally breathtaking. Though it was tough going up and coming down ijen crater, the view was totally worth. Being at the rim of Mount Bromo, hearing the roar of the volcano was brilliant. Walking through the falls and swimming in the clear water is an experience like never before. All in all it was a great trip. Great first time and looking forward to many more hiking trips with Iwannatravel

– Natalie (Group of 2 on a 4D3N Ijen Crater & Mt Bromo trip in Sep 2017)

It was a great experience travelling with you guys. HS was always so prompt in communicating with us on whatever questions or concerns we had. The guide Dimas was so helpful and personable, providing us with many insights throughout the travel, encouraging us during the hike and being a great photographer! Dodo's driving skills are superb and we felt safe having him drive us on the long journey. Thank you all for such an awesome trip!

– Valerie (Group of 3 on a 4D3N Ijen Bromo Trip in Aug 2017)

Bayu, our guide, hes a cool and an awesome guy. He took care of us and make sure everything went smooth. Accomodation, activities and the food was awesome! Will definately engange you guys again in the future!

– Zul (Group of 3 on an 5D4N Mt Bromo & Yogyakarta Trip in Aug 2017)

We really liked how IWT keeps with their customers, prompt reminders on payments and ensuring that they know their itinerary and even provide a packing list! We were informed on who our guide was and even had the contact number. The local guide, Putri, was extremely friendly and helpful! They provided us with bottled water every single and we're really grateful for that. We absolutely loved the accommodations that they've arranged and it was a treat to stay at Hotel Majapahit! It was easy to contact Putri if we needed anything! They went out of the way and showed us the longest bridge in Indonesia which was an eye opener! A fantastic experience for my friends and I over the 3D2N Mt Bromo trip. Extremely eventful!

– Min Fang (Group of 3 on an 3D2N Mount Bromo & Surabaya in August 2017)

Basically trip was pretty well organised. Mount Ijen, Mount Bromo and the Madakaripura waterfalls were breath taking. Transport provided was very good and comfortable with no breakdowns. Wiwin was an excellent driver on the road and extremely alert. Guide Andika was very friendly, knowledgeable , accommodating and attentive to our needs and questions. Hotel stays for all 3 nights were pretty good. Food wise , it was pretty decent.

– John (Group of 2 on an 4D3N Ijen, Mt Bromo & Surabaya in July 2017)

The guides and drivers were really friendly and great! They took care of us really well, and were very attentive to what we needed. The accommodations were beyond our expectations as we chose the budget package, especially the yoschi's hotel at mount bromo, it felt like a luxurious stay! Food was great and very affordable too! Mount Bromo and Ijen Crater were magnificent! The climb was really fun and exciting. Sukamade was beautiful, with lots of wildlife and the guide was really friendly and shared a lot of knowledge regarding the plantations, sea turtles, and he even prepared a mat for us to rest on while waiting for the sea turtles at the beach. The attentiveness and friendliness of the guides were the most important aspect in making the trip amazing ◡̈

– Audrey (Group of 2 on an 5D4N Ijen, Sukamade and Mt Bromo in July 2017)

First, we would like to thank hs for coming up with the itinerary of the places that we wanted to visit and always being prompt and patient in answering our queries. This trip turned out to be one of the best trips ever! Our guide, Bayu, was simply wonderful. He speaks good English and we enjoyed our conversations with him. During the hike, he frequently stopped to ask if we were okay and if we needed a rest. He would also ask if we had any other places in mind that we would like to visit around the vicinity. In all, we felt very well-taken of throughout the entire trip. Our fondest memory was the day when we had cup noodles around a campfire together with him during the early hours of dawn at King Kong Hill. It was truly unforgettable. Bayu also offered to help us take photos during the trip and we were really thankful for that. Our driver, Bayu (same name as our guide) had superb driving skills. We were really amazed at how he was able to navigate and drive through narrow and winding roads under foggy weather conditions. Throughout the trip, both of them made us feel very safe and comfortable. We did not have to worry about anything. It was really such an enjoyable trip. A big thank you to our guide, Bayu, and our driver, Bayu! 🙂

– Eunice (Group of 2 on an 5D4N Ijen, Mt Bromo, Batu in June 2017)

Bayu was a very friendly tour guide who made sure that our requirements were fulfilled at all times. Also, the activities were well planned and accommodations were good as well. We had loads of fun throughout the whole trip and the experience we had was definitely a memorable one!

– Jacqueline (Group of 7 on an 4D3N Ijen Crater, Mount Bromo & Surabaya in May 2017)

We always have a wish that to have a wonderful trip with a lot of fun and laugh, and so we stop dreaming and start planning. No doubt IWT is our best choice with no regretted. First of all, we wanna thank you to our tour guide Ms Vinda, a young lady with always have a cute smiling. She is very friendly, knowledgeable, understanding and patience lady. She care a lot of us, and make sure we are not injure while hiking, but manage to reach to the top. Due to some of my friends is lack of exercise and felt exhausted, especially Ijen and Mt Bromo, she keep accompanied us and make sure 4 of us are in good condition to continue. She keep reminding us some sleepy area, and hold our hand if needed to ensure we are not fell down. She also giving us a lot of info about some interest places were going and we'll communication. She always standby to be our photographer, even some time our pose is funny. She willing to share her photos and videos with us. Thanks ya. And most importantly that she notice 1 of my friend didn't wear a suitable shoe to waterfall, she immediately take off her shoe and let my friend to wear, and help to carry my friend shoe and walk with no shoe herself...so embarrassing. She treat us ginger tea while we feel cold, Indomee after hiking and dragon fruit along the way to Surabaya. Bring us to minimart to buy our secret stuff. Lastly, we should say that~Ms Vinda, thank you so much. We are enjoyable the trip and this is really amazing. We highly recommend her as a tour guide and wish her all the best. Thumb up 👍

– May (Group of 4 on a 4D3N Ijen Crater, Mount Bromo & Batu in May 2017)

Bayu and Mull are both very friendly and knowledgeable, will opt for them if going Indonesia again! Despite having a schedule to follow, it was adequately spaced out with sufficient time to travel at each location. Opting for a hike followed by an Ojek ride instead of a jeep ride turned to be one of the best decisions for the trip. The Ojek ride at King Kong Hill is highly recommended, but it ain't for the faint-heart. Not only it is exhilarating, it provides a better view at multiple angles rather than just sitting in a jeep, which is just bumpy and possibly restricted viewing angles. Accommodation was sufficiently good due to the Budget option that we chose.

– Sam(Group of 4 on a 4D3N Ijen Crater, Mount Bromo & Surabaya in May 2017)

Guide & driver are good and never late once.We told them about a lapis shop and they remembered and brought us there.The feeling of having a honest guide/driver is good.We wanted to treat them meals along the way and they only accepted after few insistent requests from us.

– Diana (Group of 3 on a 4D3N Ijen Crater, Mount Bromo & Surabaya in Apr 2017)

Everything about my trip was really Amazing!! Even though we found out on the first day when we reached Surabaya that we are not able to hike to the crater edge of Mount Bromo due to its active period. Our Guide bring us around the village and the city and introduce us to their culture. it was fun. and Not to forget our tour guide, Ms Enggar, which was the same age as me, is very friendly and knowledgeable. It was very easy to communicate with her. The scenery, the food, everything was awesome! It was our first time travelling with iwannatravel and travelling to indonesia and i must say my trip was wonderful and beyond expectation. I would love to go more trip with iwannatraavel again and would recoommend my friends! Thank You So Much!!

– Atiqah (Group of 2 on a 4D3N Mount Bromo, Malang & Surabaya in Oct 2016)

Guide and driver were very nice people. Caring, considerate, conscientious, patient, nice and fun people. Car was driven with care so that we were comfortable and did not feel car sick during the long rides. I enjoyed the trips to ijen, bromo and the waterfall at batu. Views were very scenic. Our guide Vinda and the local guides which she got along the way brought us to scenic spots (esp @ the waterfalls) and helped to take great pictures.

– Alexia (Group of 3 on a 5D4N Ijen Crater, Mount Bromo & Batu in Sep 2016)

Everything was great! From planning til the end of the trip, everything was organised. The activities were fun and itinerary was well planned. We did not feel that we were rushed at all and we get to enjoy Borobudur and Mount Bromo in our own pace. Our guide, Bayu, was very friendly and helped us a lot especially when it comes to ordering food :). This is the most relaxing, hassle-free trip I've ever had! Thanks Iwannatravel 🙂

– Sunshine (Group of 7 on a 4D3N trip to Bromo & Borobudur in Aug 2016)

We loved how the activities were planned out. There weren't many dull moments where we did nothing. 100% of the time was used either moving to the next destination or doing the activities itself.

Transportation itself was cozy as the vehicle provided was spacious, more than enough for the 4 of us.

Our guide, Bayu, was extremely helpful and accomodating to us. Giving us alot of information about the places were going to. He was also the same age as us, which made it easier for us to interact with him.

Food was great! We really enjoyed eating at the places we stopped by and we liked that alot of things were already pre-arranged.

Activities were absolutely incredible. We managed to accomplish so much in such a short span of time. We were happy as we came home regretting nothing, having been tried them all.

Thumbs up for accomodation as the hotels we stayed in were very comfortable, and gave us a quality rest. No dissatisfaction at all there.

– Fauzi (Group of 4 on a 5D4N trip to Ijen, Bromo & Batu in Jul 2016)

The guide was five-star. Know the place very well and very helpful. Same goes to the driver. The activities were all great. Balanced between the physical and extreme to the relax and spiritual.

– Iqbal (Group of 4 on a 5D4N trip to Ijen, Bromo & Batu in Jul 2016)

Everything during my travel experience for the 4D3N Mount Bromo and Ijen trip was positive. Organisation was prompt and both the IWT planner (HS) and also the local guide (Enggar) were timely in response for all requests and activities. They were also patient with questions and provided practical suggestions which took into account unforeseen circumstances. As it rained on the day before the Sempu Island hike, Enggar and the driver Ridodo were able to contact the locals to have an update on the situation. They told us the truth that the Sempu Island hike will be pressed for time due to the mud from the rain and offered alternative such as beach visiting instead which I appreciate and it was fun too!

Pauline and I were eager to try local food and we showed a list to Enggar. She managed to fit into our itinerary such that we could try all the local food on the list. Our activities were well planned in that Enggar handled the negotiation with the local guides on prices and schedule, all we had to do was follow her and enjoy the activity. It was nice to see that she had a good rapport with the locals and that made us feel at ease.

All accommodations during the trip were within our comfort and given the rural locations, it was actually beyond expectations. Enggar and our driver Ridodo even made the extra effort to check our rooms each time to make sure that the utitilies were working before they handed us the room keys.

We enjoyed the fantastic views at Bromo and Ijen during this trip but it was made worthwhile because of our local guide and driver who were responsible and had a sense of humour when things went otherwise.

– Tina and Pauline (Group of 2 on a 4D3N trip to Bromo & Ijen in Jul 2016)

We are extremely pleased and satisfied with IWT's tour package to Mount Bromo & Ijen Crater for 4d3n. From the very beginning, Bob has been very prompt in answering our queries and meticulous in ensuring we are prepared for the trip. We were also assigned an excellent tour guide, Mr. Bayu, and his driver, Mr. Bondan, who were extremely friendly and patient throughout the trip. Our accommodations were excellent and we thoroughly enjoyed our trip to East Java. We highly recommend IWT for your holidays plans and we would definitely approach IWT for our future holidays plans.

– Vishal (Group of 2 on a 4D3N trip to Bromo & Ijen in Jun 2016)

This 4D3N trip we took with IWT was one of our best we had. It was a memorable experience! Very well organised right from the start with prompt correspondences and good advice from HS (IWT). Our guide Mr Bayu and driver Mr Julie were great hosts! Our trip was very smooth and we always arrived at destinations before schedule (allowing us more time for R&R before the next activity). It was good planning by the both of them.

We had a memorable experience visiting Madakaripura Waterfall where we pillion on a motorbike to the start of the trek (it was fun as we went through hills!), the waterfall was also majestic and the cold water was very refreshing. It was very safe in the falls as both of us were guided by Mr Bayu and a local guide.

The view at King Kong lookout (recommended by Mr Bayu) to watch Mount Bromo sunrise was stunning, we had many good shots of the view. It was a nice 3km walk to get near to the crater (Mr Bayu advice us not to head up to the crater as the sulphur smoke was rather strong that day, we hiked up but stayed a safe distance from it). The trek to Ijen Crater to see the blue flames and to admire the turquoise lake was the highlight of our trip. Very memorable! The trek was a good exercise. Our local guide, Mr Hartumo (a sulphur miner for 14 years) was very experienced and took great care of us (our safety down the crater in the dark). He brought us to many vantage points for a closer/better experience of the natural wonder and helped us to take many nice photos for remembrance.

Stop-over restaurant food during our trip recommended by Mr Bayu and Mr Julie was also good and affordable.

Our stay at Artotel (Surabaya), Jiwa Jiwa (Bromo) and Ijen View (Ijen) recommended by HS were very comfortable - nice rooms, well equipped, nice surroundings and they served good food. We also tried the room massages at Jiwa Jiwa and Ijen View. It was an experience. Value for money (average SGD$12.50 for 1pax/hr) and good for tired muscles.

We ended our trip with Mr Bayu and Mr Julie at Ketapang port where we took a ferry to Bali. Both of them expressed concern about our transit journey as it was our first time. They assisted to make arrangements for us (went the extra mile) - saw a public bus going to Denpasar at the port and checked if we could go along with them so that we didn't have to worry about our luggages (stored in bus).

In addition to their service and care, both Mr Bayu and HS contacted us to check if we have arrived at our Bali hotel safely.

IWT, Mr Bayu, Mr Julie and the local guides, many thanks for making this trip a great experience and a memorable one!

– Esther & Gabriel (Group of 2 on a 4D3N trip to Bromo & Ijen in Jun 2016)

HS helped us plan and book the complete tour. He was not pushy and very accommodating. We finalised something we wanted and did not have to adjust or compromise on anything. We started by IWT itinerary but was tailor made as per our requirement by the end. The hotels where picked by us too. It was just perfect! After arriving to our destination everything was perfect, punctual and as planned. Hotels were good, the car was clean and good. Our guide Ms. Enggar was amazing, kind and accommodating. Our drivers were kind as well. They treated us like kings and queens. Overall it was just very relaxing and everything being organised for us was very helpful. We got all information by local guide too.

– Kedar (Group of 2 on a 5D4N trip to Bromo & Yogyakarta in Feb 2016)

The 4d3n trip to Ijen Crater and Mount Bromo was awesome! I enjoyed the morning hike to Ijen Crater, above all the clouds. Loved the starry night sky and the sunrise at Mount Bromo! The water rafting at Pekalen River is also a must try!

The local guide, Bayu spoke good English and was very accommodating to our requests (i.e. pit-stopping for mini marts and toilets). Due to poor traffic conditions, we almost missed our water rafting activity. Bayu went the extra mile to ensure that we get to enjoy the rafting adventure.

Kudos also to HS, who was very responsive during the planning stage. He answered all our queries and provided his honest opinion. During the trip, he remained in contact with the local guide. When jetstar cancelled our return flight, HS ensured that the local guide and driver remained with us till we managed to get a later flight.

So thank you, IWT! Will definitely consider your other destinations!

– Gretchen (Group of 8 on a 4D3N trip to Ijen & Bromo in Aug 2015)

Our local guide, Mr. Bayu was great! He took good care of us and our needs, made sure the pace was alright for the group when hiking. When we needed extra rest stops (such as to mini-mart), he gladly obliged. I find him an honest guide in many aspect.

The view of the Ijen crater was great, but the view of Mt. Bromo crater from King Kong Hill was stunning! Even better than the sunrise view on Mt. Bromo. We were lucky to catch double rainbow at the waterfall!

The mini-bus that took us everywhere was clean and comfortable. Given that we spent long hours on the road, this is exceptionally welcoming.

- Cheryl (Group of 6 on a 4D3N trip to Ijen & Bromo in May 2015)

The local guide, Bayu, was the best I have ever had in my travels. He was accommodating, thoughtful, and went the extra mile to meet our needs. He took care of us exceedingly well. He bought us snacks upon our arrival at the airport (our flight was delayed 2 hrs and we all went without lunch, so this simple gesture meant a lot to us) and ensured we stayed hydrated throughout the trip. He chatted with us on the hikes, and ran to us when we needed help. Yes he ran! One of us slipped and fell on a slope and he ran to help. No injuries thankfully. He was always on a look out for us. He also gave very clear feedback of what was coming up next, how long the ride would be and what to expect. We felt very safe with him.

All in all, it was an awesome trip. Well organised! Excellent local guide. Would recommend to my friends!

- Jaclyn (Group of 6 on a 4D3N trip to Ijen & Bromo in May 2015)

Transport- Thanks to Mu, he is very thoughtful, always helping us with bags and once we got off from delayed overnight train we will extremely tired. Mu got moving fast and we're on the roads, in the midst my bro was asking me if the car seats can be inclined so that he can take a nap (in Mandarin) and Mu seems to sense it shortly and park the car at road side hurried to help us rearrange our bags and have our seats inclined:)

Accommodation- I love Artotel:) I am sure to go back to this nice little hotel if I go back. I should have let you decided on Day 1 stay too haha

Activities- Everything is good. We love Ijen, perfect. Mt Bromo is a little crowded, maybe because it is a tourist spot.

- Ziyan (Group of 2 on a 6D5N trip to Yogyakarta, Ijen & Bromo in Nov 2014)

Read more testimonials!
Contact us today to find out more!
DISCLAIMER
IWT LLP, acts only as an agent for The Client in acquiring transportation, accommodations, sightseeing, trekking and other services for The Client's benefit, and on the express condition that IWT LLP shall not be liable nor responsible for any loss (including without limitation, direct, indirect, special, incidental or consequential loss, economic loss), damage, mishap, bodily injury, death, delay, defect, omission or any irregularity that may be caused to The Client, third parties or properties. IWT LLP is to be released from all liabilities deriving from acts of terrorism, hijacking, civil unrest, natural calamities, labour strikes, thefts or any other factors beyond IWT LLP's control. Any losses and expenses are to be borne by The Client. In the event that IWT LLP is found liable by a court of competent jurisdiction on any basis in relation to The Client's booking done via IWT LLP, IWT LLP's maximum liability to the client is limited to the cost of the booking in question. See our full Terms and Conditions.