Looking for a respite from the hot and sweltering weather of Singapore? Look no further than the highlands of Lake Toba and Berastagi, whose gateway city Medan is only a 1.5 hour flight from Singapore. Pamper yourselves with a luxury stay at Taman Simalem, a 4 star mountain lodge perched 1,200m above sea level, overlooking the impressive Lake Toba. Explore the Batuk and the beautiful natural scenery at your own pace and in comfort with your personal guide and driver. Get a bit dirty; hiking up a live volcano with romantic love wordings on its shallow crater lake. Conclude your trip with a city tour of Medan and a durian treat at the highly rated Si Bolang Durian Cafe.
ITINERARY
Day 01
SINGAPORE – MEDAN – LAKE TOBA (D)
Upon arrival at Medan international airport, you will be greeted by our friendly guide who will embark you on a picturesque journey through pine forests, terraced plantations and verdant meadows to the mountain resort of Taman Simalem Resort (approx. 3 hrs. drive).  The resort is situated 1,200m above sea level, overlooking Lake Toba the largest volcanic lake in the world and surrounded by lush forest, waterfall and river. The resort offers a variety of indoor and outdoor venues, plus a wide range of activities for all ages and interests: yoga, archery, mountain biking, paintball, etc. Horticulture lovers can roam around the organic fruit and vegetables farms or visit the in-house organic coffee and tea processing facility.
Overnight: Taman Simalem Resort
Day 02
LAKE TOBA (B, D)
Wake up early in the morning to witness the break of dawn and a beautiful sunrise over Lake Toba.  Marvel at the beauty of the gentle rays of sun slowly enveloping the lake and its surroundings. After a sumptuous resort breakfast, you will proceed for your Lake Toba tour with our knowledgeable guide (approx. 2-3 hrs. drive).  Along the way you will visit an amazing look-out point at Bukit Indah Simarjarunjung where you can appreciate the beauty of Lake Toba from another angle. Carry on to Tiga Ras Port (approx. 20 min drive) where you will cross the lake in a car ferry (approx. 30 min ride) to Simanindo, a small town on the north eastern edge of Samosir Island. Spend the next few hours exploring the Batak culture and the beautiful natural scenery. Simanindo, the house of a former Batak chief which has been converted into an Ethnological Museum (Huta Bolon), showcases the history and culture of the Batak tribe. Ambarita is an ancient Batak tribal village, well known for its ancient courtyard of stone chairs and table in front of the king's house. The courtyard is said to be the place where village matters were discussed and wrongdoers tried. There is also a separate courtyard where the accused were tortured and beheaded. In the late afternoon (around 3pm), you will be transferred back to your resort for dinner. If time permits and if you are interested, you can also visit the well-tended royal residence of the Simalungan Batuk chiefs. The site consists of a large main building that functioned as tunique andhe king's quarters and a harem. Look out for the buffalo skulls that symbolize the power of the chief and the gecko motifs (boraspati) that symbolize wealth and wisdom.
Overnight: Taman Simalem Resort
Day 03
LAKE TOBA – BERSTAGI (B)
Today you will proceed to the Karo highlands in Berastagi – home of the Karo Batak people (approx. 2 hrs drive). Drive down to the shore of Lake Toba to visit Tongging Village which is famous for its fish farming cottage industry. Learn about the villagers' farming lifestyles and try some delicious Ikan Bakar (grilled fish) freshly caught from the lake. Thereafter you will proceed to the magnificent 120 m high Sipiso Piso Waterfall reputed to be the highest waterfall in Indonesia. For the more adventurous travellers, you can trek down (approx. 1 hr. return hike) to the bottom of the waterfall to take a peek at its whirling plunge pool. After settling down at the guesthouse, devote some time to immerse yourself in the local culture of Berastagi. Swing by the local fruit and flower markets, explore the native Batak Karo villages and enjoy a leisure hike up to Gundaling hill for a panoramic view of volcanoes Sinabung and Sibayak.
Overnight: Hotel at Berastagi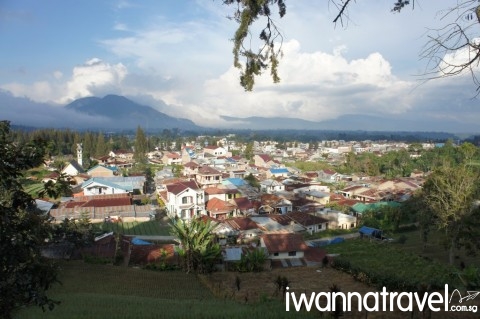 Day 04
BERSTAGI – MEDAN (B)
An early morning hike up to the summit of Gunung Sibayak (approx. 3 hrs. return hike) will reward you with sweeping views of the surrounding volcano landscape. The volcano is high in geothermal activity with fuming vents spewing out crystalline sulphur which was mined on a small scale in the past. There is a beautiful heart shaped crater lake where love wordings have been formed by visitors using the volcanic rocks. Descend to the volcano base and take a dip in one of the hot spring pools to refresh yourself. Visit the vegetables, fruits and flowers markets and savour one of its most famous produce – Markisa (passion fruits). Enjoy a leisure hotel breakfast before transferring to your hotel in Medan (approx. 3 hrs. drive).
Visit Marian Shrine of Annai Velangkanni a very unique catholic church with a Hindu temple-liked architecture. Take a step back in time to the nostalgic Baba Nyonya era at Tjong A Fie's Mansion – a two story high 35-rooms mansion built in 1895 by Tjong A Fie, a rugs-to-riches Hakka entrepreneur. The mansion is built in Chinese, Malay and Art Deco architecture styles and with feng-shui principles in mind. Explore some of the grandest rooms like the ballroom, the dining area and Tjong A Fie's personal bedroom which is bigger than 3 modern day bedrooms in Singapore. Durian lovers will be excited to know that Medan is the durian capital of Indonesia. Feast on durians and by-products like ice-cream, puffs etc. at the highly rated Si Bolang Durian Cafe.
Overnight: Hotel at Medan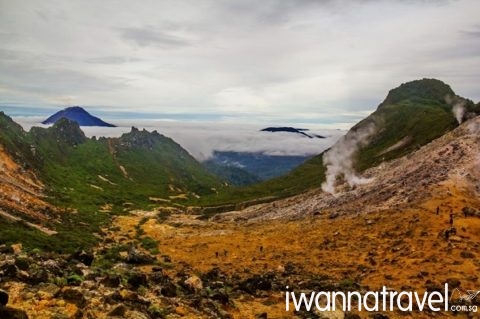 Day 05
MEDAN – SINGAPORE (B)
Free and easy at your own leisure in Medan (with driver and guide support) till airport transfer for your flight home.
Package includes:
All local land transfers including airport transfers
Guided Mt Sibayak sunrise hike
Ferry tickets to Samosir
Entrance fees to Sipiso-piso waterfalls
All accommodations
Local Indonesian guide cum driver (English speaking)
Package excludes:
Return international air tickets
Travel insurance
Hot spring fees (optional stop)
Indonesian VISA (ASEAN citizens are VISA-free up to 30 days)
All meals not indicated
Tips for guide
All expenses of a personal nature
TESTIMONIALS
We decided for iwannatravel after contacting a few agencies. Ying had been very responsive, patient and flexible in providing our customized itinerary. It would have taken us much effort and headache if were to plan this ourselves. Activities were well planned and spaced out unlike the hectic and fast paced  group tours which we undertook in the past. The tour guide ( was very knowledgeable of the sites visited and importantly he was very humorous and kept us entertained and informed throughout the trip. Highly efficient from start to end. 
– Ms. Chen (Group of 4 on a 4D3N trip to Lake Toba – Berastagi – Medan in Jun 2016)
Bob was recommended to me through my cousin. He was always on the ball before, during and even after the trip; soliciting feedback from us to improve on her offering. She was also very understanding to our cost concerns; revising the itinerary a few times so as to meet our budget. Our guide was very professional; he was always doing his best to accommodate our needs and flexible with our request.  Our driver was very careful with his driving and extremely thoughtful about the air-con temperature and toilet break. We strongly recommend you to book your adventure through iwannatravel. Thank you iwannatravel. 加油!
– Esther (Group of 3 on a 4D3N trip to Lake Toba – Berastagi – Medan in Sep 2015)
Guide could communicate well and was very personable. Itinerary was flexible. Enjoyed being in a non tourist area to visit the long house village. Guide even went marketing for us! E.g chose fruit for us.
– Meida (Group of 2 on a 3D2N trip to Lake Toba – Berastagi in Oct 2014)
PHOTO GALLERY
Contact us today to find out more!
DISCLAIMER
IWT LLP, acts only as an agent for The Client in acquiring transportation, accommodations, sightseeing, trekking and other services for The Client's benefit, and on the express condition that IWT LLP shall not be liable nor responsible for any loss (including without limitation, direct, indirect, special, incidental or consequential loss, economic loss), damage, mishap, bodily injury, death, delay, defect, omission or any irregularity that may be caused to The Client, third parties or properties. IWT LLP is to be released from all liabilities deriving from acts of terrorism, hijacking, civil unrest, natural calamities, labour strikes, thefts or any other factors beyond IWT LLP's control. Any losses and expenses are to be borne by The Client. In the event that IWT LLP is found liable by a court of competent jurisdiction on any basis in relation to The Client's booking done via IWT LLP, IWT LLP's maximum liability to the client is limited to the cost of the booking in question. See our full Terms and Conditions.