Gua Batu Maloi located in Tampin Forest Reserve which straddles the border between Negeri Sembilan and Malacca is a very unique cave complex. Unlike most caves in the region which are limestone in nature and formed by weathering of rocks,Gua Batu Maloi is a granite cave formed by ancient tectonic plate movements. The resulting structure is a stack of huge granite boulders with a stream flowing underneath. In actuality, the "cave" consists of gaps and passages between the boulders. Get ready for all sorts of maneuvers; sliding down slope, scrambling up slope, wriggling through crevices, duck-walking under low ceilings and wading through waters to complete the 3-4 hours exploration through the labyrinth. After the caving adventure, we will proceed to Jonker Street in Malacca for reflexology and dinner before returning back to Singapore.
ITINERARY
600am – Pick up from Marsiling MRT Station by our friendly driver. Have a quick breakfast in a coffeshop or hawker center in Johor on your way to Tampin Forest Reserve.
1000am – Arrive at Tampin Forest Reserve and meet your caving guide. Start of caving adventure. Please prepare some trail food like energy bar, biscuits, nuts and raisins etc. for lunch.
200pm – End of caving adventure. Wash up and transfer to Melaka for dinner.
330pm – Arrive at Jonker Street in Melaka where the driver will drop you guys off for your free and easy time in Jonker Street.
700pm – Return back to the vehicle and head back to Singapore.
1100pm – Arrive at Marsiling MRT station.
Please note that all timings are estimated and subjected to actual ground conditions
PRICING
Contact us for rates
Package includes:
Transport from Singapore to Gua Batu Maloi, to Melaka and back to Singapore
Mountain permit, mountain guide fees, entrance fees
Package excludes:
All items not mentioned in the above inclusion list but not limited to:
Travel insurance
All meals
Tips to mountain guide and driver
All expenses of a personal nature
HIKING GRADE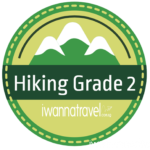 OPTIONAL PROGRAM
An overnight stay at Melaka can be arranged where our vehicle will bring you for some sightseeing on the second day before returning to Singapore.
Contact us today to find out more!
DISCLAIMER
IWT LLP, acts only as agent for the client in acquiring transportation, accommodations, sightseeing, trekking and other services for the clients' benefit, and on the express condition that IWT LLP shall not be liable for any loss, damage, mishap, death, bodily injury, delay, defect, omission or irregularity which may occur or be occasioned, whether by reason of any act, negligence or default of any company or person engaged in or responsible for carrying out any of the arrangements, or otherwise in connection therewith. IWT LLP is to be released from all liabilities deriving from acts of terrorism, hijacking, civil unrest, natural calamities, labor strikes, thefts or any other factors beyond IWT LLP's control. IWT LLP reserves the right to alter or modify itineraries in anyway for the interests of tour members or due to any other uncontrollable circumstances such as weather or other local conditions. See our full Terms and Conditions.