Many hikers might have been to Gunung Lambak (or Mount Lambak) due to its proximity to Singapore and its relatively easy summit trail which takes around 3-4 hours to complete. However, not many hikers know that Gunung Lambak offers quite a few side trails to different points of interest which can make the trek a lot more challenging.
Here are our top 3 points of interest at Gunung Lambak which most hikers probably do not know about.
1) The Second Summit
If you have seen Gunung Lambak from Kluang town, you would have noticed two obvious humps indicating the presence of a second summit. The trek to the second summit is rather straightforward, although it is an extra hour effort for the return journey. There is no view at the second summit as it is forested but if you are lucky, you might meet some local grandpas practising Tai Chi at the open space. You can even have a sit at the three long-standing plastic chairs there.
2) The Big Tree
To get to the magnificent big tree of enormous girth involves battling cob webs on slippery terrain. It is a hard trek of around 45 mins to 1 hour (one way). We have been there a few times but have never met any trekkers along the way.
3) The Satellite Dish
Seldom blogged about probably because it is seldom visited. In fact, with a non-so-obvious trail that's blocked at a few sections with fallen logs and branches, it appears that nobody wants you to find the satellite dish. But taking an hour (one way) to trek to the satellite dish provides you with a great photo opportunity not only with the dish itself but also of views of the surrounding countryside.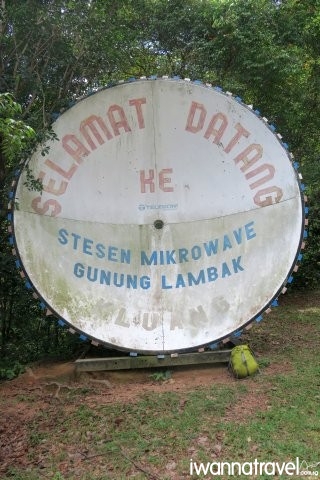 If you would like to visit these sights on a guided trek, do check out our Gunung Lambak Day Trip Itinerary.