Mount Rinjani Highlight #1: The amazing camping experience.
Waking up to the gorgeous views of the Rinjani summit and lake.

Sleeping above the clouds. (earning you some bragging rights)

Bonding with your friends under the warmth of a campfire. (Bonus: Listening to your guides/ porters sing their local folk songs)

Gazing into the vast, star-lit night sky, and spotting a shooting star or two (Remember to make your wish in time!)
Calling out to all city kids out there, this is one experience you won't wanna miss!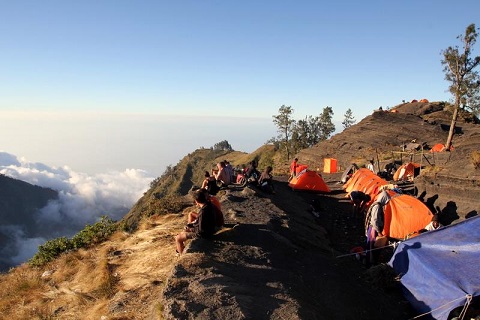 Mount Rinjani Highlight #2: The climb to Mt Rinjani's summit.
The summit climb will feel like the toughest thing you have ever done, as the terrain is unforgiving and only true perseverance will get you there. However, regardless of whether you succeed or not, you will be well- rewarded with awesome views along the way and the attempt itself will be an experience that you will never forget. Enjoy the journey (and views) on the way up and do remember to stop and pose for profile pic worthy photos!
P.S.: Sign up with us today, and we'll share with you our very own tips on how to make your summit attempt a successful one!

Mount Rinjani Highlight #3: Lake Segara Anak, The Sacred Crater Lake.
This vast magical lake changes its colours at different times of the day. My favourite? The turquoise shade of greenish-blue during midday!
Camping by this lake is an experience not to be missed, as nothing beats waking up to this serene view right outside your tent. You just have to lay back and relax in your tent while enjoying this gorgeous view.
Mount Rinjani Highlight #4: The Legendary Hot Spring.
This hot spring is a godsend after trekking/ camping for 2 straight days. Dip into the spring to relax and soothe away your muscle aches, and soon you will be fresh and ready for the final stretch of the hike. Remember to bring your swimwear!
Mount Rinjani Highlight #5: Saving the best for the last- the real differentiating factor- Our AMAZING Local Guides and Porters.
Their service is top-notch and will literally treat you like a king! One hiked with a HUGE watermelon, just so we can enjoy it under the hot sun. The porters (despite having to carry our heavy backpacks) always reached the campsites early so that they could setup our tents with the best views possible. I could go on with more stories of their great service, but nothing beats experiencing this for yourself!
Do support the local community by hiring more porters during your hike and tipping them generously. Their heartfelt sincerity will make your trip a memorable one and your little tip will go a long way for them and their families.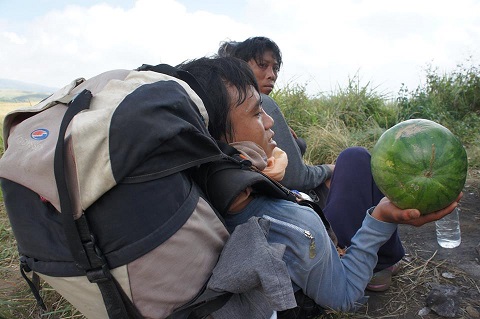 Contact us today to find out more!