Events are fun activities or short weekend getaways organised by us for everyone to participate in. 
These events encompass the spirit of iwannatravel, where we believe in having fun and creating memorable experiences for everybody. 
We hope to keep in touch with you as friends, so do join in our Mailing List or follow us on Facebook to receive updates on upcoming events!

Gua Maloi Caving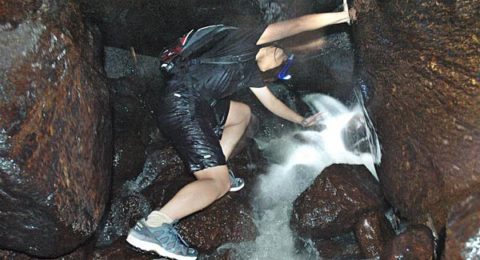 Gua Maloi (Batu Maloi Cave) located in Tampin Forest Reserve which straddles the border between Negeri Sembilan and Malacca is a very interesting granite cave complex. Unlike most caves in the region which were formed by limestone erosion, Gua Maloi was formed by ancient tectonic plate movements. The resulting structure is a stack of huge granite boulders with a clear stream flowing underneath. In actuality, the "cave consists of gaps and passages between the boulders. Get ready for all sorts of maneuvers; sliding down slope, scrambling up slope, wriggling through crevices, duck-walking under low ceilings and wading through waters to complete the 3-4 hrs exploration through the labyrinth. During the exploration, you can also enjoy massaging in natural jacuzzis and dipping in "indoor pools" within the cave. After the caving adventure, we will proceed to Malacca for dinner and shopping at Jonker Street.
Date: Sat 24th September 2016
Meeting Time and Venue: 630am at taxi stand outside Marsiling MRT Station (no need to cross road)
Group Size: 15-20 pax
Price includes:
All land transport
Trekking guide
Price excludes:
Travel insurance
All meals
All expenses of a personal nature
Itinerary
6:45am – Pick up from taxi stand outside Marsiling MRT Station with breakfast stop in Johor en-route to Gua Maloi.
10:30am – Arrival at Gua Maloi. Warm up and safety briefing.
11:00am – Commencement of caving adventure
3:00pm – Completion of caving adventure. Wash up and return back to transport.
3:30pm – Proceed to Malacca.
5:00pm – Dinner and shopping at Jonker Street
8:00pm – Head back to Singapore
1100pm: Estimated arrival time in Singapore
Please note that all timings are estimated and subjected to actual ground conditions.
Things to bring:
– A small daypack for your valuables (passport, money etc) and belongings (water, camera etc) which you want to bring into the cave with you
– 1.5- 2L of drinking water
– Towel
– Insect repellent
– Camera
– Gloves
– Knee pad (optional)
– Headlamp with new batteries
– Extra set of clothes to change into after caving
– Slippers to change into after caving
– Passport with at least 6 months validity
– Malaysia VISA (if required)
– Malaysia Ringgit
Things to take note:
– Heart patients and those suffering from claustrophobia should limit themselves to show caves. Kindly inform us of of any serious medical condition before signing up for this trip.
– Cavers should be free from allergies related to bat guano.
– Please prepare your own trail food (energy bar, biscuits, bread etc) for lunch.
– Please be mentally prepared that you might be required to be fully submerged in water for 1-2 sec – depending on the water level on the day itself.
– Covered shoes are compulsory for the caving exploration; slippers are no allowed.
– As you will be soaking wet (100% WET), do waterproof your passport, cash and electronic gadgets like phone and camera etc.
– Basic shower facilities are available near the cave entrance for a quick wash up.
– Please do not litter during the trip. All rubbish has to be brought out of the cave and disposed off properly.
Important:
– Children under 12 years old are not allowed to join this activity.
Disclaimer: IWT LLP, acts only as agent for the client in acquiring transportation, accommodations, sightseeing, trekking and other services for the clients' benefit, and on the express condition that IWT LLP shall not be liable for any loss, damage, mishap, death, bodily injury, delay, defect, omission or irregularity which may occur or be occasioned, whether by reason of any act, negligence or default of any company or person engaged in or responsible for carrying out any of the arrangements, or otherwise in connection therewith. IWT LLP is to be released from all liabilities deriving from acts of terrorism, hijacking, civil unrest, natural calamities, labor strikes, thefts or any other factors beyond IWT LLP's control. IWT LLP reserves the right to alter or modify itineraries in anyway for the interests of tour members or due to any other uncontrollable circumstances such as weather or other local conditions. Visit our T&Cs for full terms and conditions.