GENERAL QUESTIONS
1. When is the best time to climb Mount Ophir?
The best time to climb Mount Ophir is during the non-monsoon season from March to October. The incidence of rain is much higher during the monsoon season from November to February. Mount Ophir is closed to climbers from early December to late January for trail preservation. Mount Ophir is also closed during Hari Raya Puasa and Hari Raya Haji.
2. When should I book the trip?
The National Park issues a limited number of climb slots (or climb permits) each day. As Mount Ophir is a very popular climb destination, the climb slots tend to fill up pretty fast. It is recommended to book your trip 1-2 months in advance especially if your intended travelling date is during the weekend/holiday season.
3. What is the Rubbish Deposit?
Each trekking group has to pay a refundable rubbish deposit of 100 MYR to the National Park HQ before the climb. This deposit can only be paid in cash on the day of climb. Every hiker is also required to fill in a rubbish declaration form at the National Park HQ to declare the personal items that he or she is carrying up the mountain. After the climb, the national park officer will check the items that the hikers bring down to ensure that nothing (no trash) is left in the mountain. The deposit will then be refunded in full if the items declared tally with what the trekkers have. Otherwise, the deposit will be confiscated by the National Park HQ. It is every hiker's responsibility to take care of the mountain by not littering and carrying their rubbish down.
4. What is the trail's terrain like?
The main trail from Johor is the Lagenda Trail which starts from Taman Hutan Lagenda (National Park HQ).There are 7 checkpoints altogether; CP1 – Bukit Semput, CP2 – Batu Orkid, CP3 – Laluan Kijang, CP4 – Kolam Gajah (Elephant Pool), CP5 – Sungai Tiga Segi (Triangle River), CP6 – Gua Kambing (Goat cave) and CP7 – Bukit Botak. The first part of the climb is a long flight of concrete steps (400+), followed by mountainous terrain all the way to the summit. The trail goes uphill to CP3 and then downhill to CP5 (bypassing CP4 which is not along the main trail to the summit). The most exciting and challenging part of the trail starts from CP5, where the average slope is more than 45 degrees. There are permanent ladders and ropes along this part of the trail to assist climbers. The steepest part of the climb called "KFC" (Killer for Climbers or Killing Fitness Centre) is between CP5 and CP7 where you will be climbing on all fours and utilizing your core muscles to scale up. After CP7, it will be a normal uphill climb to the summit. Usually for the trek down to the base, hikers will take the alternate route bypassing "KFC".
5. Is there a map of the trails?

6. What is the difficulty level of the trek?
Mt Ophir is a tough 9-11 hours (or 12.4km) return hike on steep slopes with some scrambling needed towards the summit. Participants need to be of good fitness level and preferably with previous mountain hiking experience (e.g. Mt Lambak, Mt Panti).  Please do not underestimate the difficulty.
7. Is there a cut-off time to reach the summit?
Your mountain guide will monitor your climbing progress/ pace and update you periodically on how far you are from the summit. The cutoff time to reach the summit is usually 2pm; the guide will assess your progress and make the call to turn back if you are unable to reach the summit by 2pm or generally, CP5 by 12pm. All trekkers should listen to the guide's advice in order to avoid the risk of having to trek down in the dark (after the sun goes down).
8. What are the training required to get myself prepared for the trek?
Exercising at least twice a week, comprising of either mid-distance jogging (~5km) or stair climbing (~60 stories height) at least 1 month in advance should be sufficient to condition your body for the climb. A longer period of conditioning is required for those who are unaccustomed to physical exercise.
9. What should I do if I cannot catch up with the others during the trek?
While your mountain guide will keep a watch out for everybody, you should not feel embarrassed to voice out if you need help. Always stay with the group and stay on trail.  Safety is of utmost importance.
10. What should I do if I am injured or feel sick during the trek?
You should stop climbing and inform the guide of your injury or sickness. The guide will assess your condition and determine the necessary course of action. For mild conditions, you may either rest at one of the checkpoints (it is a single route up and down the mountain) or descend back to the National Park HQ with your guide or climb buddy.
11. What clothes should l wear for the trek?
Dri-fit long sleeve T-shirt and pants will be useful to prevent insect bites and scratches, but it is still a personal preference as many hikers like to trek in short sleeve T-shirts and shorts.
12. What types of footwear are recommended for the trek?
A pair of covered shoes with good traction and ankle grip to protect your feet from sharp rocks. Sandals and sports shoes are not recommended. Do trim your toe nails before the hike as long nails might rub against your shoes especially when going downhill causing subungual hematoma which is also commonly known as "black toes".
13. Do I need a trekking stick for the hike?
A hiking stick is useful for providing extra stability and traction when going uphill and reducing strain on joints when going downhill. It is a good to have but not absolutely necessary for the Ophir trek.
14. Do I need any specialized equipment for the trek?
This is a relatively straightforward trek along well defined path except towards the summit where some scrambling may be required to gain your foothold over steep terrain. Except for a good pair of covered shoes and headlight, you do not need other specialized equipment for this trek. Upon booking confirmation, a detailed packing list will be provided to help you pack for your trip.
15. How much drinking water should I carry during the trek?
You should carry at least 2-3 litres of water for the trek.
16. Are there any portable water source along the trail? 
There is a water source (small stream) near CP5. However, the source is untreated stream water which may not be suitable for weak stomachs. Therefore, it is best to bring your own drinking water for the trek or use water purification tablets (http://www.aquatabs.com/) or filter (e.g. Lifestraw) to treat the water before consumption.  You can buy water purification tablets from pharmacies such as Guardian.
17. Is lunch included in the package?
Yes, since 2019, packed lunch is included in the package. The meal is prepared by National Park canteen and will will given to you before the hike. You will have to carry the packed lunch by yourself during the hike. The packed lunch is halal and comes in vegetarian and non vegetarian options. You should also bring extra food along. Recommended trail food would be something lightweight and easy-to-pack like energy bar, biscuits, nuts and raisins, fruits etc.
18. Where can I store my extra belongings/luggage which I do not wish to carry up the mountain?
You can leave your belongings in the office or vehicle.  We recommend that you bring along a lockable bag.  Bring along your valuables during your trek and do not leave them in the office or vehicle. We are not liable for any loss of belongings. Park HQ used to have lockers but they are no longer available.
19. How many guides will be provided for the trek?
We maintain a guide to trekker ratio of 1:7. For example, 1 guide will be provided for group size of 7 pax; 2 guides will be provided for group size of 8-14 pax etc.
20. Can the guides speak English?
For Mt Ophir, the guides are assigned by Park HQ. While Park HQ usually assign good English speaking guides to our groups, it is possible especially during busy periods that your group may be assigned guides who can only speak minimal English. But hand gestures with a dose of patience works well for us and many of our past groups.
21. How much tips is appropriate for the guide?
Tipping is highly encouraged especially for good services. A ballpark figure would be around 40-60 MYR to each guide for the whole group.
22. Are there shower facilities in the National Park?
Basic shower facilities are available in the National Park, but toiletries like shower foam and shampoo are not provided.
23. What should I do if I don't feel well after the hike?
Sore knees and aching muscles are common after the hike, rest for a few days and you should start to feel better and be back to normal. If you still feel unwell, or suffer from other ailments, please consult a doctor immediately.
24. Where can I check the weather forecast?
You can refer to weather.com.
25. Do I get a refund if the climb is cancelled by the National Park due to extreme bad weather?
For the safety of hikers, the National Park might cancel or halt the climb in the event of bad weather (heavy downpour or lightning risk). As this is considered an act of god (out of human control), no refund will be made to the clients.
26. Is travel insurance provided in the package?
Travel insurance is not included in the package. We strongly recommend you to procure your own travel insurance before embarking on the Mount Ophir trip. You may also procure travel insurance through us: https://iwannatravel.com.sg/travel-insurance
27. What is the mandatory park insurance provided in the package?
The mandatory park insurance is a limited 2 MYR insurance providing minimal medical coverage for injuries incurred during the climb. We recommend that customers purchase comprehensive travel insurance.
28. Can you recommend some restaurants?
Tangkak is the nearest town to Mt Ophir Park HQ and it is a convenient place for meals. We recommend the following restaurants:
Restoran Shang Hai Tang (No 30, Jalan Kemajuan, Off Jalan Payamas, 84900 Tangkak)
Restoran Shun Kee (No 41 Bawah, Jalan Kemajuan Off Jalan Payamas, 84900 Tangkak)
Nasi Kandar Maju Curry Sdn Bhd (1126, 1127, Jalan Payamas, 84900 Tangkak)
Kuang Fei Tangkak Beef Noodles (No. 20, Jalan Solok, 84900, Tangkak, Johor)
Fa Lai Bak Kut Teh (1306, Jalan Bidara 10, Taman Tangkak Jaya, Tangkak, Johor)
Lao Da Vegetarian Cafe (No 34 Jon Kemajuan Off Jon Payamas, Johor Bahru 84900, +60 17-615 9668) – located near Tangkak bus terminal where there also also Nanyang Kopitiam and Malay food stalls
Domino Pizza (No.8, Pusat Perniagaan Naib Long 2, Jalan Muar, 84900 Tangkak, Johor., 84900 Johor, Malaysia, +60 1-300-88-8333)
For traditional Chinese Cakes and Biscuits, you might want to visit Chop Hua Bee (10, Jalan Solok, Tangkak, Johor)
Another suitable place for meals is Yong Peng town which is located about an hour's drive from Mt Ophir on the way back to Singapore. Recommended restaurants are:
Restaurant Rong Cheng (1, 83700 Yong Peng, Johor, Malaysia)
Yuan Yean Fishball Eating House (123 Main Rd,, 83700 Yong Peng, Johor, Malaysia)
Fast food such as KFC is also available.
We do not earn commissions from these food establishments and have listed them due to favourable reviews and past experience.
29. Can I spend a night at/near the mountain?
Yes. In fact, it is recommended to spend a night at the mountain for a good rest before and after the hike.  At Gunung Ledang Park HQ, there are mountain huts and dormitories. Camping is also possible at the mountain base. Just recently in 2015, park authorities has resumed camping activities at CP4 on the mountain. Other accommodation options in the area include Gunung Ledang Resort (basic) which is located near the foot of the mountain and Ophir Hotel which is located in Tangkak town. For lodgings of a higher comfort level, we suggest the 4-5 stars hotels at Melaka which is 1 – 1.5 hour drive away.
30. How can I avoid the causeway jams from Singapore to Gunung Ledang?
We depart early at 430am from Marsiling MRT Station and traffic is generally smooth at the causeway at this time.  So as long as customers are on time, it should be fine.  But delays can sometime happen due to unexpected human traffic (especially during long weekends) and administrative factors at the customs.  If possible, we encourage customers to spend the night before the climb at Johor Bahru Central. Our transport will then pick them up around 5am for the drive to Gunung Ledang. This will avoid the sometimes unpredictable conditions at the causeway.
31. What is the earliest time I can start the climb?
The earliest time you can start the trek from Park HQ base camp is 7am for day hike. Hikers should start the trek before 9am for day hike.
32. Is there mobile reception on the mountain?
Mobile reception is spotty and generally not available. But we received reports that reception from Celcom is available at the summit.
33. Can I smoke on the mountain?
Since 2018, smoking is strictly prohibited on the mountain and offenders will be fined. Kindly respect the park regulations. 🙂
34. What is this guide deposit?
Since May 2019, Park Office requires a 100 MYR guide deposit in addition to the rubbish deposit. If all hikers finish the hike by 7pm, the deposit will be returned. If any hiker returns after 7pm, there will be a charge of 50 MYR for each hour. This payment goes to the guide for the extra hours of work.
QUESTIONS PERTAINING TO CAMPING
1. Where is the campsite located?
The campsite is located at CP4 (534m above sea level), about half-way to the summit.
2. Are there any portable water source at the campsite?
There is a water source (river) beside the campsite. However, the water is untreated and may not be suitable for weak stomachs. Therefore, it is advisable to boil the water or treat it with purification tablets (http://www.aquatabs.com/) before consumption.
3. Are there toilet or shower facilities at the campsite?
Toilets and showers are only available at the Park HQ (base of the mountain) which is a 3 hr trek away from the campsite. The nearby Twin Falls provide a good opportunity to freshen up while nature calls have to be settled in the Nature.=)
4. Are mosquitoes prevalent at the campsite?
Mosquitoes are not prevalent at the campsite as they do not thrive well at the higher altitudes. But as a precaution, please bring along mosquito spray.
5. Are there snakes at the campsite?
We have not received any sightings of snakes at the campsite. But do zip up your tents when sleeping at night.
6. What are the camping equipment provided in the package?
4-man tent (~2.8 kg) with groundsheet and portable gas stove (< 1 kg, comes with gas canisters) for cooking are provided in the standard package. As porters are not included in the package, you have to carry them up and down the mountain yourselves. These equipment will be collected at Park HQ before your hike. We maintain a 2 hikers to 1 4-man tent ratio so that in case of malfunction, hikers can still distribute themselves among the working tents. For odd numbered groups, we will round the number of tents e.g. there will be 2 tents for a group of 5.  It is also possible for you to bring your own tents.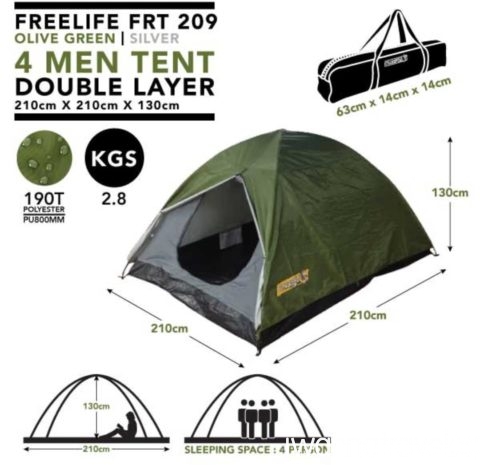 7. What other camping equipment should we bring along?
You should bring along some lightweight Aluminium mess tin (for cooking dinner and/or boiling water) and cutlery (forks and spoons). Sleeping bags and mats are good to have for added comfort but they are not an absolute necessity. Night temperature at the campsite is cool but not cold. Thicker or extra clothing can be worn to sleep to keep warm in lieu of sleeping bag. The camping ground is flat and non-rocky.
8. Where can I buy sleeping bag and mess tin?
Sleeping bag and mess tin can be bought from Army Market in beach road (http://armymarket.sg/), DG online (http://www.dgsoldiertalk.com/), Decathlon (https://www.decathlon.sg) or from outdoor supplies shops in Velocity @ Novena Square (http://www.velocitynovena.com/)
9. Will a packing list be provided to the participants?
A comprehensive packing list will be provided by us upon trip confirmation.
10. Can porters be hired for the camping trip?
Porters can be hired to carry the camping equipment and/or personal belongings from Park HQ to CP4 and from CP4 to Park HQ. Each porter can carry between 15 kg and 25 kg. The weight carried by the porter can be shared among the group. The cost of hiring a porter starts at SGD 60 for 15 kg load. For 20 kg load, it cost SGD 80 while for 25 kg load, it cost SGD 100. This is the cost for a one way trip.  For example if you want to hire a porter to carry 20 kg for a return trip, it will cost SGD 160.
11. How do we settle our meals during the trek?
You need to prepare 3 meals for this trek; dinner for day 01 and breakfast and lunch for day 02 of the trek
Day 1 lunch: Packed lunch from the National Park halal canteen is included in your package. It comes in vegetarian and non-vegetarian options.
Day 1 dinner: You can cook your own food with the portable gas stove provided. We recommend food that is easy to prepare and cook, such as instant noodles, instant porridge and canned food like sardine, tuna, corned beef, baked beans, Campbell soup, etc.
Day 2 breakfast: You will have to wake up very early in the morning (~2am) for the sunrise summit climb. You can bring some light snacks such as biscuits and hot drinks like Milo, tea or coffee to fill your stomach before the climb. Do also bring along some trail food as your breakfast to be enjoyed at the summit.
Day 2 lunch: After returning back to the campsite from the summit, you will break camp, pack up the tents and equipment and trek back to the Park HQ. Depending on your trekking speed, you may reach Park HQ before or after noon. Therefore, we advise to prepare extra supplies of trail food in case you do not reach back to Park HQ by noon time. After reaching back to the base, you can have a late lunch at the Park HQ canteen or in Tangkak town on your way back to Singapore.
If you are extending your camping trip to 3D2N, do prepare enough food for day 2's lunch and dinner.
12. Can we leave our belongings at the campsite while we go for the summit climb?
Yes, you will be coming back to the campsite after the summit climb. However, do pack everything in the tent and do not leave any valuables behind. Wild animals may scavenge your belongings if you leave them in the open.